I Am Mountain, To Measure Impermanence
I Am Mountain, To Measure Impermanence by Hanna Ljungh is screened in the atrium during the spring of 2020.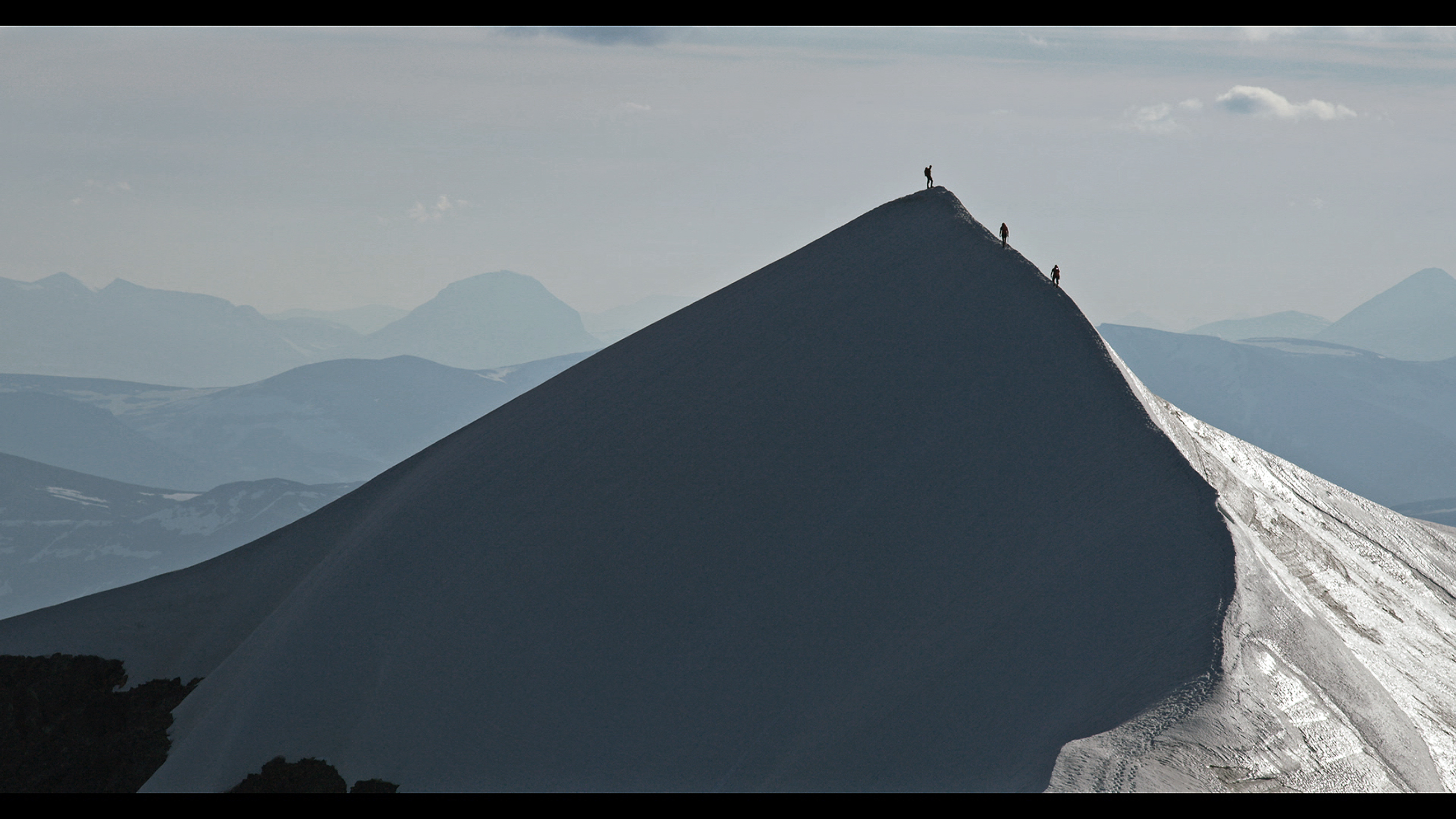 I am mountain, to measure impermanence (2016)
In 2016, when artist Hanna Ljungh filmed the glaciated south peak of Kebnekaise for nearly six hours in one shot, it was still the highest point in Sweden. The glacier on the south peak has shrunk by 24 meters in 25 years and in September 2019, the ice-free north peak was suddenly the highest, at 2,096.8 metres.
The video I am a mountain, to measure impermanence (2016) is filmed from the north peak of Kebnekaise on the very day when researchers measure the south peak. In its meditative tranquility and magnificence, the film gives rise to thoughts on man's relationship to nature and the wilderness, and our fascination with measurability and the extreme. What is it that makes the highest, deepest, steepest, coldest or hottest so interesting? Mountains last longer than ice and Kebnekaise's variations in altitude can make you feel that the mountain is a living body. Mountaineers often use words like "conquer" and "defeat", revealing a view of nature as something inferior to us. It is plain to see that the mountain is affected by the presence of humans and by climate change, but at the same time Hanna Ljungh's film leaves the viewer with the feeling that the mountains hold something eternal. A counterbalance to human control.
Intuitively, the video works as a management case reflecting on dilemmas of control. On the one hand, the traditional quest for control leading to more and more methods of measurement, evaluation, comparison and benchmarking. On the other hand, the growing awareness of the Anthropocene condition permeating our world. We are constantly devoting ourselves to a refined and elaborate monitoring of our own decay. Do we resign from action, replacing it with supervision and turning control into a ritual of capitulation?
See an excerpt from the film here.
On the podium by the screen:
I am mountain – the waiting is a pencil frottage, made on site, of one of the highest rocks on the north peak of Kebnekaise. It is a representation of Sweden's highest point today. Together with the film, it forms a narrative of measurability, time, transience and permanence in the age of Man.
Hanna Ljungh, born 1974, is based in Stockholm and educated at Parsons School of Design in New York and Konstfack in Stockholm. She works with film, photography, sculpture and installations and her work is often based on a scientific approach. Her work has been shown at Kunsthall Trondheim, Gävle konstmuseum, The Swedish Cultural Institute in Paris, Pohang Museum of Steel Art and Kumho Museum of Art in South Korea, Moderna Museet in Malmö and Anna Bohman Gallery in Stockholm.