The Landscape is Changing
Mircea Kantor´s video The Landscape is Changing is on display in the atrium April 27 – May 25 2023, as part of the SSE X Magasin III videoprogram Borderland – where outer and inner meet.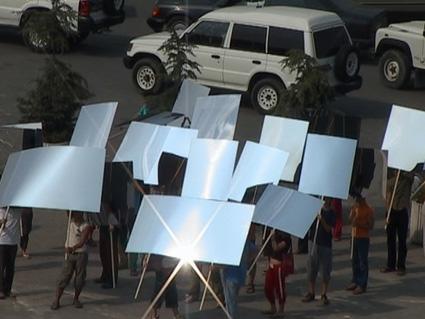 Mircea Cantor was born in 1977 in Oradea, Romania. Lives and works in Paris and Cluj-Napoca.
We know who we are, so why not go deeper? Let's stand for something beyond our nationality. [...] [My] objects speak about the great openness that we can live in today, beyond national categories.
Mircea Cantor's work takes form in diverse media such as video, sculpture, installation, dynamite, and fire. His artistic practice is rooted in reflections on the competing ideologies and shifts of our time, unafraid to portray a worldview that is both optimistic and strongly critical.
The Landscape is Changing (2003) documents a performance where people march in silence on the streets of the Albanian capital, Tirana. They hold reflective placards, empty of slogans. As Albania was under an authoritarian communist regime until 1991, the work depicts an act of rebellion in a complex political landscape where marches were still closely associated with communist propaganda. Reflected in the placards, we see a society at a threshold, a city undergoing transformation, and its population in a political limbo. Cantor leaves it to the passers-by, as well as us as observers, to fill the work with meaning. The result is a poetic and powerful portrayal of a silent but highly expressive protest.
Text: Sofia Ringstedt, Magasin III
Upcoming works in the film program
May 25 – June 30: Jumana Emil Abboud
August 24 – September 20: Smadar Dreyfus
September 21 – October 18: Cecilia Parsberg
October 19 – November 15: Janine Antoni
Previous work in the film program
March 2 – March 29: Kimsooja
March 29 - April 27: Vangelis Vlahos
Art Coffee
Wednesday, May 3 at 9:30:
Join Magasin III curator Sofia Ringstedt for a cup of coffee and a conversation about the collaboration and the current artwork, in the atrium.