Retail Art Program
The students in the bachelor program in retail management can from now on experience art in the new Retail Art Program (RAP). RAP aims at bridging the worlds of contemporary art with students and faculty in areas of marketing, consumer studies and distribution. Founded on classic Art/Business legacies, from Surrealism via Flux to Pop Art, RAP hybridize artists and business actors for socially responsible retail experiments with high aesthetic ambitions.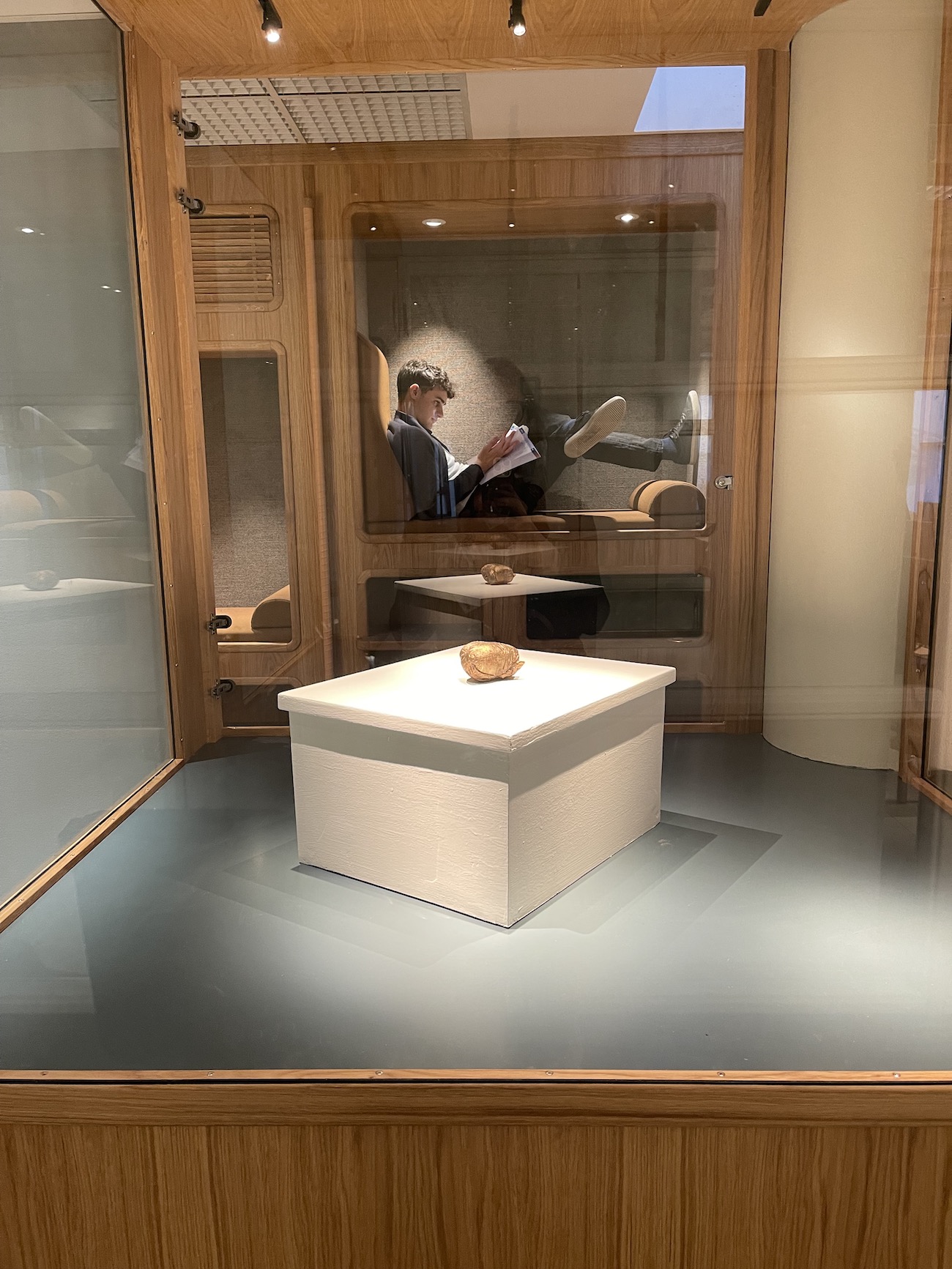 Benedikte Bjerre´s Lyckan, Kärleken och Meningen med Livet (Eat pray love)
2021, Bronze, Unique cast (in collaboration with artists John and Isa Skoog).
The Retail Art Program (RAP) of SSE Art Initiative presents in curatorial cooperation with ISSUES Gallery art in the three showcases on floor 2, Saltmätargatan:
Showcase 1:
Ksenia Pedan
Colors (miele impasto), 2021, plaster, styrofoam, wire, inkjet print and oil on canvas, 51 x 80 x 40 cm
Ksenia Pedan (b 1986) is a visual artist working in sculpture and installation.Ukrainian born, she now lives in Stockholm after several years in London. Her work often functions as scenography for contextualised live performances that question and putrefy the glossed spaces that art inhabits and encourage an entropy towards the concealed decay of environments, objects and feelings.
The Hare in her exhibited work Colors (miele impasto) is on stage on an impasto canvas featuring a dishwasher of the mythical Miele brand. A white ware consumer product becomes the arena for a tattered and torn being of the Hare-species. The scene invokes the dead atmosphere of a nature diorama, where the hidden promise of the erotics of commercialized objects exist on the same time-plane as their planned obsolescence.
Recent exhibitions include Fen Glut Forde, Geneve 2019, Baltic triennial 13 Kim? Riga 2018, Celf Haul Frieze London, Golf Musk Dortmund Kunstverein, Cloist Gulch Raven row, London 2017
Showcase 2:
Benedikte Bjerre
Lyckan, Kärleken och Meningen med Livet*
(Eat pray love)
2021, Bronze, Unique cast, 7 x 11 x 9 cm
Benedikte Bjerre´s background in sociology makes her investigate how human work occupies and appropriates commercial life spaces. In her larger project EatPrayLove, of which the bronze diaper exhibited by RAP is a part, she had similar diapers collectively invade a single specimen of a Miele washing machine. In the same vein; i.e. making aesthetic experiments with common objects of mass consumption, she has made works staging Melitta coffee-machines as well as stockings of the high end Falke-brand.
Benedikte Bjerre (b 1987) received her education in sculpture at the Städelschule i Frankfurt 2009-2015 (with profs. Simon Starling and Peter Fischli) and at the Royal Danish Academy of Arts 2013-2016 (with prof. Martin Erik Andersen). She participated in De Ateliers i Amsterdam 2016-2018 and currently holds a professorship at the Jutland Art Academy Denmark.
*This particular bronze cast of a diaper is a collaboration with artists John and Isa Skoog and was shown at ISSUES gallery in August 2021.
Showcase 3:
In this opening key-note statement for RAP we chose to signal two important art-links to contemporary worlds of markets and commerce. Advertising, packaging, shop layout and product design have, apart from their technical and functional aspects, always been in close interaction with art and artists. By revisiting the rich classical aesthetic heritage future leaders not only acquire an historical perspective on trade and exchange. Most and foremost RAP aims at sensitizing managers of trade and commerce to how artists have reinterpreted business and economy. They help us being creative, step out of the routines and act outside the box.
By exhibiting a "Felt Hat" and a "Campbell Soup Can" and two "Books" RAP kicks-off its odyssey into Art and Capitalism with a humble homage to two eminent modern artists who formed contemporary aesthetic consciousness of what economy and business is about. Two artists from the West and the East, one with deep roots in the US-tradition of business and the other with a typically European take on market dynamics.
Humble Homage to Joseph Beuys and Andy Warhol, by Pierre Guillet de Monthoux.