Art Initiative (Online) Elective Course: Art and Luxury
Art Initiative is offering bachelor students at SSE a unique course in Art, Aesthetics and Business, "Art and Luxury". Artists and researchers will engage students in exploring new aesthetic/ethical dimensions of commerce, business and management. The course was designed for studying business practices through direct experiences of people, places and spaces. In response to the corona pandemic, a pensum-based online version of the course is being held, with online sessions in which artists and researchers also participate. The full original analog version of the course will be offered again next academic year. The online version is, however, an experience in itself.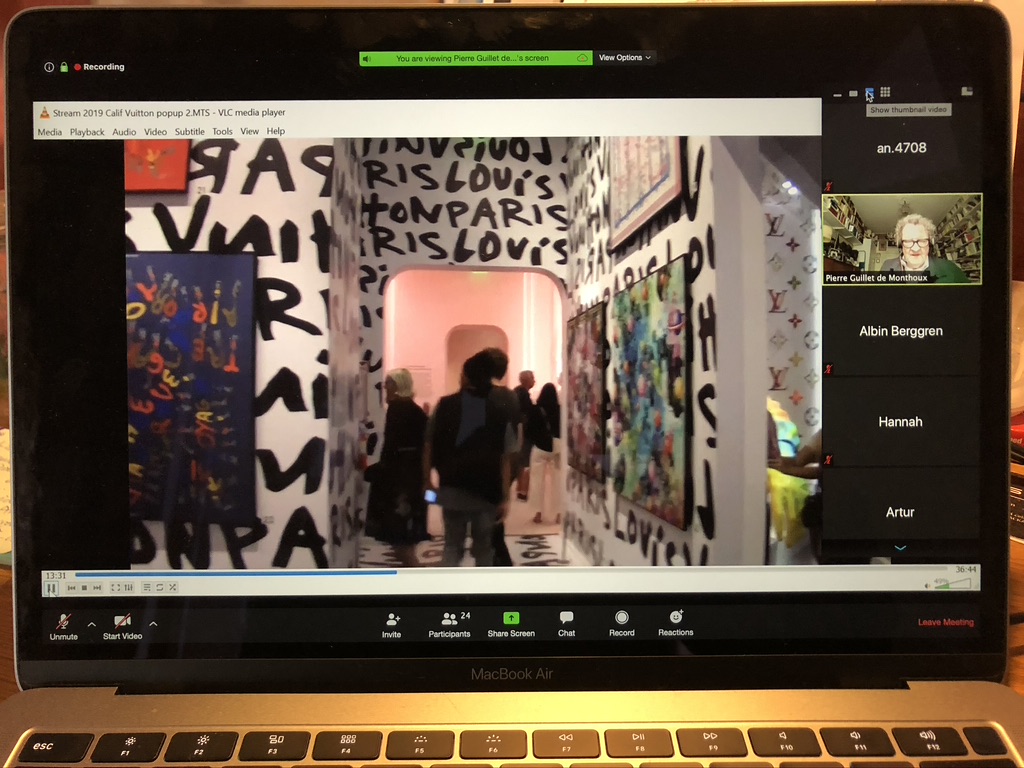 This image shows part of a "guided tour" that Course Director Professor Pierre Guillet de Monthoux is taking participants on during the Online Course, through the Rodeo Drive Louis Vuitton Pop-Up Museum.
"Ok, what are we doing in these absurd times – a course on Luxury?!" asks Pierre Guillet de Monthoux rhetorically. "No, it is Luxury AND ART. Does that make a difference? Does the Art connection open up to a re-designing of Luxury – a re-definition of Luxury to fit our deeper human needs? Is Art pushing Luxury in the philosophical direction that helps us survive, hope and open up to life in new ways? In directions different from when Luxury is energized by Wealth? How could we make this visible?"
When contemporary art is central to economies, it gives rise to new ways of management. The course is an educational experiment in art and capitalism resourced both by art and artists and by researchers and research. What are economic actions and entrepreneurship follow the maxim Where to start: Start with art!