Untitled Knight 1
Vangelis Vlahos video Untitled Knight 1 is on display in the atrium March 30 – April 26 2023, as part of the SSE X Magasin III videoprogram Borderland – where outer and inner meet.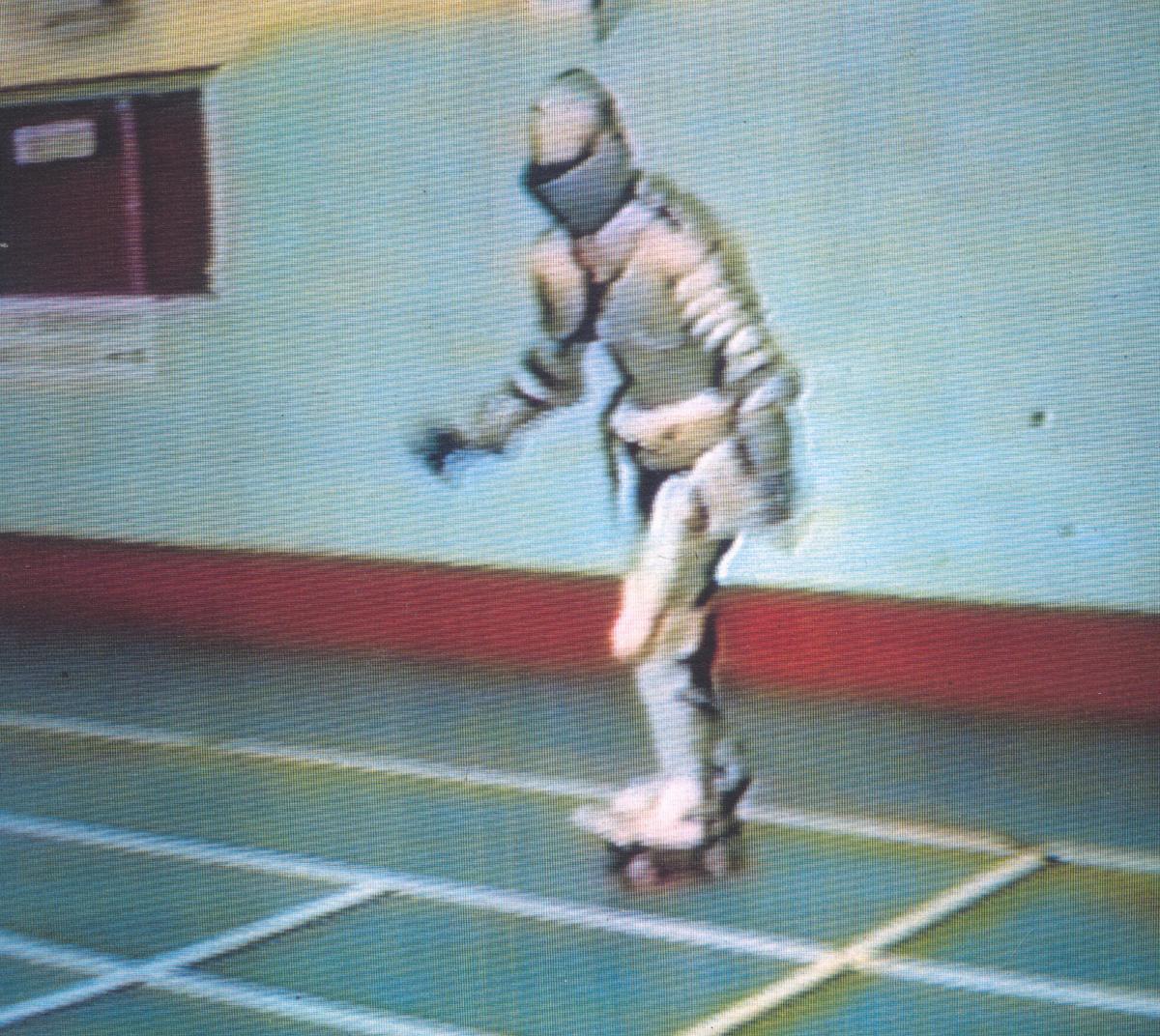 Vangelis Vlahos was born 1971 in Athens, Greece, where he also lives and works.
In his work, Vangelis Vlahos explores the creation of national identity, the distribution of political power, and how they are reflected in institutional buildings and symbolic places. The work in the film program was made early in Vlahos' artistic practice, which has since moved towards exploring icons of contemporary values and the relationship between the security and vulnerability of power through archival research, architectural models, sculpture, and drawing.
In Untitled Knight I (1997), a person rollerblades around a gymnasium wearing a knight's armor. They stumble, fall, and quickly but unsteadily get back up again. The armor, which gradually falls apart, is an original costume from the filming of the movie Excalibur (1981), based on the legend of King Arthur and the knights of the round table. In the film, the armor seems to do more harm than provide protection. The film was shot during a year-long exchange program in Manchester, the artist's first extended time away from his hometown Athens. The work portrays a challenging balancing act that evokes internal oscillations between feelings of security and vulnerability, control and uncertainty. The knight's somewhat tumultuous and indecisive journey can be seen as describing the threshold stage of studying abroad and the conflicting emotions that can arise when finding oneself in a home away from home.
Text: Sofia Ringstedt
Upcoming works in the film program
April 27 – May 24: Mircea Cantor
May 25 – June 30: Jumana Emil Abboud
August 24 – September 20: Smadar Dreyfus
September 21 – October 18: Cecilia Parsberg
October 19 – November 15: Janine Antoni
Previous work in the film program
March 2 – March 29: Kimsooja