HOME
Emmanuel Van der Auwera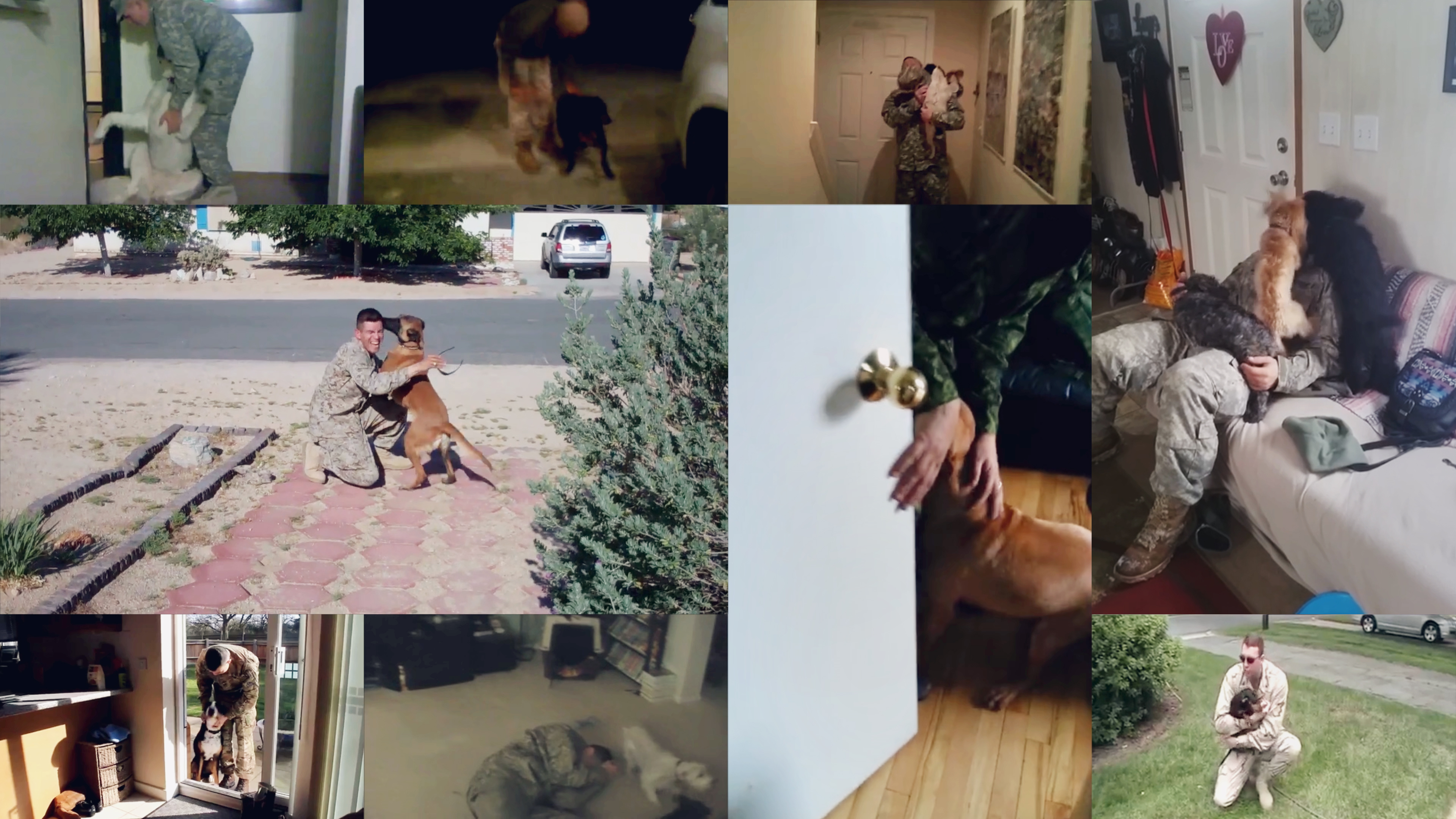 HOME (2015) is a collage of social media family footage put together by artist Emmanuel Van der Auwera. They all show the same thing: the homecoming of Gulf War veterans greeted by their dogs. Initially the work might conjure a feeling of cuteness overload. Then slowly emerges the homecoming bonding between humans and animals. Flashes of love and joy. Instances of concrete escape from an abstract, technologized war zone. Is home a safe space?
Home Economics is now a forgotten discipline, frowned upon as something outmoded and concrete, devoid of elegant abstractions, algorithms and models. Have we all forgotten that Aristotle once founded economic thinking by reflecting on our home; the Domus, the Household, and how it managed to protect our lives?
Emmanuel Van der Auwera was born in Brussels in 1982, and he still works and lives in the city. He works multidisciplinary with video, theater, sculpture and printmaking, and often in the field of tension between art and technology, reality vs. simulation and the trivialization of violence. The video HOME communicates with another work of art by Emmanuel Van de Auwera at the school: White Noise from our permanent collection (placed in the corridor outside the President´s office). White Noise (2018) contains a classified video that was leaked to the public, showing violent content shot by a drone. The screen at first looks white and empty, but decodes when the viewer looks at it through the plexiglas on the tripod.
Van der Auwera might not bring us closer to truth, but he want us to ponder our visual literacy. He has expressed that we all are operating in an "economy of feeling" - with little sense of responsibility when making the choice to believe or not belive images, and without taking into account that this economy has a machinery behind it.
"In a world where everything turns into spectacle and image, where our eyes are becoming equally voracious and numb, we have to educate ourselves to be a responsible and wise audience. The viewer should be aware of the responsibility that goes with the act of seeing. This era requires the audience to be critically active and engaged." Emmanuel Van der Auwera.
Van der Auwera´s work has been featured in exhibitions at WIELS (Brussels, BE), Centre Pompidou (Paris, FR), Palais de Tokyo (Paris, FR), Centro per l'Arte Contemporanea Luigi Pecci (Prato, IT), Ars Electronica (Linz, AT), among others.