The Average
Iris Smeds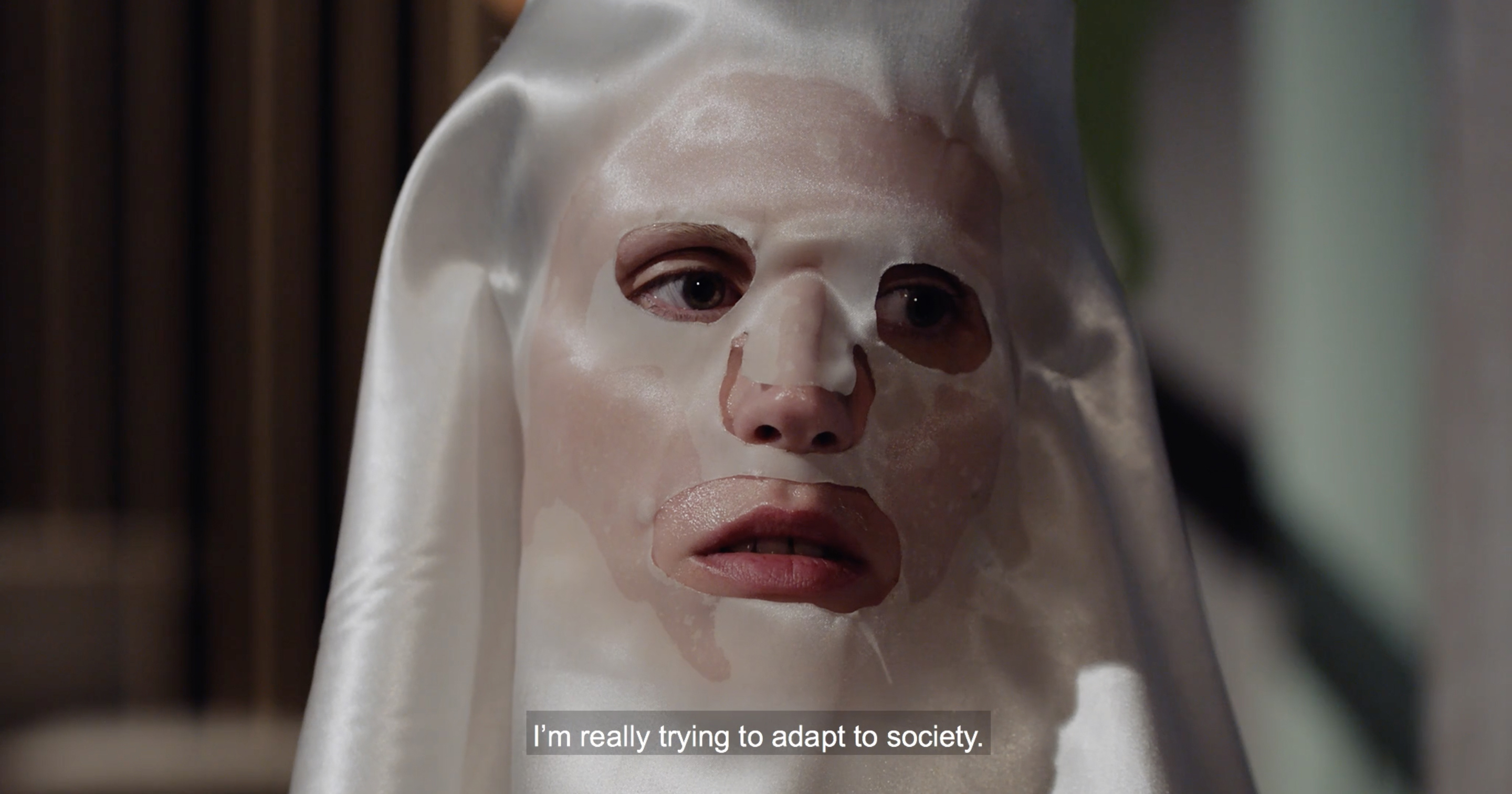 The Average, 2019
13,48 min
Iris Smeds, born 1984, lives and works in Stockholm. In 2019, she received the Maria Bonnier Dahlin Foundation grant. In her work, she explores issues of economics, the value of art and the individual's marketability, through text, film, sculpture, poetry and performance. Smeds also creates fictuous characters, often using her own name, to investigate identity as merchandise and the boundaries between art and entertainment. She sometimes performs with her one-woman punk band Vaska Fimpen.
In The Average, Iris Smeds focuses on mean value as a way of investigating human existence. In Business and Management the average is certainly not an "exiting" subject. Does anyone care for it? It has become so blatantly absent that we might even doubt it exists. Is it taboo? Here we need artistic research! Iris Smeds helps to re-focus on the average, exploring this spot in our existential maps.
Is normality something that can save us and accommodate most of us? What are the pros and cons of being average? Is life as an average person something for most people, or is it normal to want to stand out from the crowd? Is normality a dangerous norm that tell us that it´s best to be alike? Iris Smeds also asks the question if is averageness is a possible way of creating sustainability – for individuals as well as for the Earth?
The Average is a film, a manifesto and objects (like the burned loaf, that also plays a part in the film). It explores success, averageness, burnouts, socialism and "the little space between your body and your soul". It's also a film about togetherness and separation. What to do if different parts of a society, or oneself, interpret the world in different ways? Is individualism creating a new kind of collective?
The film itself is in four parts, featuring:
Iris Smeds, who says "I am super normal and never alone".
A centipede that breaks in two.
Icarus, played by a ventriloquist, who regrets flying too close to sun (just like the original Icarus in Greek mythology), and is a burned-out woman trying to cope with a life where she´s no longer on fire. One of her quotes is "My name is the production I perform day to day."
Also a tv anchor, a writer, a coach and a cheese woman.
Iris Smeds was one of the 2019 recipients of the Maria Bonnier Dahlin Foundation grant. She has exhibited at Växjö konsthall, Göteborgs konsthall, Bohusläns museum, Stefan Karlsson's Museum of Bad Art, Gallery Steinsland Berliner, Wetterling Gallery and Gothenburg Art Hall, among others. In 2018, she received grants from both the Swedish Film Institute and the Artists' Committee for her film project The Average, which premiered during Göteborg Film Festival in 2019.
In The Average, Iris Smeds focuses on mean value as a way of investigating human existence.