Self-portrait by Bella Rune
Bella Rune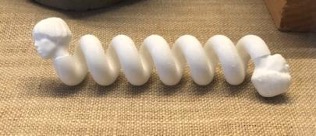 Self-portrait by Bella Rune, b. 1971 from her exhibition Skendöd (Sham death) at Carl Eldhs ateljé 2020. 3D-print, 2 x 15 cm.
The portrait hangs in the Cabinet Room.
Bella Rune (b.1971) lives and works in Stockholm, Sweden. She is educated at Chelsea College of Arts in London (1995–1998) and Beckmans School of Design, Stockholm, Sweden (1992–1994). She works with sculpture, including performative elements and experiments with different materials and techniques.
Other works by Bella Rune at SSE is the augmented reality artwork Konsekvensanaly in the SSE boardroom and the Hechscher-Ohlin room. Read about them here.