Curiosity Cabinet (boron 10 mg): You, me, rock, mountain - commodities of the quantified universe (Impact Crater)
Hanna Ljungh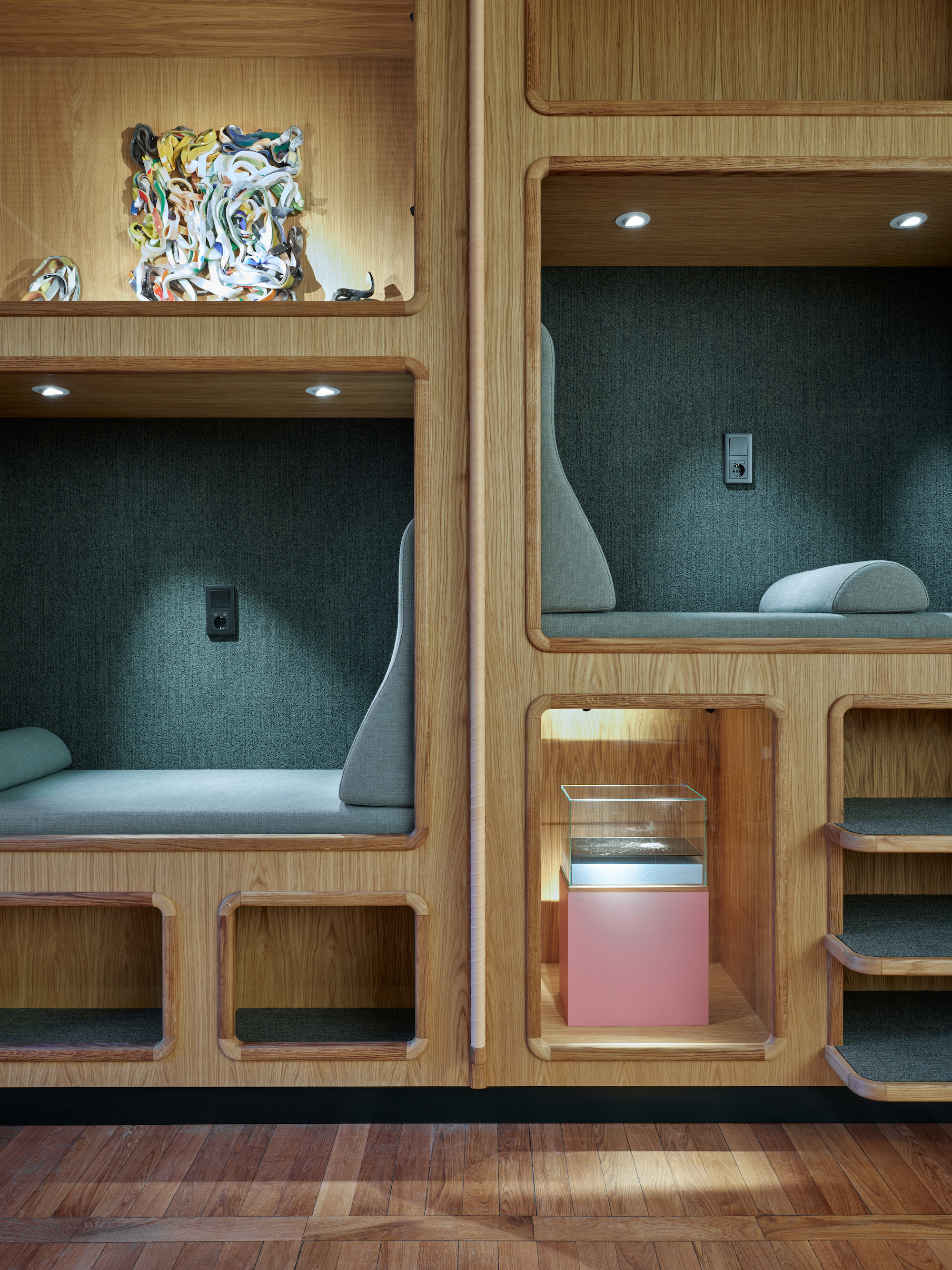 Curiosity Cabinet (boron 10 mg): You, me, rock, mountain-commodities of the quantified universe (Impact Crater), Hanna Ljungh, 2019 (36 x 22 x 23 cm wood, glass, nails, mirror, styrofoam, boron) can be found in the Cabinet Room on floor 3, Sveavägen 65.
The word curiosity cabinet leads the mind back in time, to the Renaissance's collections of exotic objects from nature. However, Hanna Ljungh's cabinet does not present stuffed animal heads or unicorn horns. Instead, they contain metals and minerals that in our time are extracted to manufacture batteries, information-transmitting cables, vehicles and various building elements. Metals and minerals that are also included as natural building blocks in our own bodies. The largest cabinet contain the same amount of iron and copper as the entire population in Kiruna and Gällivare respectively. The smaller cabinets correspond to the levels in an individual human body.
Curiosity Cabinets: You, Me, Rock, Mountain illuminates a connection between man and mountain. The material that we extract from rocks also forms parts of ourselves. Measurement and calculation, in order to achieve maximum efficiency, performance and profit in industrial operations, are also increasingly directed at our own bodies. In poorer parts of the world, this rationalization may involve a discipline of the worker's body. Among the affluent population, measurement and control have become a way of life in which the individual, with the help of science, strives to reach his full physical and mental potential. The quantified self-movement is an example of the latter.
Hanna Ljungh's cabinet contain boron. Some scientists claim that this semi-metals contributed to the emergence of life on earth and that they arrived as a kind of life-giving seeds in meteorites from space. It´s presence in the artwork invites us to reflect on our long-distance cosmic family ties, beyond earthly life, in a common infinity.
An adult has about 10 mg boron in his body. Boron affects the metabolism of steroid hormones in both humans and animals as well as certain hormone activities, especially those that affect calcium metabolism as well as estrogen, testosterone, DHEA and 1,25 dihydroxy cholecalciferol.