The Yinka Shonibare Room
During the summer of 2022 the British-Nigerian artist Yinka Shonibare CBE and his studio have created the Yinka Shonibare Room in the school´s main building at Sveavägen 65. This is SSE´s fourth art classroom, and a chance for students and researchers to further explore questions like globalisation, cultural identity, the implications of colonialism and the economic and political relationship between Africa and Europe.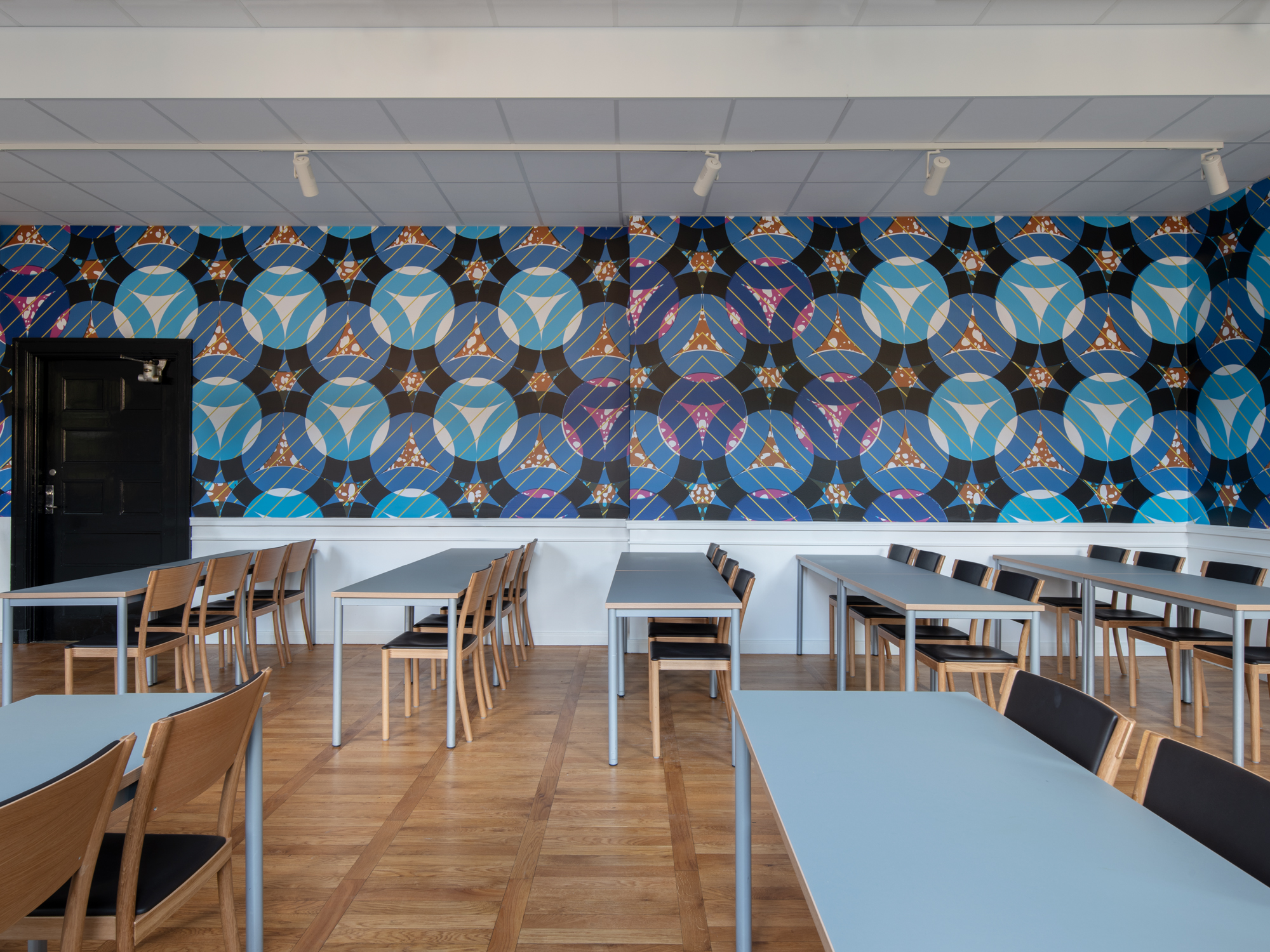 The Yinka Shonibare Room (room 536). Picture: Mikael Olsson.
Yinka Shonibare CBE is one of the world's currently most widely-acknowledged artists. He was born in London in 1962, grew up in his family's native Nigeria, then returned to the UK to study art. During his long and succsessful career he has been exploring national identities within the context of globalisation. Through examining the implications of colonialism, class and the construction of cultural identity, his works comment on the relationship between Africa and Europe, and their respective economic and political histories.
Yinka Shonibare CBE works in different techniques; painting, photography, performance, film and sculpture. His signature material is the colorful batik fabric that is considered genuinely African despite having a completely different origin. The fabrics are in fact inspired by Indonesian design, mass-produced by Dutch people in the 19th century who sold them on to European colonies in West Africa. There, the textiles became very popular, which led to them ironically becoming a symbol for Africa.
The classroom contains a mural painting (picture on the top of this page), black and white elements and a small library with 107 hardback books, Dutch wax printed cotton textile and white painted wooden shelves, and is made thanks to a collaboration between SSE and The Princess Estelle Cultural Foundation.
The room was made possible thanks a generous donation by Ola Källenius, Joakim Weidemanis, Thomas Ranje and Steffen Karlsson.
The Yinka Shonibare Room, Stockholm School of Economics:
Yinka Shonibare CBE, 2022, Vinyl mural, 107 hardback books, Dutch wax printed cotton textile and white painted wooden shelves.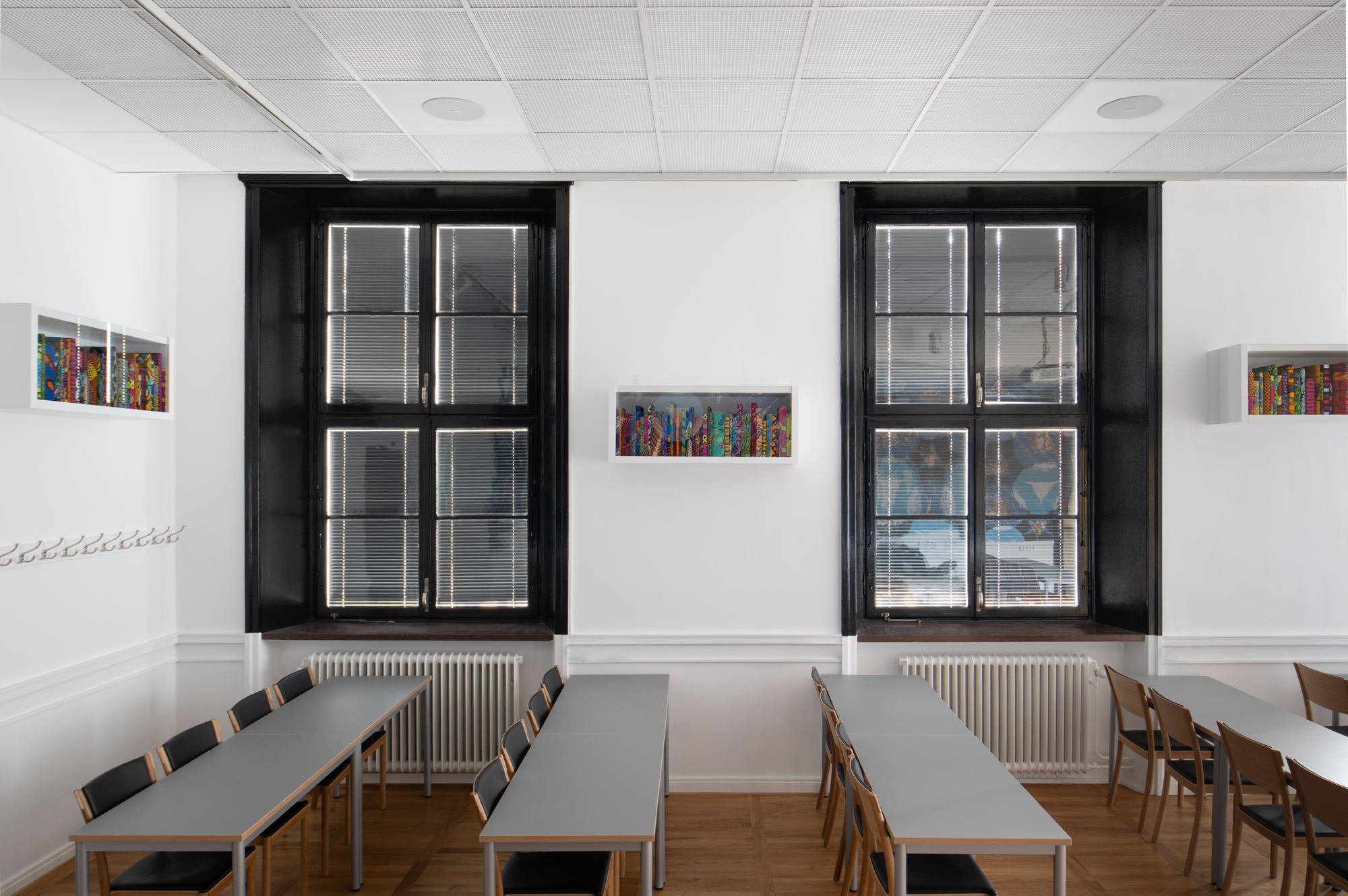 Picture: Mikael Olsson.
More about Yinka Shonibare CBE:
The Windsculpture in Bronze 1 on Djurgården by Yinka Shonibare CBE was acquired by the Princess Estelle's foundation and inaugurated on June 2, 2022, as the third sculpture in the Princess Estelle's Sculpture Park on the Royal Djurgården. More info here.
In 2004 Moderna museet in Stockholm invited Yinka Shonibare to participate in a programme of collaboration. On that occasion he created the artwork "Vasa in a Bottle" (a small version of the Vasa ship with sails made of batik fabric, part of the Moderna museet collection) and video film, "Un Ballo in Maschera" produced by the museum in collaboration with SVT Drama. Watch a documentary on the making of the film here at SVT Play (until January 4, 2023).
(CBE is a title that Shonibare added to his name two years ago, when he was appointed Commander of the Most Excellent Order of the British Empire.)
Yinka Shonibare's works are included in notable collections internationally, including the Tate Collection, London; Victoria and Albert Museum, London; National Museum of African Art, Smithsonian Institute, Washington, D.C.; Museum of Modern Art, New York; National Gallery of Canada, Ottawa; Moderna museet, Stockholm; National Gallery of Modern Art in Rome and VandenBroek Foundation, The Netherlands.
Need more info - contact tinni.rappe@hhs.se.
SSE Art Classrooms
Find more information about our other art classrooms:
And: