4 Composition No 2
Clay Ketter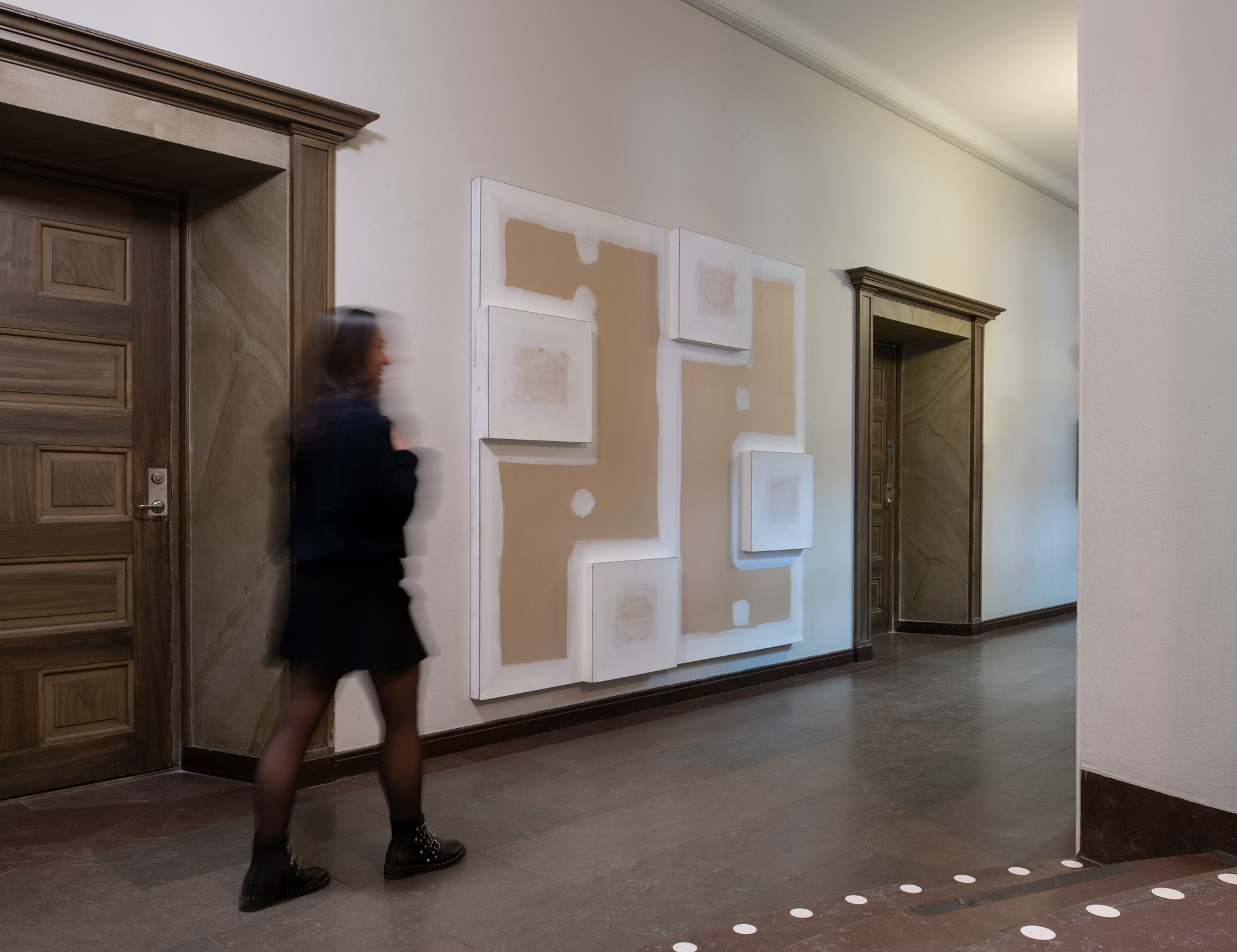 4 Composition No 2 by Clay Ketter from 1994 in the north corridor on Sveavägen 65. Gypsum, wallboard, spackle, wood with steel edges.
A wall on the wall?
4 Composition No 2. by the American/Swedish artist Clay Ketter is part of a series called the Wall Paintings, which was Kletter´s artistic breakthrough in the 1990s. In the Wall Paintings Kletter experiments with materials not normally associated with fine art, like gypsum, wallboard and spackle. The paintings are minimalistic hybrids of a painting, a sculpture, craftmanship and architecture, blurring the borders between these fields. Something well known to all of us is turned into a pattern that wants to tell us something about how an artwork is made and what a painting can consist of. Kletter is building a painting in a very transparent way, and shows what we normally hide.
Transparency and understanding of both construction and deconstruction are important phenomena's in today´s society, and higher education is one way of learning this and understanding how our society is build up. Kletter´s work can be described as an example of what the famous art critic and philosopher Arthur Danto called the "transfiguration of the commonplace".
One can also see connections to the modernistic movement's cubism, constructivism, suprematism (an art movement focused on basic geometric forms), reductionism and dadaistic ready mades. The American modernistic minimal art from the 50s, and the monochromes made by artists like Frank Stella and Robert Rauschenberg are also echoing in the wall paintings.
Later in his career, Ketter's art has evolved around more existential issues like human life and nature in relation to buildings. Ketter still keeps a focus on deconstructing the world. One example of a later Kletter work is Pirate lane in the corridor outside the president´s office at SSE. Pirate lane is part of the photographic series Gulf Coast Slabs from 2007, showing the foundations of homes on the coast of Mississippi, homes which were destroyed by the hurricane Katrina.
One can easily see the resemblance between the two art works, even if there is a difference of almost 20 years between them. More about Pirate lane here.
4 Composition No 2. is a unique and at the same time very Kletteresque piece, donated to us by Lars Bane, SSE alumn.
Clay Ketter was born 1961 in Brunswick, Maine, and his work has been exhibited in numerous museums, art institutions and galleries around the world. In 2009, he had a major solo show at Moderna museet in Stockholm. He is represented in numerous collections such as Moderna museet, Malmö konstmuseum, Göteborgs konstmuseum, Skissernas museum, Lund, Astrup Fearnley Museet, Oslo, Louisiana, Denmark, Saatchi Collection, London, Museum of Contemporary Art, Chicago, Brooklyn Museum, New York, Perez Museum Collections, Miami, Museum of Contemporary Art, San Diego, Walker Art Center, Minneapolis, to name a few.
Photos: Mikael Olsson
4 Composition No 2. makes us think about carpentry, masonry and architecture. We may hypothesize that Kletter, the American, got inspired by the Swedish way of functionalistic building. This style that has been successfully marketed worldwide in form of IKEAs knock-down-furniture kits.
Kletter´s art is a thought-provoking paraphrase of managerial rationalization; the hallmark Swedish Model industrial management?
By engineering his early collages in a very transparent way, overtly exposing what stuffy bourgeoisie had struggled to hide away, Kletter´s art becomes an homage to a corporate Bauhaus functionalism. Kletter is also a subtle and ironic critic of the Nordic hegemony of materialistic constructivism.
Is Kletters work the aesthetic mirror of Swedish social engineering? Does he expose the poverty of modernist ideology? Are these bare bones of factory efficiency what remains if we unveil modernism of its pretentious morality? As understanding of both construction and deconstruction is the core of higher education we welcome his deconstructions of social engineering. For those ignoring the anti-aesthetics of mass-retail, be it in housing, furniture or fashion, Kletter´s work fits what famous art critic and philosopher Arthur Danto called the "transfiguration of the commonplace".
Pierre Guillet de Monthoux, Art Initiative