Two Parallel Now
Meta Isæus-Berlin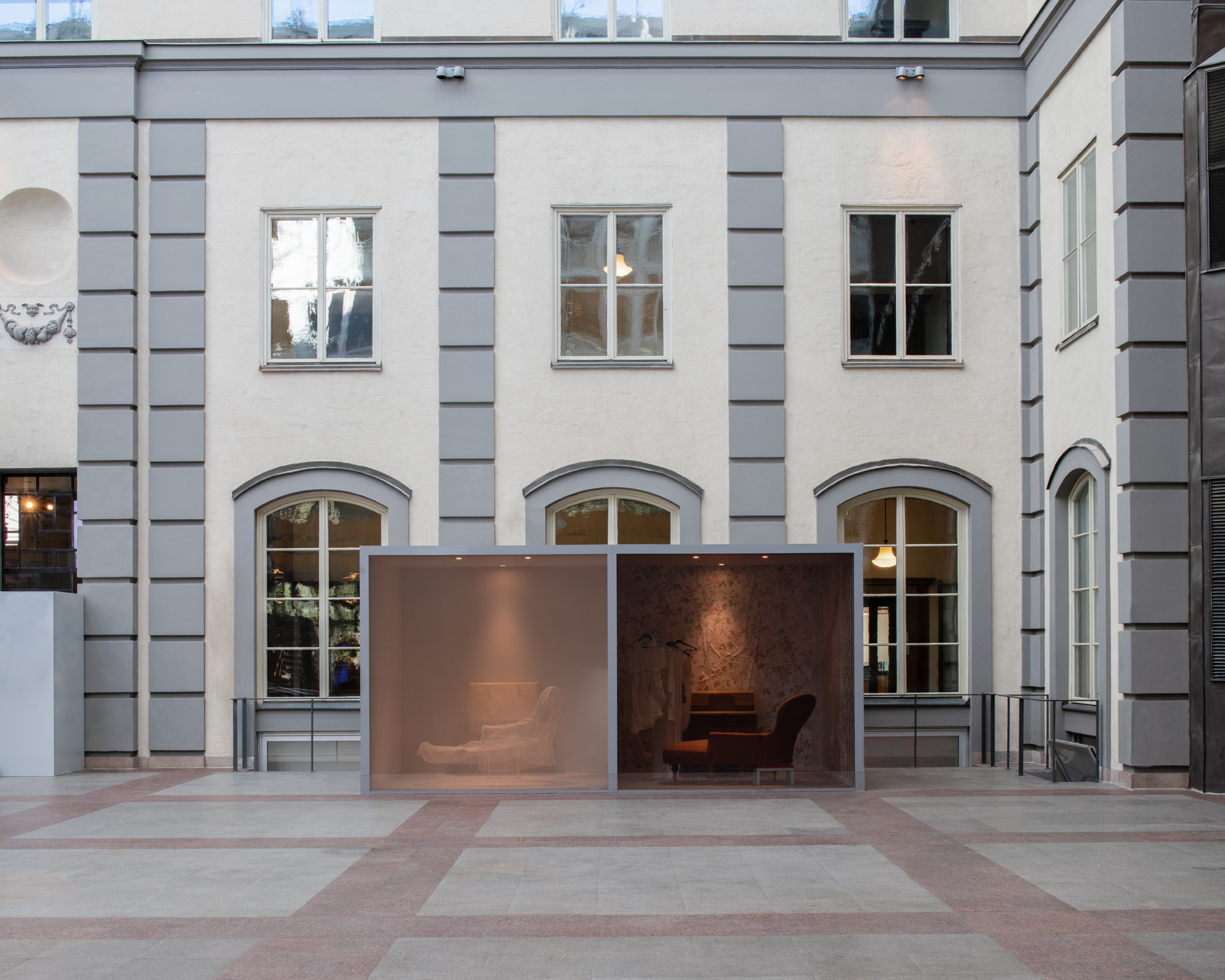 In the atrium of the school there is an art installation made by one of Sweden's most important artists: Meta Isaeus-Berlin. Since graduating from the Royal Institute of Art, she has become well-known for her brilliant command of the installation as art.
The work in the atrium is called Two parallel now (2018), and is there for one reason only: to awaken thoughts.
One might ask: why are two built-up rooms there? One old-fashioned with shabby wallpaper, furniture popped up with some kind of prosthetic pallet. The other room is white and bright and fresh and floating. A kind of ideal image.
What can these two rooms mean? Are they symbols of two states of mind: one who is full of perfection, beauty, and getting top scores at all the exams? And the simultaneous, perhaps more real world, where we feel ugly, tired, less smart and always a little wrong?
Can one room be about the virtual, but no less real world, full of social media and displaying perfect pictures? And the second room about the more physical, tangible world, where everything is not so perfect? Is that what we want the artwork to lead to discussions about? Or is it something completely different? Well, it is up to those who are staying in our premises - it is simply up to you. The work is a reminder that the Stockholm School of Economics is a knowledge-intensive environment. Knowledge is available in so many different forms. It is explicit in the course content, in literature and lectures, in project work and seminars. But it is also more indirect, in the interaction between you. At lunch breaks, at the parties and during coffee.
Two parallel now was first created for the Olle Olsson house in Solna 2003. During that time Meta Isæus-Berlin worked as a professor at the Academy of Fine Arts, she was a full-time mother and had a comprehensive international career with many foreign trips and plenty of work: She felt she was disoriented all the time. But to make the world come together, to make it stable she always had an inner picture of how everything should be, a mental model. In her mind, the rest of the world could crash, but it did not matter because she would have such a strong sense of grounding.
In one room, there is a bit of chaos. The wallpaper is hanging, the furniture is broken and torn, the clothes seem, fragile like thin paper. The furniture is from Isæus-Berlin's actual family home.
The second room is an exact copy of the other. In that room Meta Isæus-Berlin created a peaceful environment. It was structured with organza fabric and was the epitome of perfection.

Donated by the Bonnier Family and Laurent Leksell
Photos: Mikael Olsson