Drowning sailors
Truls Melin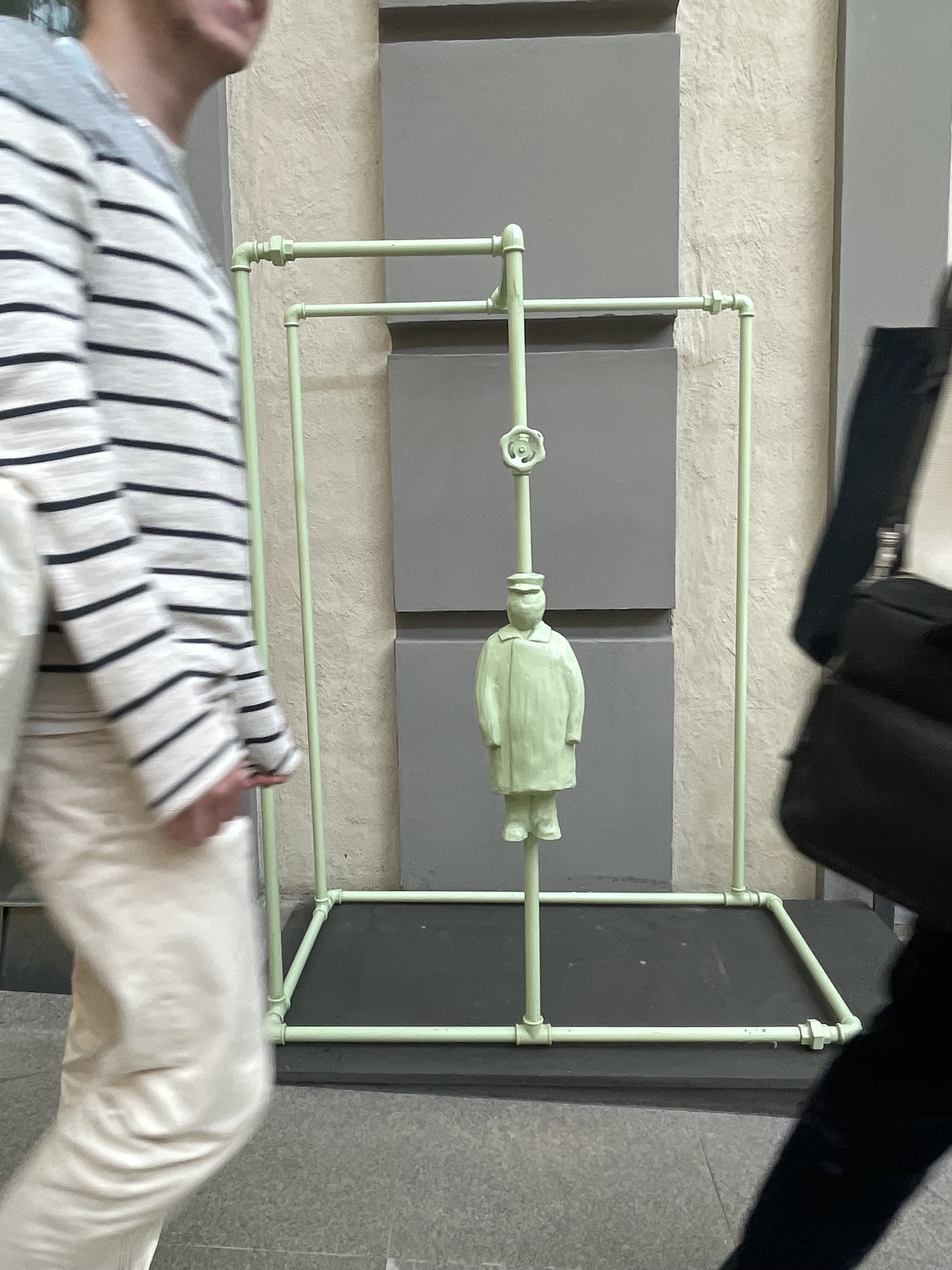 Truls Melin´s mute little man (Drowning sailors, 2004), dressed in a naval uniform and with no facial features or hands, is part of a pipe structure – all painted monocromely in the calming green that´s said to have been commonly used in both submarines and psychiatric hospitals.
The man is in a closed system, a pipe running through him with one valve above him but out of his reach. Do you think of him as connected and safe, or stuck forever without agency? Is the valve there to reduce or increase the pressure, or just to control him? What is in the pipes that run through his head and body?
The Drowning sailors sculpture is both poetic yet challengingly simple. It leaves us with thoughts on circulation, stiffness, order, belonging and networks, and systems. It resembles a toy or pop art. It is playful, but as worrying as it is soothing.
Truls Melin himself, a person who never hid his history of mental illness and time spent in institutions, has referred to his works as "sculptures of silence". Working on them was a way to shield himself from the noise of the outside world.
Truls Melin received his MFA at the Royal Danish Art Academy in Copenhagen, 1984, and his debut took place with the legendary gallery owner Sten Eriksson in 1986. Stockholm's Moderna Museet purchased one of Melin's sculptures and even Fredrik Roos was an early collector of Melin's art. Melin received his international breakthrough when he represented Sweden in the Nordic Pavilion at the 1993 Venice Biennale (curated by Lars Nittve). Melin's work i represented in the collections of Moderna Museet, Stockholm; Malmö Konstmuseum; Magasin III, Stockholm; Göteborg konstmuseum; Norrköpings Konstmuseum and Ståhl Collection, Norrköping.
He was born in 1958 in Malmö, Sweden, and lived and worked in Copenhagen during his last years. Truls Melin passed away in January 2022.
Drowning sailors by Truls Melin was donated to SSE by Lars Bohman Gallery.