World Maker
Lotta Hannerz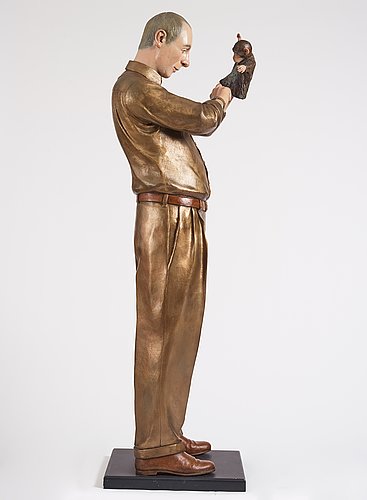 Lotta Hannerz's sculpture World Maker from 2014 (bronze, 180 x 60 x 60 cm), part of the SSE permanent collection at the moment standing in the entrance hall of Sveavägen 65.
Who is he – the life-size man with a hand puppet? He seems introverted and sad. Maybe he is not the subject here, but rather it is the scene involving the two of them. Puppetry is a ancient form of communication, with records of it from the 5th century BC, and has occured in almost all human societies as a way of communicating ideas and needs through performance. Is this silent puppeteer checking his own pulse? The monkey's face is also expressive in a sad, possibly confused, way. Their gazes do not touch each other. It´s a kind of miss-communication, or non-communication, going on. We can only try to imagine what the puppeteer wants to express – and what the artist wants to say with her artwork. Lotta Hannerz has said: "People ask for a manual on how to look at and understand my art, but there can be no such thing." She has called the balding man her alter ego: "A neutral man, hard to get a grip on." Hard to understand, to grasp.
Already by the end of 1930ties sociologist Alfred Schütz, pupil of philosopher Edmund Husserl, warned social scientist to believe in models of man as efficient machines with definable free will. But true social scientists accept the complexity of their fellow-men. They don´t drill managers into being puppeteers hoping to control people by simply pulling the strings.
Lotta Hannerz is represented in several collections, such as Moderna museet, Malmö Konstmuseum and the Kunstmuseum in Bonn.
The artwork is a donation by Lars Bane and Johan Thorell.