Var uppmärksam/Handelshögskolan
Var uppmärksam/Handelshögskolan (2020) by August Eriksson in the north corridor on the ground floor on Sveavägen 65.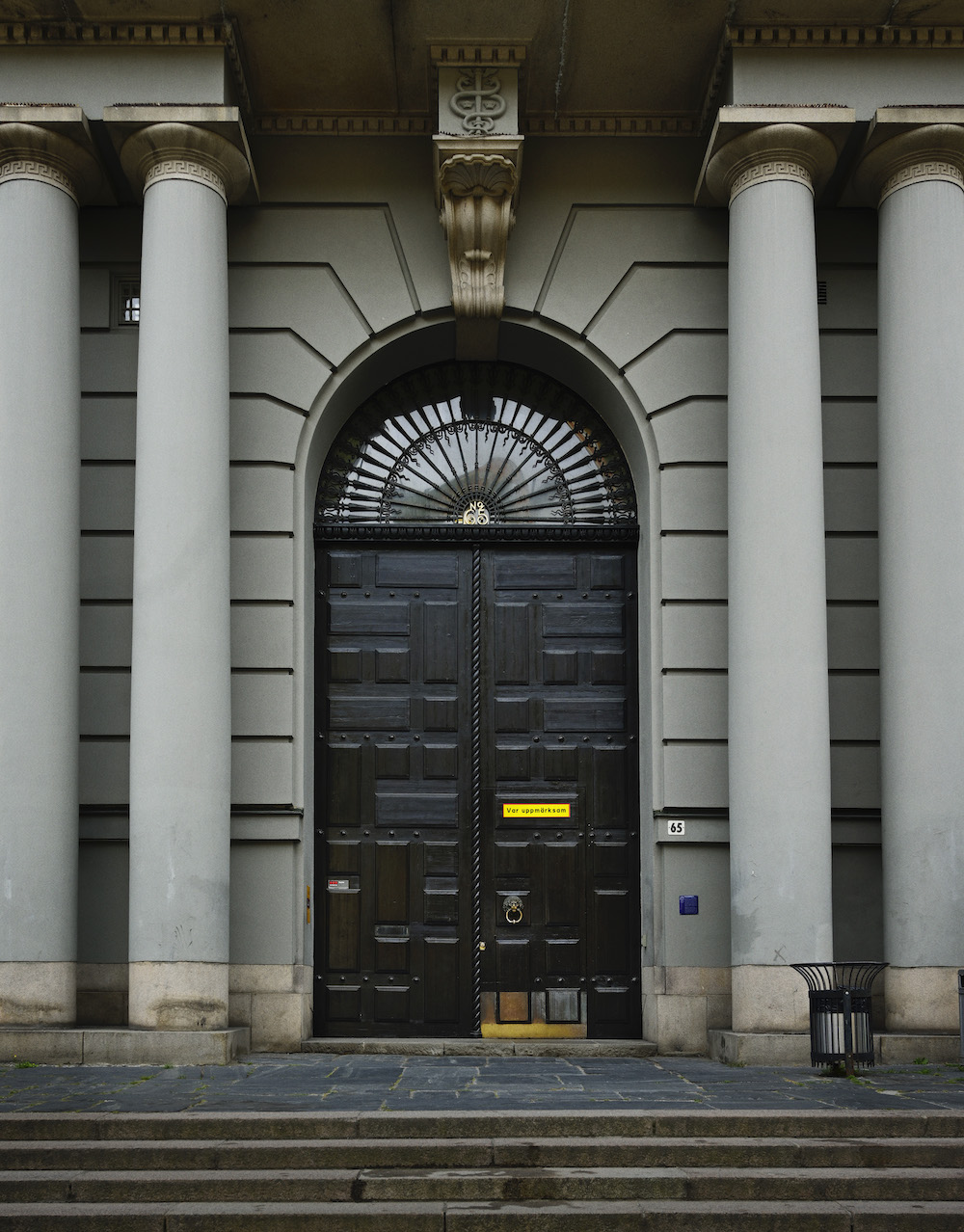 In the fall of 2020 Art Initiative kicked off the semester by exhibiting August Eriksson's Var uppmärksam/Pay attention on the school´s main entrance door. Eriksson asked us to pay attention: but to what? Maybe to attention itself?
Eriksson also placed his sign Var uppmärksam (Pay attention) on other locations, and placed signs with other messages in the public space of Stockholm.
In January 2022 we welcomed the photographic work Var uppmärksam/Handelshögskolan(2020) to our permanent collection.
The actual work arises in the relationship between the sign and the surroundings where it is erected. A traffic sign must have straightforward, unambiguous and easy-to-read prompts. August Eriksson uses this form of public imperative to express something ambiguous, demanding and existential. What deserves our attention in a time of endless information, possibilities and distractions?
August Eriksson's work is based on photography and expanding to other media. He explores the relation of perception to movement and the possibility of finding meaning through repetition. He has published three books with walking as starting point: The Walk (2016), Circling the Mountain (2019) and What Happens When Nothing Happens (2020). They can all be found in the SSE library.
In parallel with his artistic activities, Eriksson works publicistically. He co-founded and ran the magazine Motiv during the 00's and since 2016 he runs the publishing house Skreid Publishing. Previous exhibitions include Kulturhuset, Panopticon and CFF, Stockholm. In the spring of 2020, he participated in the group exhibition Silent Spring.
Podd cast on Attention and the attention economy