August Eriksson: Var uppmärksam/Pay attention
SSE Art Initiative begins the fall of 2020 with August Eriksson's exhibition Var uppmärksam/Pay attention. The exhibition is at the main entrance and on the stairway by the aula. Eriksson is asking us to pay attention: but to what?
In the spring of 2020 the artist August Eriksson placed his sign Var uppmärksam (Pay attention) on different locations in Stockholm, asking the observer to focus. The work is based on a sign in aluminum with the text Var uppmärksam (Pay attention) in black on a yellow background with a red border, that resembles of a traffic sign.
The actual work arises in the relationship between the sign and the surroundings where it is erected. A traffic sign must have straightforward, unambiguous and easy-to-read prompts. August Eriksson uses this form of public imperative to express something ambiguous, demanding and existential. The first part of the project was shown at the group exhibition Tyst vår (Silent Spring) next to Kaknästornet in Stockholm in the spring of 2020. In part two, Eriksson put up his signs in different places in Stockholm's street space and photographed them.
In August and September, SSE Art Initiative exhibit some of the photos at the school, and we have one of the signs on our imposing gate asking us to pay attention.
What deserves our attention in a time of endless information, possibilities and distractions?
August Eriksson also asks the question What happens when nothing happens? in a newly released book with photos from nightly walks in empty streets of Stockholm.
August Eriksson's work is based on photography and expanding to other media. He explores the relation of perception to movement and the possibility of finding meaning through repetition. In parallel with his artistic activities, Eriksson works publicistically. He co-founded and ran the magazine Motiv during the 00's and since 2016 he runs the publishing house Skreid Publishing. Previous exhibitions include Kulturhuset, Panopticon and CFF, Stockholm. In the spring of 2020, he participated in the group exhibition Silent Spring.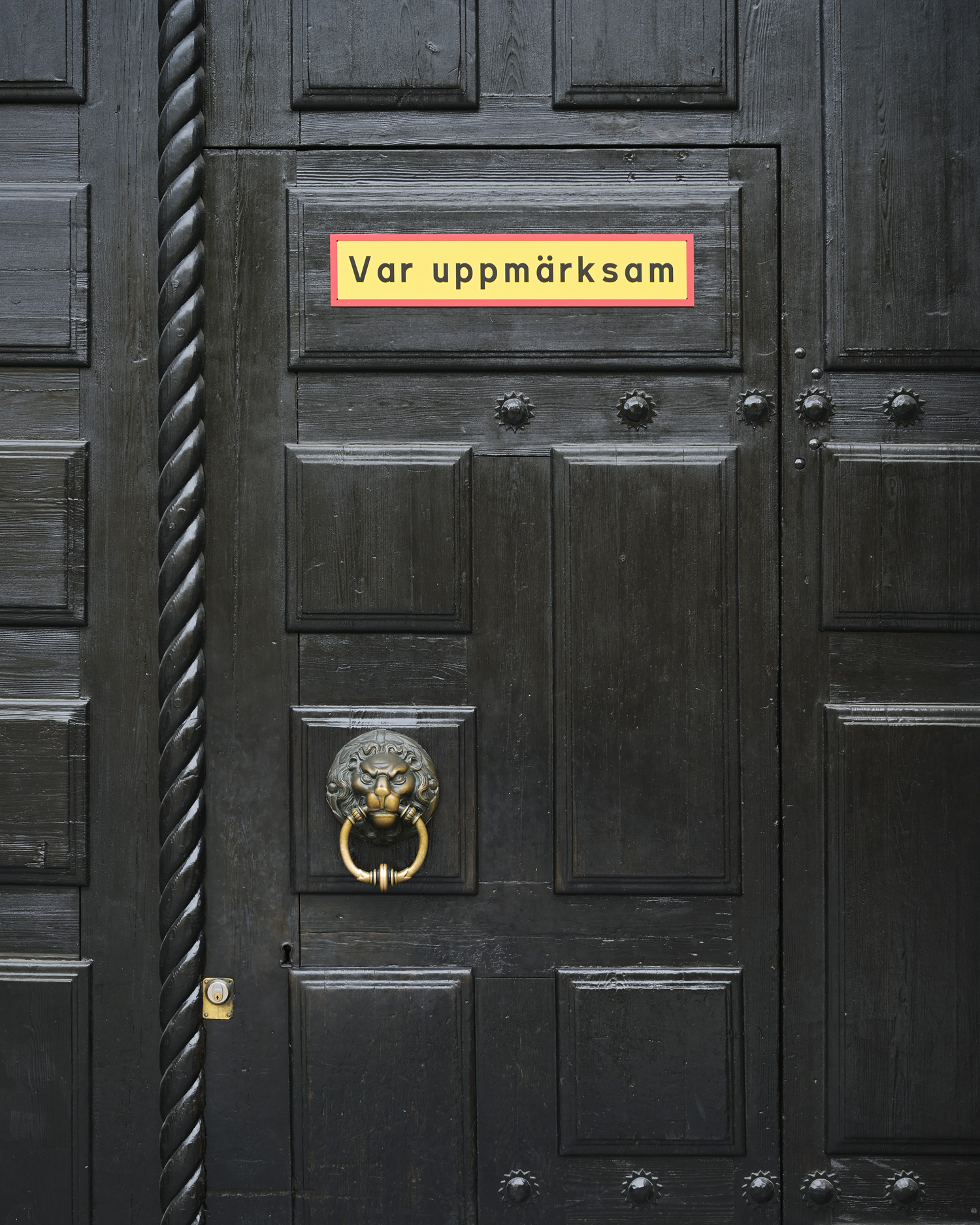 Photo: August Eriksson