Handels x Mejan 2023
Welcome to the third edition of the annual student curated exhibition Handels x Mejan. Open until May 21. Welcome to Sveavägen 65!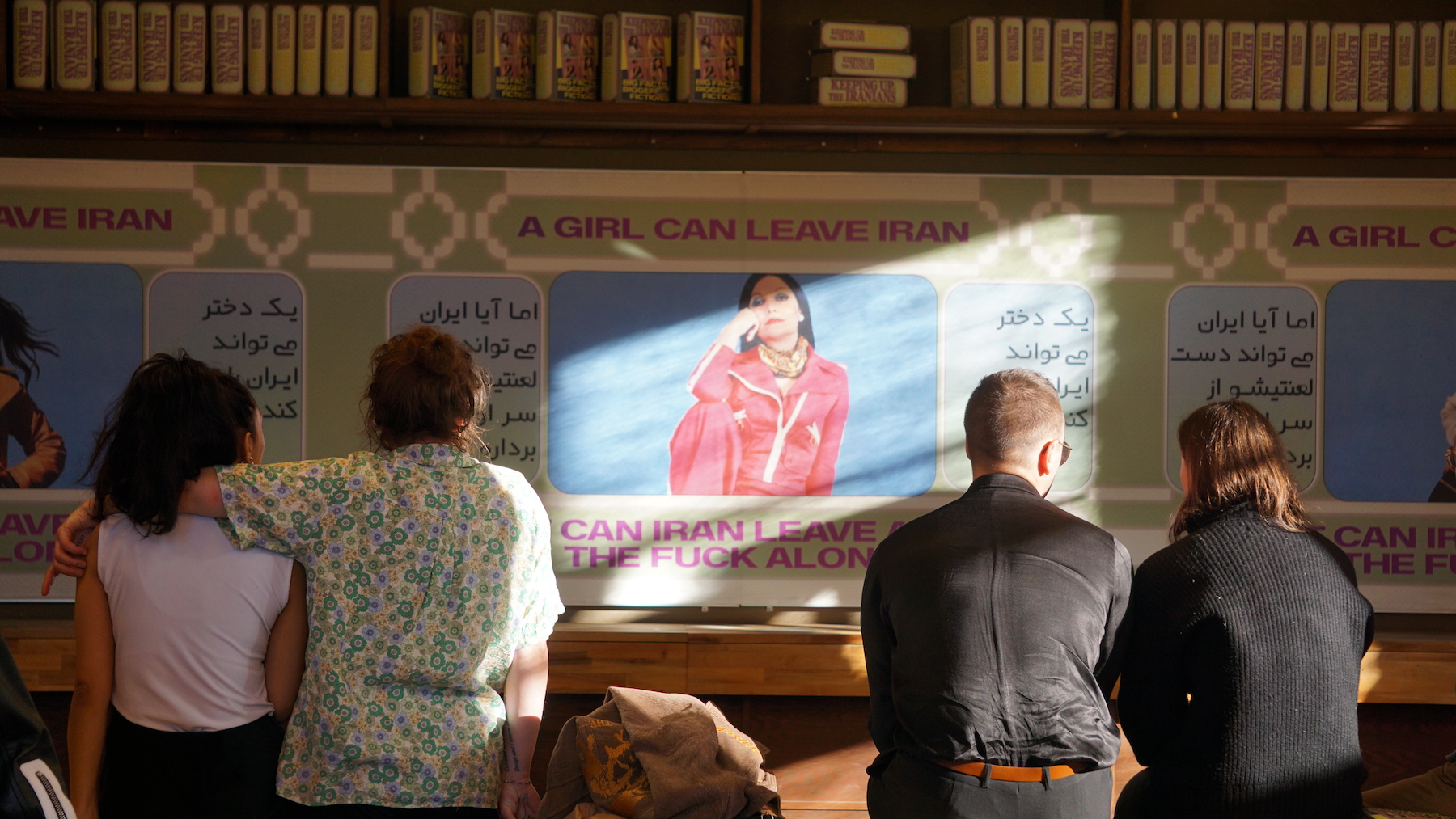 A Girl Can Leave Iran but Can Iran Leave a Girl the Fuck Alone by Afrang Nordlöf Malekian - one of four artists in Handels x Mejan 2023. Foto: Lingzi Tang.
The annual Handels x Mejan exhibition is a collaboration between students of Stockholm School of Economics ('Handels') and the Royal Swedish Academy of Fine Arts ('Mejan') that hopes to highlight the (often overlooked) potential of crossroads between art and business to connect, communicate with, and inspire a broadly diverse audience.
In this year's third edition of Handels x Mejan, the overarching theme is 'Transformation'; the title pays homage to not only the extraordinary craftsmanship and unique artistry of each of the four featured graduated Master students, and how their works manage to quite literally transform the otherwise traditional spaces they're in, but also the universal journey we all take as students in our academic careers - and even, throughout our lives. The exhibition hopes to be a fruitful, although temporary, addition to the already expansive permanent collection at SSE such that the explosive, yet refined, expression and subsequent youthfulness of each piece captures the true 'student' spirit: playful, passionate, and raw.
Participating artists in Handels x Mejan 2023:
Curated by students Emma S. Johnson and Samuel Agri (together with Art Initiative).

Participating Artists Handels x Mejan 2023
Afrang Nordlöf Malekian (b. 1995, Iran/Sweden) lives and works in Stockholm. He holds an MA from the Dutch Art Institute and an MFA from the Royal Institute of Art in Stockholm. His practice deals with history's hidden actors and makers, where historicity is put into use as a form of documentation and aspiration that calls for improbable futurities, examining how narratives, hierarchies, systems, and language disappear, re-appear and return, and transform in the most unexpected ways. It poses the question of how to think about the political expression contained in fleeting moments or mundane actions, which are often dismissed as apolitical.
Astrid Braide Eriksson (b. 1993, Göteborg) is a visual artist living and working in Stockholm. She holds an MFA from the Royal Institute of Art, Stockholm and Akademien der Bildenden Künste, Vienna. Through drawing, moving image and sculpture Braide Eriksson investigates language as a bearer of ideology and the affective consequences of the economic system.
Malin Norberg (b. 1989) is an artist based in Stockholm, Sweden. In her sculptures and drawings she manifests themes commonly found in folklore, cartoons and amusement parks. Her illusory spaces contain portals and props set to the backdrop of 'reality', questioning what we choose to see in the natural world around us. Norberg's surrealist, often existential musings reveal tragicomic plays on anthropomorphism and other cross-border worlds, guiding the viewer through parallel realities to unlock a limitless scope of imagination.
Karon Nilzén (b. 1994) graduated from the Royal Institute of Art in Stockholm in the spring of 2022 and now lives in Copenhagen. In his sculpture-centered practice, Karon works based on the body as a sometimes functional, sometimes dysfunctional, part of consciousness. The body is extended and repeated through the found and used materials. Metal parts and textiles are disconnected from their intended uses and joined to form organisms, repellent function and understanding.