The Jacob Dahlgren Room
The Swedish artist Jacob Dahlgren has transformed room 542 in SSE´s main building at Sveavägen 65 into an art installation and an extraordinary learning environment. The Jacob Dahlgren Room is the school´s third art classroom and seats 40 students.
(Photo by Mikael Olsson)
Jacob Dahlgren is a Swedish artist born 1970 and educated at the Royal Institute of Art. His art is characterized by the use of colors, often combined in stripes, squares and abstract graphic patterns. Dahlgren creates most of his patterns with ready mades such as pencils, coffee mugs, tiles, folding rules, measuring tape or scales. In 2007, he represented Sweden in the Nordic pavilion at the Venice Biennale - with a wall full of dartboards and arrows for the visitors to throw!
During the summer of 2021 Jacob worked on room 542 in SSE´s main building at Sveavägen 65, turning it into the school´s third art classroom. The room will still seat 40 students, and will be a classroom upgraded to increase the quality of our learning environments.
There are many relationships between Jacob Dahlgren´s art and what we exercise at SSE: Dahlgren works with tools for measurability (measuring tape, scales, rulers) and most of his graphical patterns derive from the same type of instruments often used at business schools: charts, bars, tables, circles.
And at the same time as art can be abstract, so can research. An abstract is a simplification that changes the context and the way we interpret things. It´s a method based on taking away stuff, in order to see, experience, highlight or show something beyond. The summary of a scientific paper is also, as we know, called abstract and is based on the same idea.
Art Initiative together with Jacob Dahlgren will in September do a series of seminars called Abstracts which will revolve around abstracts and their intentions.
Jacob Dahlgren is called "The striped artist". He has worn striped t-shirts every day since 2001 in a performance called Peinture Abstraite (follow it via Jacob's Instagram @jacob_dahlgren). He sees himself as a living exhibition, and has promised to wear striped t-shirts every day for the rest of his life. The project is melting together the artist's every day life with his art. Jacob has over 1 500 striped t-shirts in his collection, numbered and carefully categorized in his studio.

In 2019 Jacob did a collaboration with Acne Studios, Stripes by Jacob Dahlgren: knitwear, scarves, beanies, wallpaper, trays and wool blankets.
The Jacob Dahlgren Room was made possible thanks to a generous donation from Fabian Hielte, Lars Bane, Johan Thorell and Erik Mitteregger.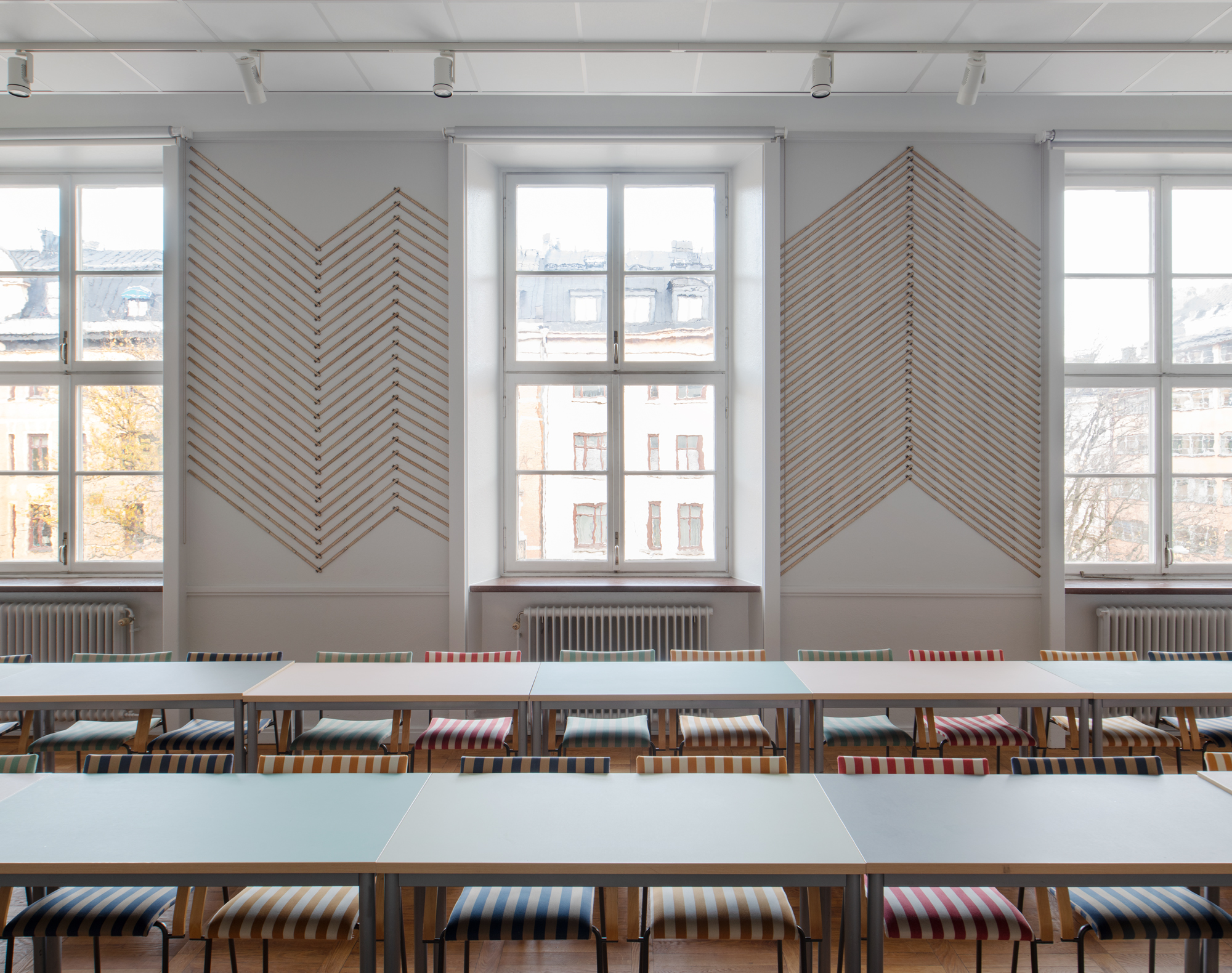 Photo: Mikael Olsson