Leap of Faith (Getting Over)
Maria Miesenberger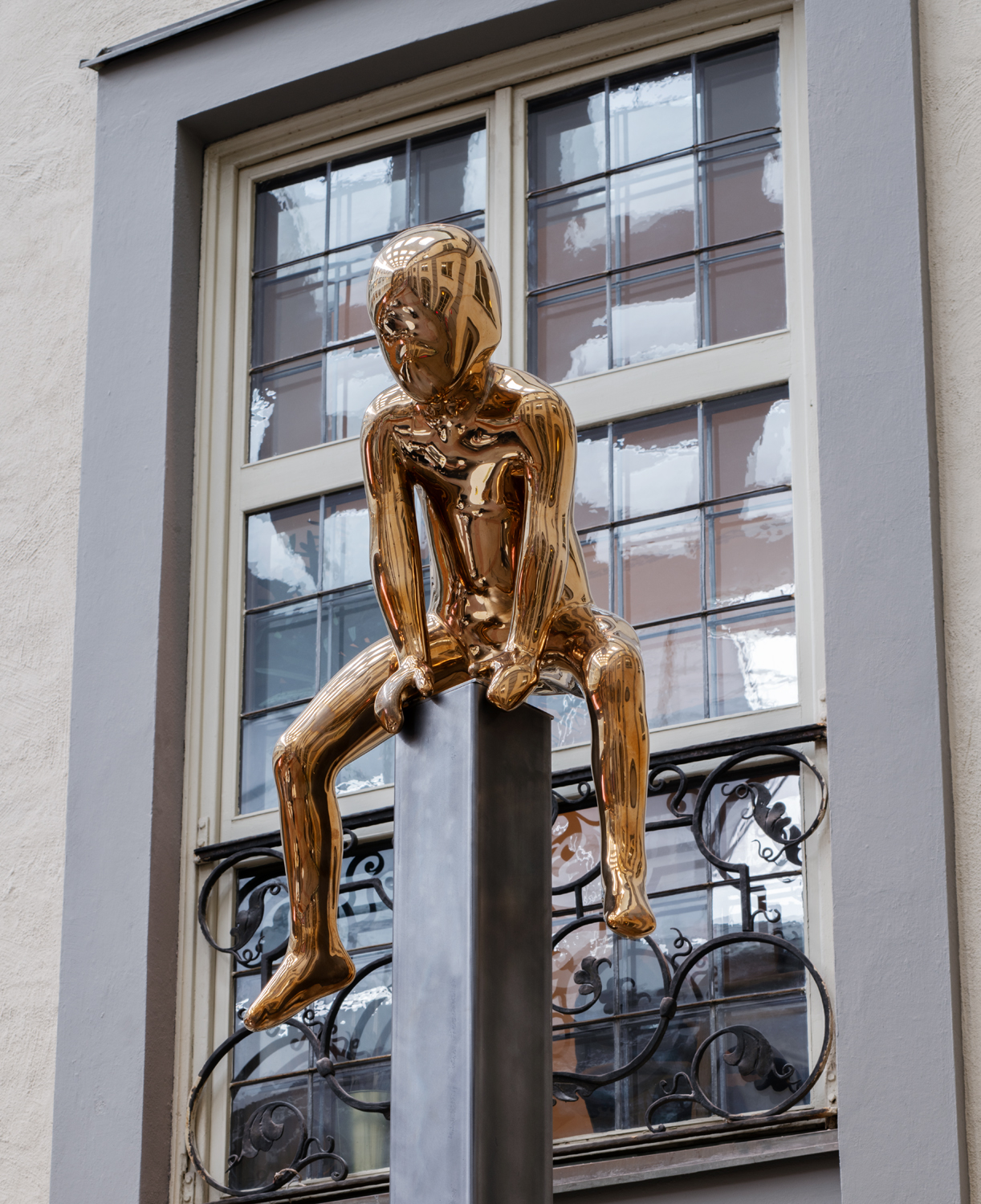 Maria Miesenberger, Leap of Faith (Getting Over), 2018, polished bronze, in the atrium of Stockholm School of Economics.
Maria Miesenberger was born in Lund, Sweden in 1965 and currently lives and works in Stockholm. She has studied photography and painting at Konstfack, Stockholm and sculpture at Parsons School of Design in New York. Between 1995-2003 she lived and worked in New York, USA. Maria Miesenberger has exhibited in numerous galleries and institutions in Sweden and abroad. Her works are included in public collections such as those of Moderna Museet, Hasselblad Foundation, Malmö Konstmuseum and the Public Art Agency in Sweden.
Leap of Faith - an illustration of SSE's educational mission
Text by SSE President Lars Strannegård, June 2020
SSE has an educational mission: to educate students who are free and at ease in the unknown world. A free human being is one who takes on challenges, who dares to do things, and overcomes obstacles and hurdles that at first seemed impossible.
A free individual is one who has a fact and science-based mindset, who is reflective and self-aware, empathetic and culturally literate and able to find creative solutions to whatever situations that present themselves.
Maria Miesenberger's spectacular sculpture is an illustration of SSE's educational mission. It is a jumping figure performing something stunning and extraordinary. It seems like a playful act. It is leapfrog. But high up in the air, which makes it dangerous. Simultaneously it reminds us of gymnastics, and we all know of the need for discipline and hard work in order to achieve something that looks simple and elegant. Practice makes perfect.
This is what freedom requires. Hard work and faith in one's own potential.
The title of the sculpture is Leap of Faith. It is derived from the philosopher Søren Kirkegaard who argued that it is necessary to leave the phase of reflection and just go for it, take action. A commercial sports apparel company would probably phrase it as Just Do It. But a Leap of Faith is something more profound. If you take a leap of faith, you do something even though you are not certain whether you will succeed or not. It is about taking on challenges and thereby taking risk. It is about having trust in yourself and others.
A Leap of Faith is about believing in oneself while being humble to one's shortcomings and lack of knowledge. It is about the act of looking for knowledge. It is about a process, not a steady state. It is about doing something, of being on the move. Trying, experimenting, having grit.
Maria Miesenberger's sculpture is in gold-shimmering bronze. An alternative title could of course have been The Golden Child. But Golden Children are not just there, they are made, and need to be constantly re-created, through hard work and grit. So, along the lines of Maria Miesenberger's intentions, it is the leap in itself that creates the transformation.
One thing is for certain, you are better at taking a Leap of Faith if you have an education that has prepared you for uncertainty. If you base your judgment on facts and science, if you reflect and are able to put yourself into somebody else's shoes. Then you know when the time is right for that leap.
Lars Strannegård
President
Stockholm School of Economics