SET/SÄTT
Jesper O.T. Andersson, 2020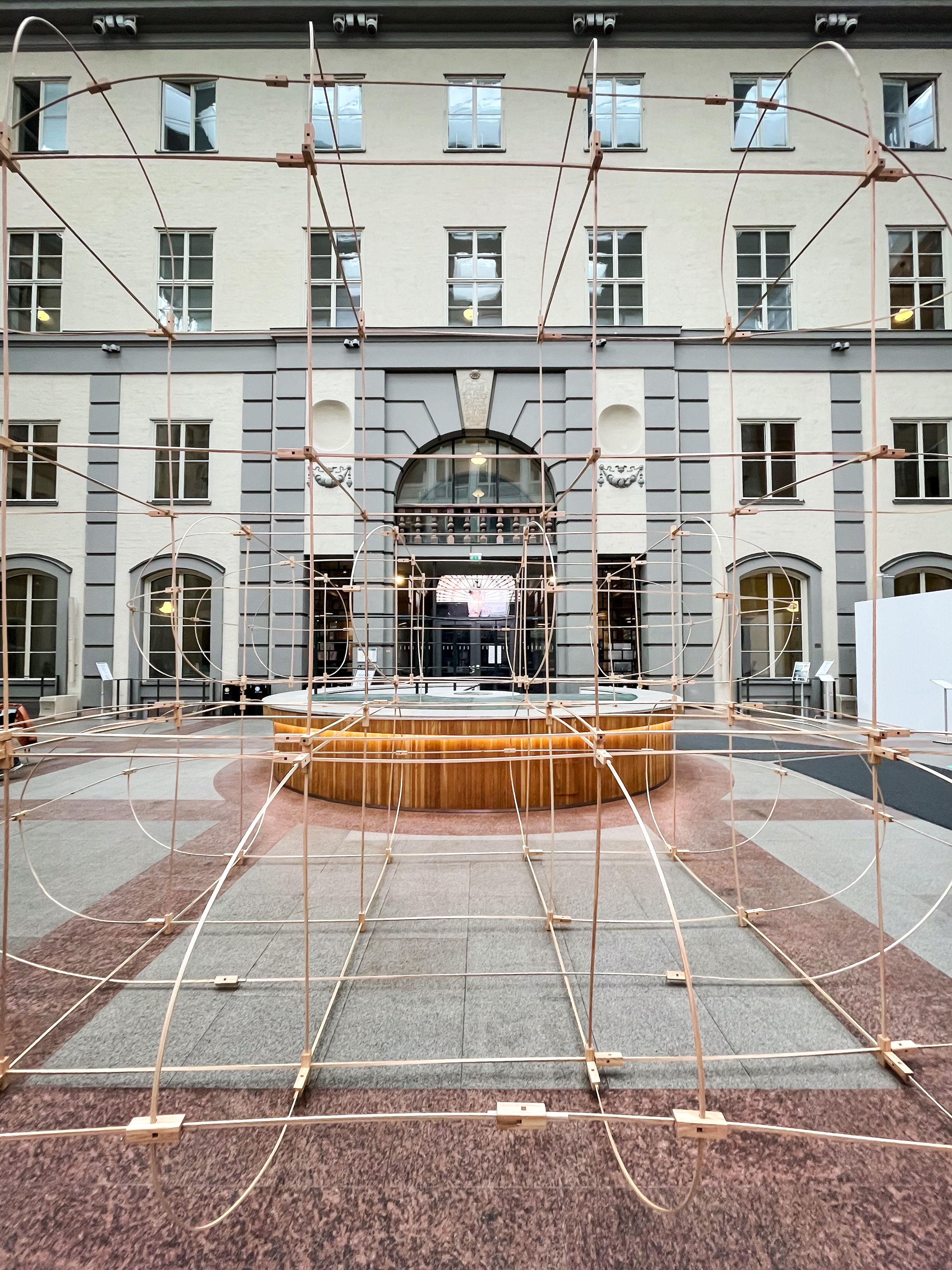 SET/SÄTT, 2020, by Jesper O.T. Andersson is on display in the Atrium at the Stockholm School of Economics in May 2021 as part of Handels x Mejan.
SET/SÄTT is a sculpture consisting of components with the same function, but whose composition can continuously be restructured in relation to its environment and context. The components are made out of thin beams of ash wood with belonging couplings that lock the beams to each other. These components can thus create large networks of lines that are kept together by the tension in the wood. The sculpture is in ways a tool for the artist to draw up lines and volumes in a space - like a three dimensional sketching process to create a design from a room's prerequisites.
In addition to being a tool for a user to build something, the artwork is an expression of the artists' interest in how things relate to each other. This interest is a common theme in Andersson's work, where the enthusiasm for how components, building blocks and ingredients come together to create a whole. SET/SÄTT was thus created with the ambition to visualize the building blocks of language in its most basic form.
Our spoken languages are made up of variations of sounds created in the oral cavity which are put together in different sets, or words. Words in their turn are delivered in sequences to create sentences that create meaning. The artist has created a building kit that works like a modular sculpture that behaves in a similar way to language. That is to say, it is adaptable, open for development and will change depending on the user. The intent of the artist was to mimic or draw inspiration from the dynamics of language, its elements and the glue that holds it together.
SET/SÄTT is thus a naive attempt in creating a model of language, similar to how scientists attempt to model complex natural phenomena. In the field of economics and finance, we also constantly try to model human phenomena but as researchers find over and over again, we can seldom predict what will happen despite developing models and trying to. The work can thus be seen as a basic attempt in trying to understand our surroundings, but only being able to model the rudimentary things – and never the entire picture.
Jesper O.T. Andersson is an artist based in Stockholm. He graduated from the Royal Institute of Art (Kungl. Konsthögskolan i Stockholm) in Stockholm 2020. His work often features themes of attempting to model complex phenomena through sculpture and drawing.