Bigert och Bergström: CO2 Lock-In
300 kg is the average weight of a Swede's CO2 emissions for 3 weeks. Outside SSE the kilos can now nail you to the ground. The artwork CO2 Lock-In by the internationally recognized Stockholm-based artist duo Bigert & Bergström is exhibited on Sveavägen 65 until October 22 by SSE Art Initiative in cooperation with Stockholm Konst.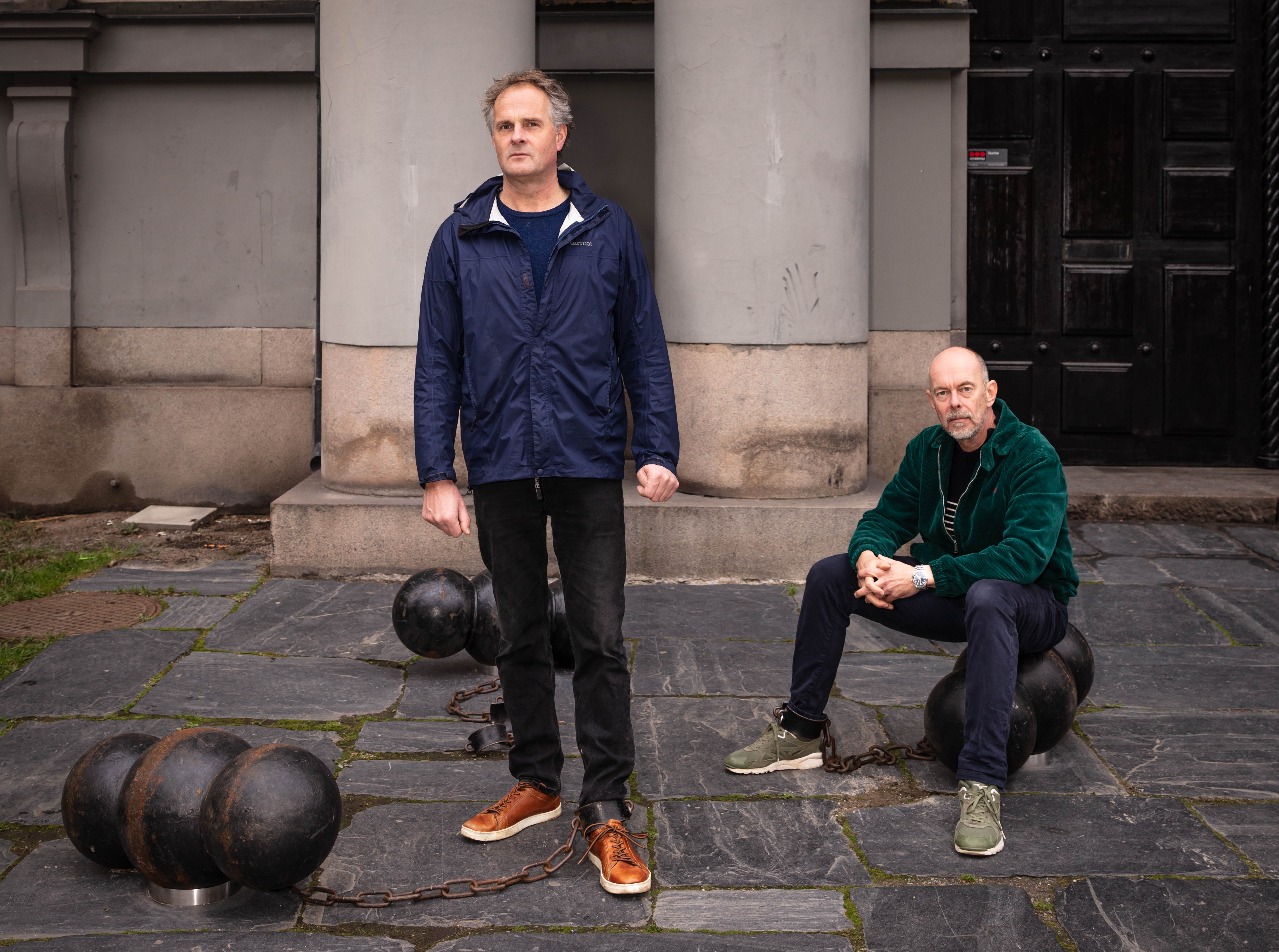 Bigert & Bergström have explored climate change, sustainability, humanity, nature and technology for the last 30 years. We are happy to exhibit their installation CO2 Lock-In for three weeks (October 1 to 22), outside the main entrance of the school. The foot shackles are made of 100 percent recycled iron, shaped as carbon dioxide molecules.
During the three week exhibition, a series of performances will take place at certain times. The artists, researchers, students and experts will be chained to the artwork to meet students and faculty at the school, as well as the public from Sveavägen.
"The aim is to create and encourage conversations, reflections and knowledge sharing", says Tinni Ernsjöö Rappe from SSE Art Initiative.
Only for SSE students, faculty and staff:
Wlecome to an Art Talk with Bigert & Bergström on October 27, 12-13.
More info:
SSE Art Initiative, Tinni Ernsjöö Rappe; tinni.rappe@hhs.se, 0708-36 66 41
Stockholm konst Stefan Hagdahl: stefan.hagdahl@stockholm.se; 08–508 31 320
Bigert & Bergström: www.bigertbergstrom.com
All pictures by Jean-Baptist Béranger
Meet the experts
Meet the artists, students, teachers, researchers and experts, chained to the art work outside the school on Sveavägen 65 during lunchtime (12-13).
Open for everyone! (We are following the Covid 19 restrictions, and will not allow crowds)
Oct 7: Jonas Allerup, climate negotiator and analyst at the Swedish Environmental Protection Agency (Naturvårdsverket).
Oct 14: Emma Stenström, who teaches Global Challenges and Global Citizenship at SSE, is happy to discuss some human aspects of sustainability work. What transformative capacities do we need? Can art help us to achieve them?
Oct 15: Bigert & Bergström, artists.
Oct 16: SSCA/SSE Students for Climate Action.
Oct 19: Svetlana Gross, PhD student at SSE: come talk to Svetlana about decarbonisation as a radical transformation of the economy.
Oct 21: Emma Sjöström, PhD and co-director of the Sustainable Finance Initaiative at SSE, and an expert on carbon emissions and divestments.
Oct 22: Jesper Roine, Adjunct Professor of Economics at the Department of Economics at SSE doing research on political economy and issues relating to natural resources.