Klara Lidén
Warm Up: Hermitage State Theatre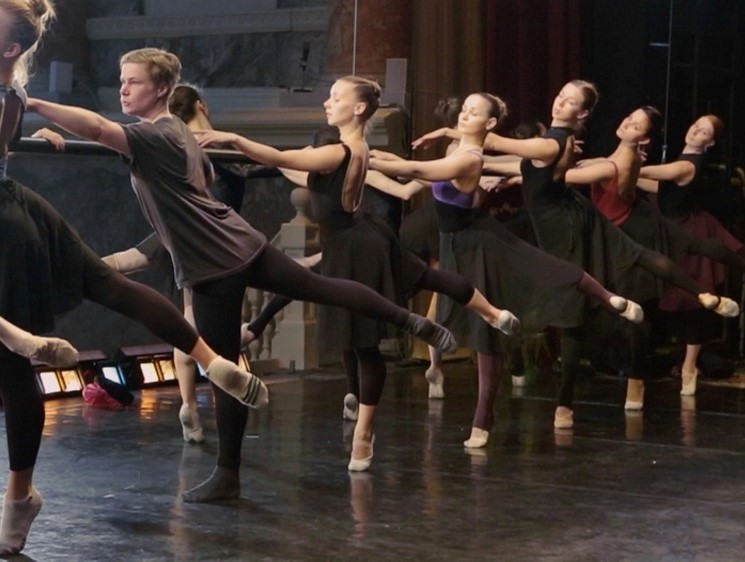 In the video work Warm Up: Hermitage State Theatre (2014), the artist artist Klara Lidén inserts herself herself into into a professional ballet warm-up .Visibly dissimilar to the professional ballerinas, with alook of awkwardness and always slightly behind, she puts a big effort into trying to follow the dancers' elegant movements.
The video video shows what happens when an individual attempts to enter a group where specific rules and codes regulate behavior. A professional ballet company has several parallels a corporation or a military, where discipline and order are virtues, but were were outliers still are essential parts of the organization.
Klara Lidén was born in Stockholm. She studied architecture at the School of Architecture at the Royal School of Technology in Stockholm before moving on to fine art studies at the Universität der Künste in Berlin and the Konstfack (University College of Arts, Crafts, and Design) in Stockholm. She describes her artistic practice as a form of 'un-building, re-cycling or improvising within existing structures and objects. She often uses pre-existing materials and urban detritus and puts herself as the protagonist in the process.
The artist's numerous solo and group shows include exhibitions at the Serpentine Gallery, London, the Moderna Museet, Stockholm, the New Museum in New York, Reena Spaulings Fine Art, New York and Manifesta 10, St. Petersburg. In 2009, Lidén's work was included in the Danish and Nordic Pavilions at the 53rd Venice Biennale, and she received a special mention from the jury of the 54th Venice Biennale. Her work is included in the collections of the Museum of Modern Art in New York, the Moderna Museet in Stockholm, and the Astrup Fearnley Museet in Oslo, among others.
This exhibition is made with the kind support of Reena Spaulings Fine Art and Per and Lena Josefsson.