Commoncause
Maria Friberg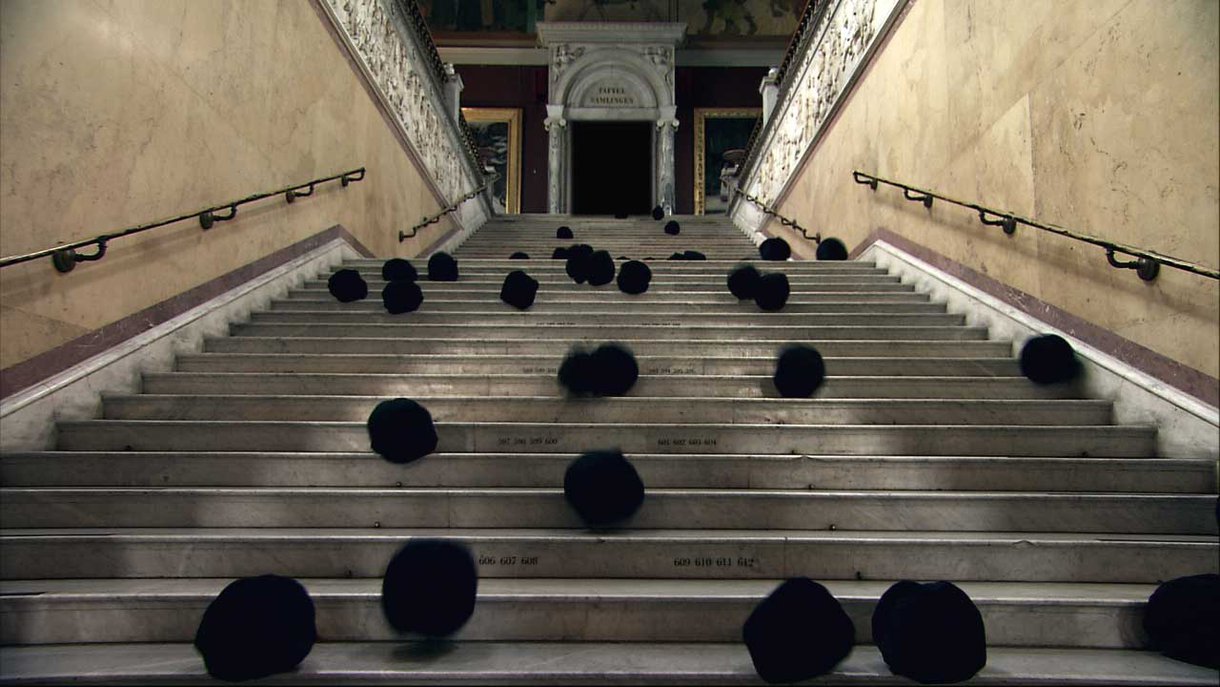 Welcome back to school students, faculty and staff! During Januari 2023 we are screening Maria Friberg's Commoncause (2008) on the big screen in the atrium.
In the video we see more than three hundred basketballs stuffed in velvet bags that are heading down a staircase. The video is filmed on the main staircase at the Nationalmuseum in Stockholm and can be read in different ways: one is that each ball is unique but at them same time they create a kind of unit - working together, moving forward and teaming up. Some of the objects move fast, some slowly. Others stumble, but they all seem to be invading the space - just like the students do at this time of the year at Sveavägen 65.
From the start, Friberg has carried out intuitive, anthropological research using contemporary men as the object of her work. Commoncause showed a change in her aesthetic expression, leaving portrayals of human beings and instead relying on more abstract forms.
Maria Friberg, born in 1966 in Malmö, is one of Sweden's most established photo and video artists. Friberg is represented at SSE with three artworks: In the board room we find Somewhere else (1998 ) – one of Maria Friberg's earliest and best known works. On floor 5 in the northern staircase you can find a man placed on top of a pile of shirts: Maria Friberg´s Changed position (2014), and room Estrid hosts Maria Friberg´s Alongside Us #2 (2007). One can also find her works in the collections of for example Moderna museet, Stockholm; Kiasma – Museum of Contemporary Art, Helsinki, Fotomuseum Winterthur, Zürich and the Denver Art Museum, Denver.