The Toad
Ingela Ihrman, 2012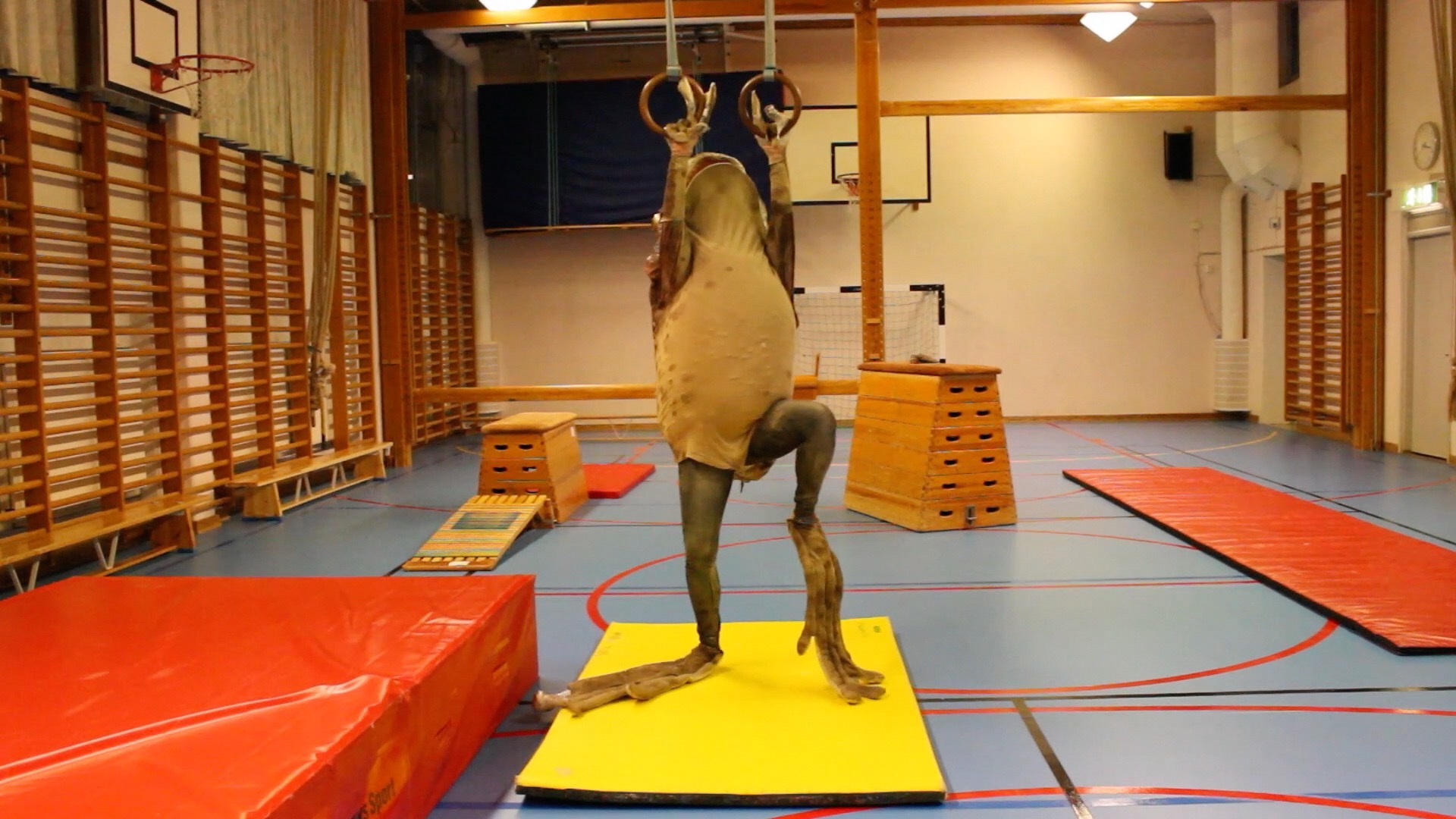 4,17 min
Performance and video with toad costume (textile, plastic, spray paint, paper, foamballs). Camera: Sam Hultin and Johan Eriksson

What is it to make an effort?
Ever since art school (she graduated from Konstfack in 2012) Ingela Ihrman has made plant and animal costumes for exhibitions and performances. She has transformed herself into a pinkish-white giant water lily, a big otter giving birth, a large black blackbird and a bright blue killer clam that bathes in Ingela´s own bathtub in Malmö. In The Toad (Paddan) she is dressed in a toad costume with a fat belly, striped tights and long webbed feet. The toad does it´s best to make it through apparatus gymnastics, and though it´s slow and a bit clumsy it still tries. Most people can relate to the feeling, even if it´s in something else than apparatus gymnastics. One student at SSE related this to feeling during exam periods.

Ingela Ihrman´s practice includes sculpture, performance, video and writing as well as collaborations within the fields of science, theater and dance. In her art Ingela investigates how humans interact with each other and with other species, and our longing for belonging. Her work is can be described as absurd and funny, but also poetic with great seriousness. Haven´t we all been – and met – the toad?

The toad as an artwork might chafe, but we can probably also see it as loving (at the same time?). It raises issues such as critique of norms, identity and belonging, and asks questions like:

What does it mean to not be welcome in the "normal"?

Do you sometimes feel like the toad? (And when is that?)

How do you relate to trying and making an effort?
Ingela Ihrman was born in 1985, in Kalmar, Sweden. Now she lives and works in Malmö. She graduated from Konstfack, Stockholm 2012. Ingela is represented at for exemple Kiasma, Statens konstråd, Moderna museet and Malmö konstmuseum. In 2019 Ingela Ihrman represented Sweden at the Venice Biennal.