Economic Ekphrasis: Goldin+Senneby and Art for Business Education
Economic Ekphrasis proposes a model for art-based business education. Using the 2016 exhibition Standard Length of a Miracle by conceptual artist duo Goldin+Senneby as a case study, the book examines how art can be activated at every level of an academic institution providing a novel scientific method in business studies. This is the second book in the SSE Art Initiative book series Experiments in Art and Capitalism.
Published by Sternberg Press and distributed by MIT Press, Artdata, Les Presses du Réel. The book will hit the markets in the summer of 2021.
Edited by Pierre Guillet de Monthoux and Erik Wikberg
Goldin+Senneby´s digital back-office experiments in algorithmic investment strategizing open up such an Economic Ekphrasis when scholars of art, finance and economics are invited to transdisciplinary research on financialized capitalisms by the artists. Ekphrasis was the term for a literary description of artworks. Economic Ekphrasis improves economic concepts. Ekphrasis read visual artworks anew. Economic Ekphrasis inscribes artworks into the very sensemaking of economic life in contemporary financialized capitalisms.
Economic Ekphrasis proposes art-based business education in financialized capitalisms. The 2016 Stockholm show Standard Length of a Miracle featuring inside art by Goldin+Senneby not only presented digital back-office experiments in algorithmic investment strategizing. It equally allows for ekphrastic platforms where scholars of art, finance and economics perform transdisciplinary experiments in capitalism. When Ekphrasis, originally rendering pictures verbally to the visually blind, turns Economic it empowers powerless capitalist insiders. By green-housing art-based emancipatory actions inside financialized capitalisms Economic Ekphrasis significantly reconsiders yesterday's critique and protests of industrial capitalism.
Contributions by:
Maria Lind
Marie-Louise Fendin
Örjan Sjöberg
Ismail Ertürk
Anastasia Seregina
Jonas Hassen Khemiri
Pamela Schultz Nybacka
Emma Stenström
Katie Kitamura
Clare Birchall
Brian Kuan Wood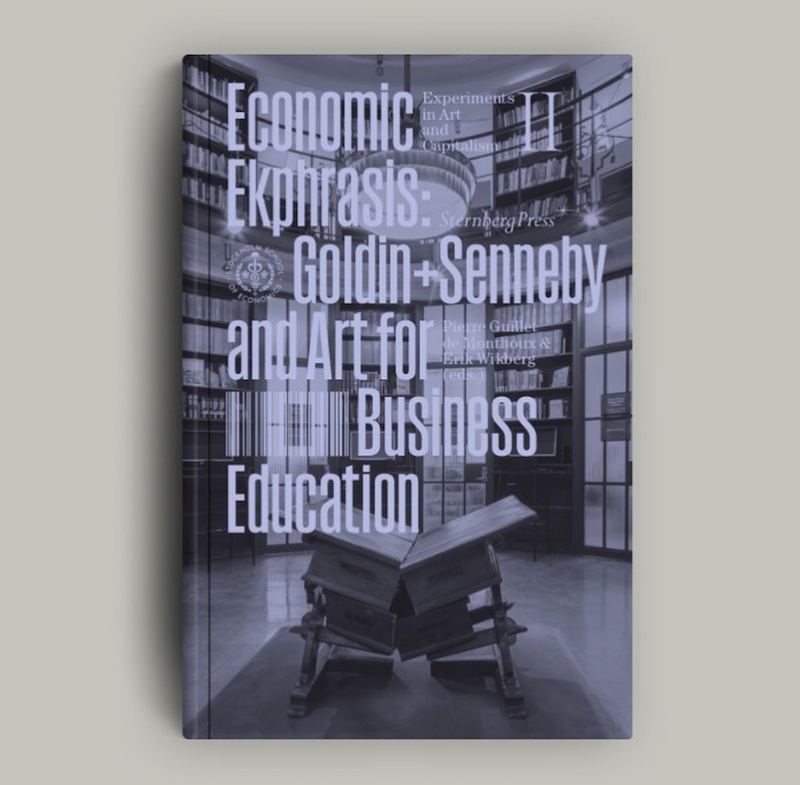 A series of scintillating, elegantly illustrated essays explore Goldin+Senneby's nuanced use of utterly surprising tools – black-box trading strategies, secrets, absences, magic, a broken table, an oak tree – to provoke us to think more imaginatively about financial and economic life. A vital source of inspiration for any academic institution that wants to engage seriously with art.

Donald MacKenzie, Professor of Sociology, University of Edinburgh
How can Art, beyond traditional critique or celebration, generate unforeseen perspectives that challenge, tackle and irritate Capitalism? The practices of Economic Ekphrasis, might provide answers that pave the way to new exciting experiments in Art and Capitalism.
Daniel Birnbaum, Professor of Philosophy, Städelschule, Frankfurt a.M., Director of Acute Art, London
This book provides a potential for reflexivity and criticism activated by the presence of the artworks in the educational space. The concept of Economic Ekphrasis is a clever proposal to avoid falling into the pitfall of reducing the place of art in a business school to an instrumental function.
Eve Chiapello, Professor and Director of Studies EHESS Paris