Olof Marsja
Den underjordiska nattens väktare (The Guardian of the Underground Night) 2019. Stoneware, wood, tape, fur, aluminium and mixed media.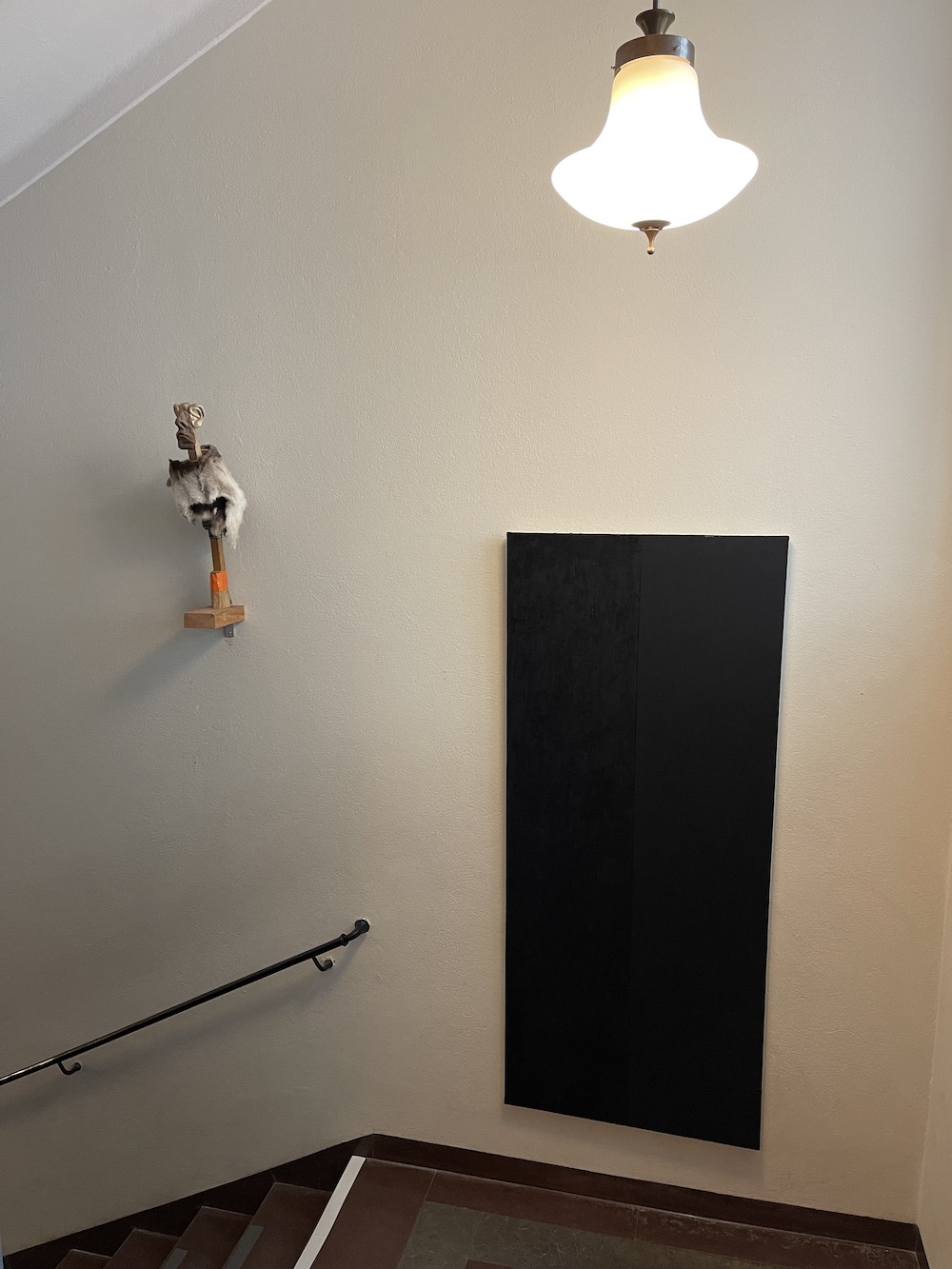 Olof Marsja´s Den underjordiska nattens väktare (The guardian of the underground night), 2019, together with Sunniva McAlinden´s II The Papess, 1992.
"With humor and great seriousness, Olof Marsja lets different materials and forms meet in ambivalent and chilling constellations. Like a trickster, he eludes categories such as visual arts, crafts, tradition and the present. In his installations he creates his own sculptural vocabulary and new dialogues and stories emerge. With roots in Sami experiences, Olof Marsja highlights other perspectives and expands the Swedish art scene. Playfully and intelligently, he explores and shapes issues of identity, the present and history. "
The jury for the 2019 Maria Bonnier Dahlin scholarship was Bildmuseet's director Katarina Pierre and Loulou Cherinet, professor at Konstfack.
Olof Marsja in conversation with the curator Annie Jensen before the opening at Bonniers Konsthall on 4 December 2019.
AJ: You describe some of your works as characters and figures that populate a mysterious landscape, can you tell us a little more about this landscape and its inhabitants? What do these characters want and who are they?
OM: The landscape that my characters inhabit is in the shadows of the run-down identity politics. I have gone into the shadows because it feels like I belong there. To help me, I have the Frusne, Pea'n'Tjerry and Fresh Mint, among others. They are guides and protectors of their lands. Regardless of whether the direction they point out leads somewhere or not, it gives more clues to follow than those that lie in days. And that it has become this landscape I have chosen to partake of is because I find it necessary to try to embody an idea of ​​a non-uniform identity. One that, like my characters, consists of a variety of materials, images and expressions that originate from a bit anywhere and that do not stop, buut extends both backwards and forwards in time.
AJ: The choice of materials is very central in your work, both how you find different types of materials and then process them. You talk about the inhabited history of the different materials and how you in different ways seek to highlight it and reformulate it, can you tell us about the materials as a guide for your work and why it is important to you?
OM: I am drawn first and foremost to organic materials as they have a tactility that I appreciate. Something I think comes from the fact that they have been handled by humans since time immemorial, while chemically processed/produced materials in some way lack memory. This is of course a truth with modification. In any case, it is important for me to mix well with these two groups because of the different tempus that lies both in the materials themselves and the techniques with which they are handled. This gives the sculptures two timelines that create a certain ambivalence about their residence in time and space. Reindeer fur, that I have worked with over the past year, is in the first category. I like it because it is impossible to avoid to think about that it is another animal we meet and all that it entails. On a personal level, the fur also comes with the narrative that Linnea Axelsson in her epic Aednan, in my opinion, captures in the sentence "To carry this animal body". The reindeer is something that the Sami people must always relate to, for better or for worse, figuratively and metaphorically. I put together with the industrially produced; a sports sock and a piece of plastic bag from Lidl, and it just becomes part of a larger whole, and picking the fur out becomes kind of uninteresting. What I am trying to access, among other things, is that these things do not exist separately, but lives in a coexistence.
AJ: I experience your work as both playful and humorous, but at the same time also filled with seriousness and something almost unpleasant. It is difficult to determine if the faces of the figures in your sculptures are friendly or evil. It makes me think of something you mentioned earlier - that with your art you want to highlight and illuminate Sweden's colonial historiography, specifically towards the Sami people, and the indoctrinated racism that results from it. Can you develop around this element of darkness/playfulness in your work?
OM: Im not really trying to illuminate the colonial writing of history as such, but rather to try to process/treat things that came with it such as shame, inferiority complexes, historylessness, etc. I do not want to get caught up in this, it´s personal grief and thoughts, and therefore I use playfulness. That has given me space to renegotiate and take power out of the hands of that historiography. At the same time, the colonialism has left concrete traces in people and lands, hence the ever-present darkness. Seen from another perspective, the darkness and the playfullness is way for me to give my sculptures a weight/agent. We, the audience, step into their land with their rules, and they are not going to give them up.