Triggered and Blue Pilled
Jacob Broms Engblom (2021)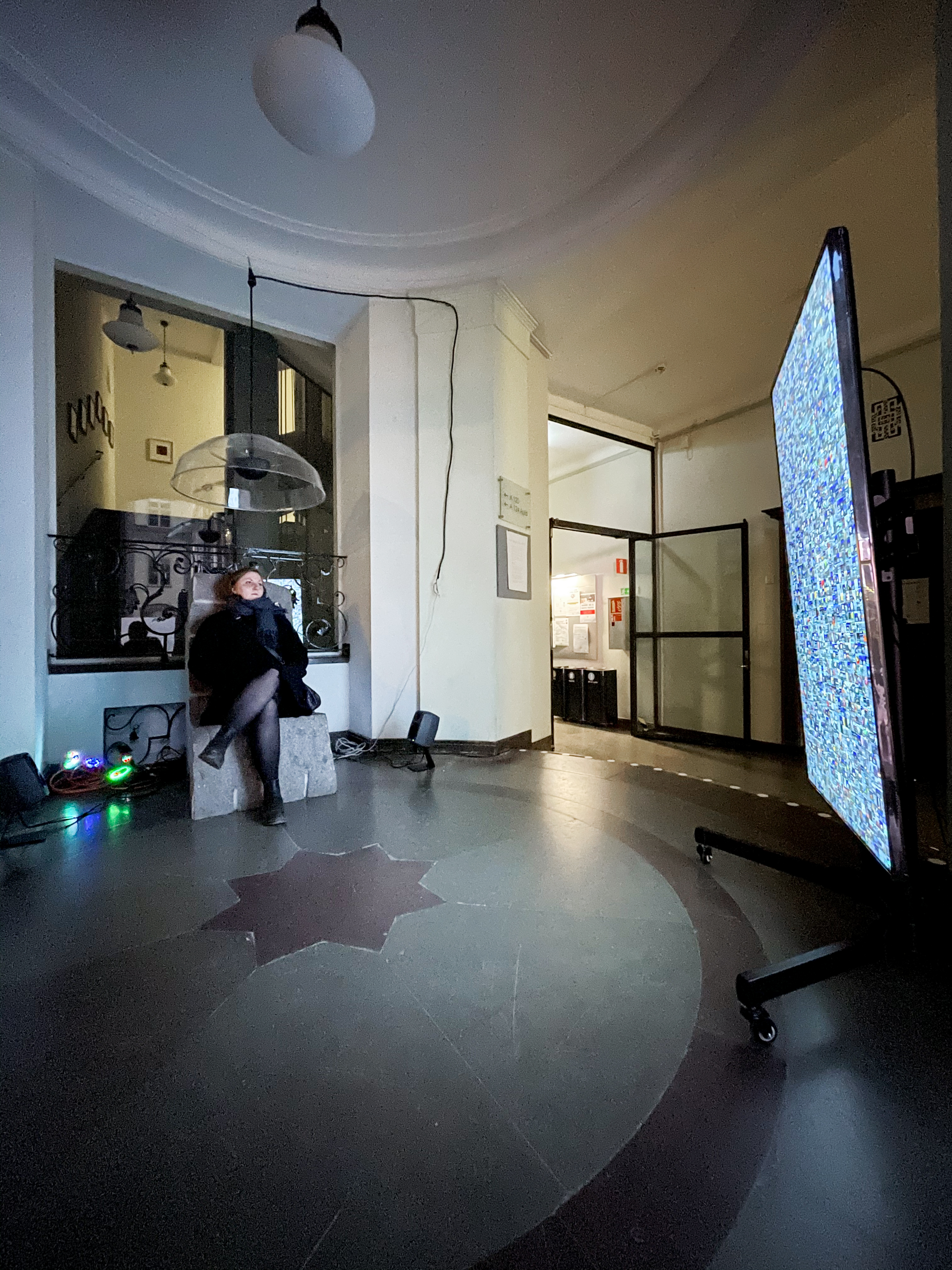 Triggered and Blue Pilled, installation, video and sound, by Jacob Broms Engblom, consists of two site-specific works shown in the Richard Nonas' stone chair room to the right of the atrium at the Stockholm School of Economics in April 2021 as part of Handels x Mejan.
The installation addresses human agency and the passage of time in an era of rapidly expanding algorithmic governance. As the influence of algorithms and the platforms they reside on increases, and as the map/territory relation between the internet and the tangible world is increasingly strained, the network remains an effective mirror of our collective unconsciousness.
Triggered, 2020, 13:32 is an assemblage of found and synthesised "satisfactory content" (sometimes "visual ASMR") interlaced in a looped torrent of stimuli.
Blue Pilled, 2020, 30:31 is a three-channel audio installation consisting of machine learning algorithms trained on guided meditation scripts, binaural beats ("healing frequencies") and ASMR content.
Both pieces stem from a body of work titled "Pattern Extraction'' which explores the push and pull between humans interpreting and analysing symbols and other data (e.g the world) and the machines and the power structures they reside upon trying to find the most "efficient" way to present it. This can lead to a sort of guided apophenia, where subjects are presented with content that keeps them watching and engaged. As they extrapolate freely from the provided stimuli complete alternate realities can arise, leading to either a greatly amplified complacency or a greatly amplified outrage, depending on material conditions.
At SSE, we consistently discuss algorithmic governance, the platforms surrounding it, and their increasing influence on our society without us really knowing their definite effect on us. Broms Engblom's work manages to bring these effects closer to us and challenges our perception of how we process external stimuli and how they translate in our minds.
Jacob Broms Engblom (1986) is an artist and engineer based in Stockholm. He graduated from the Royal Institute of Technology in 2012 and from the Royal Institute of Art in 2020. His practice circulates above and within undocumented phenomenon, media processes and anxieties in our digital culture.