Gifts and Occupations
Åsa Norberg and Jennie Sundén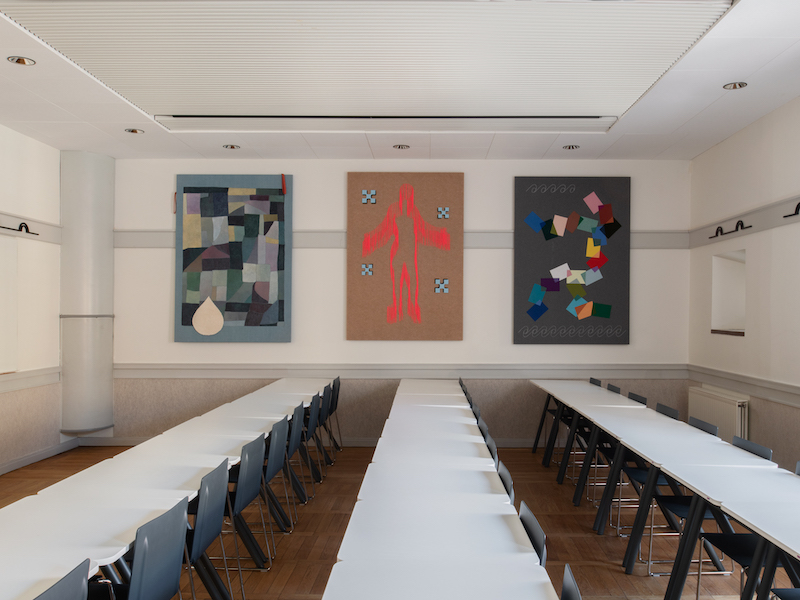 Three artworks from the series Gifts and Occupations by the artist duo Åsa Norberg and Jennie Sundén are permanently installed in the Lindgren Room on Sveavägen 65. The works are inspired by pedagogical philosophies by pioneers such as Renate Müller, John Dewey, and Marion Richardson, they offer alternative views on and ways of learning through play, action, and image making.
From left: Blanket (2018), Learning by doing (2019) and Interaction of Colors (2019), all from the series Gifts and Occupations.
In Blanket, Norberg and Sundén address the relation between crafted objects and how children learn and develop through play. The dynamic collage on denim has been made in a historical dialogue with the artist Sonia Delaunay-Terk (1885–1979) and her legendary cubistic quilt that was sewn for her newly born son in 1911. The quilt is an example of how Delaunay-Terk wanted to bring art into practical situations of everyday life using materials such as textiles. Here, Norberg and Sundén focus on the role of art for the care and development of children. Notice on Blanket the two leather-handles inspired by the pedagogical toys by designer Renate Müller (b. 1945), normally used therapeutically for children with different disabilities and specifically good for balance training and sensory exercises. Through this reference, Norberg and Sundén point out the connection between toys and the bodily-learning and development that play conveys.
In Learning by Doing, Norberg and Sundén focus on the relation between bodily action and learning. The title refers to the philosopher and pedagogue John Dewey (1859-1952) who coined the concept of learning by doing; an activity-based pedagogical approach where theory, practice, reflection and action are intertwined. Dewey put his ideas into practice in experimental schools, which became laboratories for students connecting to physical matter through practical work as weaving and sculpture. Norberg and Sundén here point at work as a platform of knowledge production.
In Interaction of Colours, the artists approach the learning aspects of handwriting and image-making. The work draws on English picture- and handwriting-pedagogue Marion Richardson (1892–1946). Richardson based her pedagogics on the natural hand-movements of children by encouraging the shaping of letters into intricate graphical patterns as a method to teach children how to write. Her teaching was based on thinking in images through something she called word-picturing and mind-picturing. She wanted children to render stories told in images. In contrast to actual trends in digital learning children learnt visualization by bodily action.