24 Action Sculptures
Roman Signer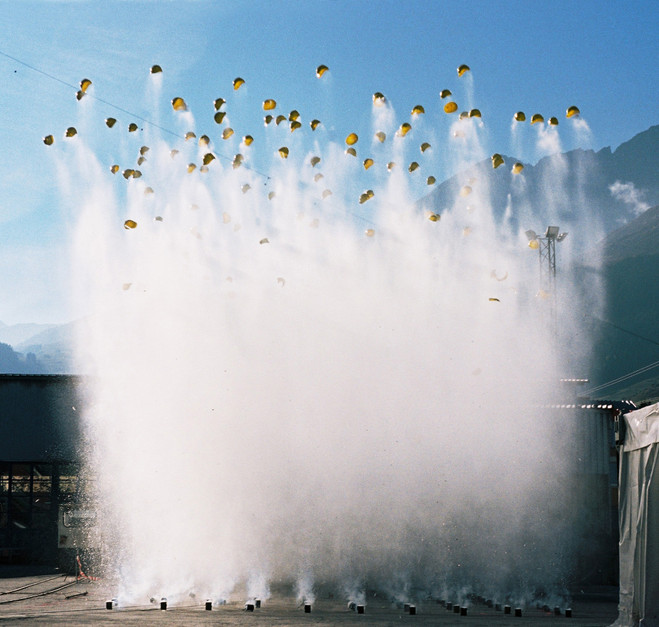 HD Video, Color, Sound
50 min 46 sec


With his Action Sculptures, Swiss artist Roman Signer (1938-) wants to focus our attention on small objects and simple processes. Since his international debut at Documenta in Kassel 1987, he generates ephemeral forms during very short time periods by means of explosives. Dynamite, the invention of Alfred Nobel, leaves its mythological realm of chaos and destruction and turns to a constructive possibility for shaping sculptures thanks to Roman. His artistic enterprise thus transforms something negative into positive surprising experiences with sublime uncanny beauty of its own.
Signer has always seen himself as a sculptor. He refers to his actions that only last for very short moments, as 'sculpture'. In these "events or time sculptures," he is always concerned with problems, actions and time sequences in space. The temporal dimension of his work becomes a metaphor for change and development. His art brings spontaneous, past and timeless events into expression…
Romans Signer, widely known and internationally represented in collections and biennales, also is represented with video works in the permanent collection of St Gallen University in Switzerland. Living in St Gallen he frequently meets with students there. Today we are deeply grateful to him letting us screen this unique compilation of 24 of his recent Action Sculptures to students and staff of Stockholm School of Economics. We are also indebted to Leo Stadtler, student at St Gallen, active in its Pro Arte Student art association and CEMS exchange students to SSE, for linking us to Roman Signer and Häusler Contemporary in Munich.