Commoncause
Maria Friberg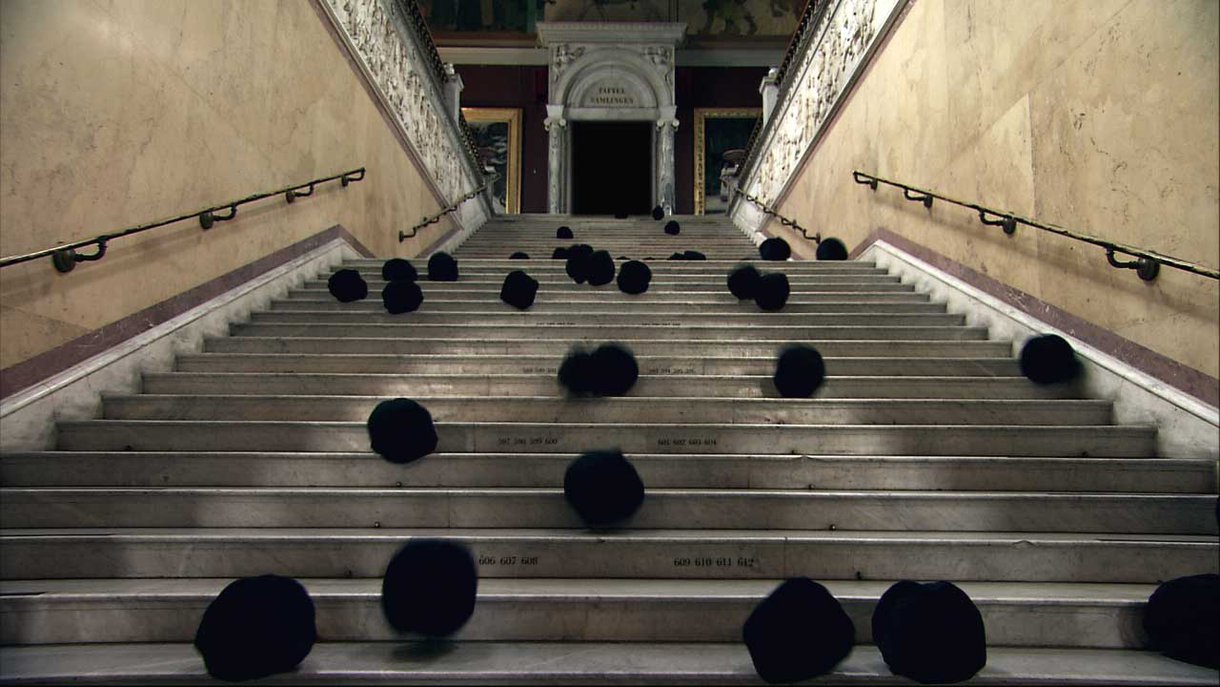 Maria Friberg's video-work Commoncause (2008)takesplace in Stockholm's Nationalmuseum. The artist merges common art historical themes such as war and violence with humour and mystery. Three hundred basketballs wrapped in velvet roll down the marble stairs in the museum's grand hall. Some of the objects move fast, some slowly. Others stumble, but they all seem to be invading the space.
From the start, Friberg has carried out intuitive, anthropological research using contemporary men as the object of her work. Commoncause shows a change in her aesthetic expression, leaving portrayals of human beings and instead relying on more abstract forms.
Maria Friberg, born in 1966 in Malmö, is one of Sweden's most established photo and video artists. In her work she explores existential questions regarding identity, power and social hierarchies. She has had solo exhibitions at Fotografiska, Stockholm, Nordic Heritage Museum, Seattle and Konsthallen Bohusläns Museum, Uddevalla. Herparticipation in group exhibitions include Moderna Museet, Stockholm; Palazzo Fortuny, Venice and Västerås Konstmuseum. Maria Friberg is alsorepresented in the collections of Moderna Museet, Stockholm; Kiasma – Museum of Contemporary Art, Helsinki; Fotomuseum Winterthur, Zürich and the Denver Art Museum, Denver. Since 1995 the artist is represented by Galleri Charlotte Lund.