PRME Principle 1 and 2: Purpose and Values
Principle 1: We will develop the capabilities of students to be future generators of sustainable value for business and society at large and to work for an inclusive and sustainable global economy. Principle 2: We will incorporate into our academic activities, curricula, and organizational practices the values of global social responsibility as portrayed in international initiatives such as the United Nations Global Compact.
The mission of SSE is to, through scientific teaching and research, strengthen Swedish competitiveness. Since our foundation in 1909, we have established ourselves as a globally recognized business school and are a leading Higher Education Institution in the Scandinavia. In the last years, more and more business and political leaders have emphasized urgent global challenges, ranging from climate change and ecological degradation to rising inequality, risks of digitalization and various threats to democratic societies. In 2015, the United Nations launched the Agenda 2030 and the 17 Sustainable Development Goals (SDGs) as a framework for countries, the private sector and the civil society to meet these challenges. Sweden and the Nordics are on the forefront of actions for the SDGs, and SSE seeks to strengthen its stakeholders in doing so.
SSE has worked thoroughly on its strategic positioning in the last years and formulated guidelines for its all opertaions with clarity of purpose. They fall within three dimensions:
1. Three strategic necessities: positioning, internationalization
and funding.
2. Four academic "beacons" which have the potential
to attract further funding: finance, retail, innovation and
sustainability.
3. A set of learner-centered educational aims, summarized in the acronym "FREE"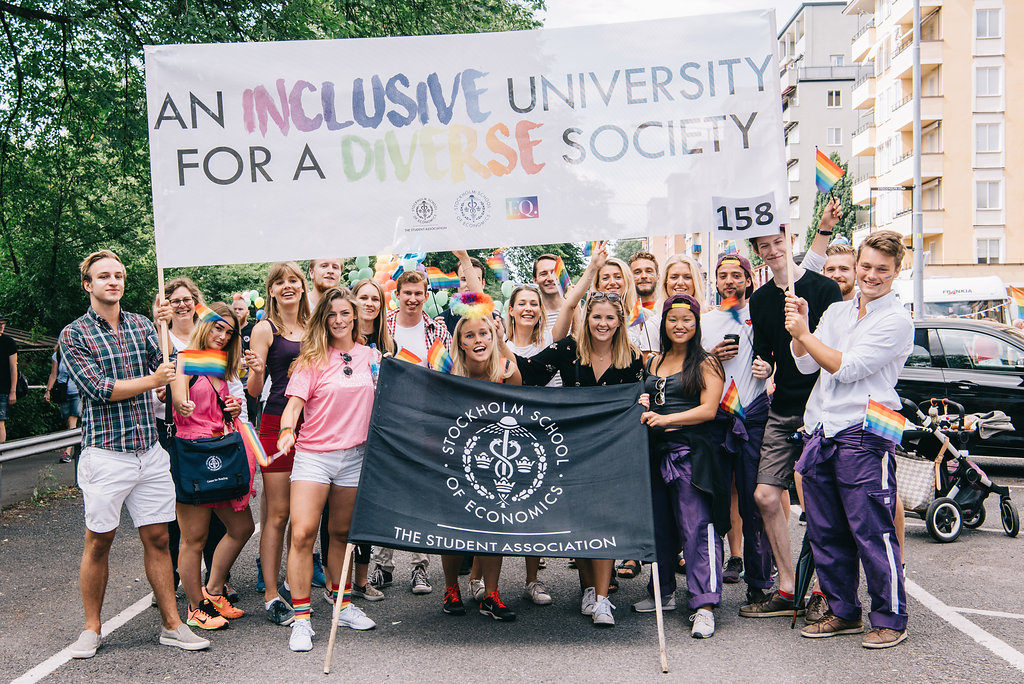 EDUCATIONAL MISSION OF SSE - FREE
SSE's overarching educational aims take as their point of departure that a successful decision maker of the future will approach the world with curiosity and confidence and who, as the philosopher Ingemar Hedenius said: "is free and alive in relation to the unknown". That decision maker may well be outperformed cognitively by artificial intelligence, robots or machines. But the core competence of humans is to be human, and SSE's educational aims takes this ad notam. A successful decision maker in the future will maximize the potential of being human. Hence, SSE has formulated its overarching educational aims through the acronym FREE. It stands for:
FACT AND SCIENCE BASED MINDSET
We are fundamentally a scientific institution, and facts are the basis for all critical and analytical thinking. An SSE graduate will make decisions based on facts and have the ability to differentiate between types of knowledge. This ability becomes particularly important in a world of alternative facts, "fake news" and filter bubbles.
REFLECTIVE AND SELF AWARE
The future will require more reflection and self-knowledge. SSE-trained individuals will be able to contemplate what role they play in the world, understand the impact they have on others, evaluate their personal preferences, and be aware of how their choices are determined.
EMPATHETIC AND CULTURALLY LITERATE
Empathy and cultural sensitivity are so far, something that artificial intelligence cannot accomplish. We are convinced that an empathetic person becomes a better leader and decision maker; thus we hope our students will be able to consider the perspective of others fully. Cultural literacy is also critical. To interact with someone from another background, expertise, or profession than one's own is a prerequisite for the future.
ENTREPRENEURIAL AND RESPONSIBLE
Students graduated from SSE will have an entrepreneurial and creative approach to the world. They will strive to create change in a responsible manner. They should not accept the status quo but seek improvement for society and the world at large.