New art year 2018-2019
We at SSE Art Initiative have received fantastic support, both internally and externally, as we worked hard in 2018 to make our curating a part of the student experience at the Stockholm School of Economics. Once again, art lovers such as Lena and Per Josefsson and Elisabeth and Martin Wiwen Nilson have enabled our work, whereas walking through the building on Sveavägen shows many new generous contributions to our growing permanent collection. Just before Christmas break, we received a donation of works by Matthias van Arkel, a video work by Jeannette Ehlers donated by BCG will be unveiled in January and students in our auditorium are monitored by four eyes. These paintings, donated by Alexandra and Michael Storåkers, were executed by Ylva Snöfrid in situ outside the school during a hot week in June.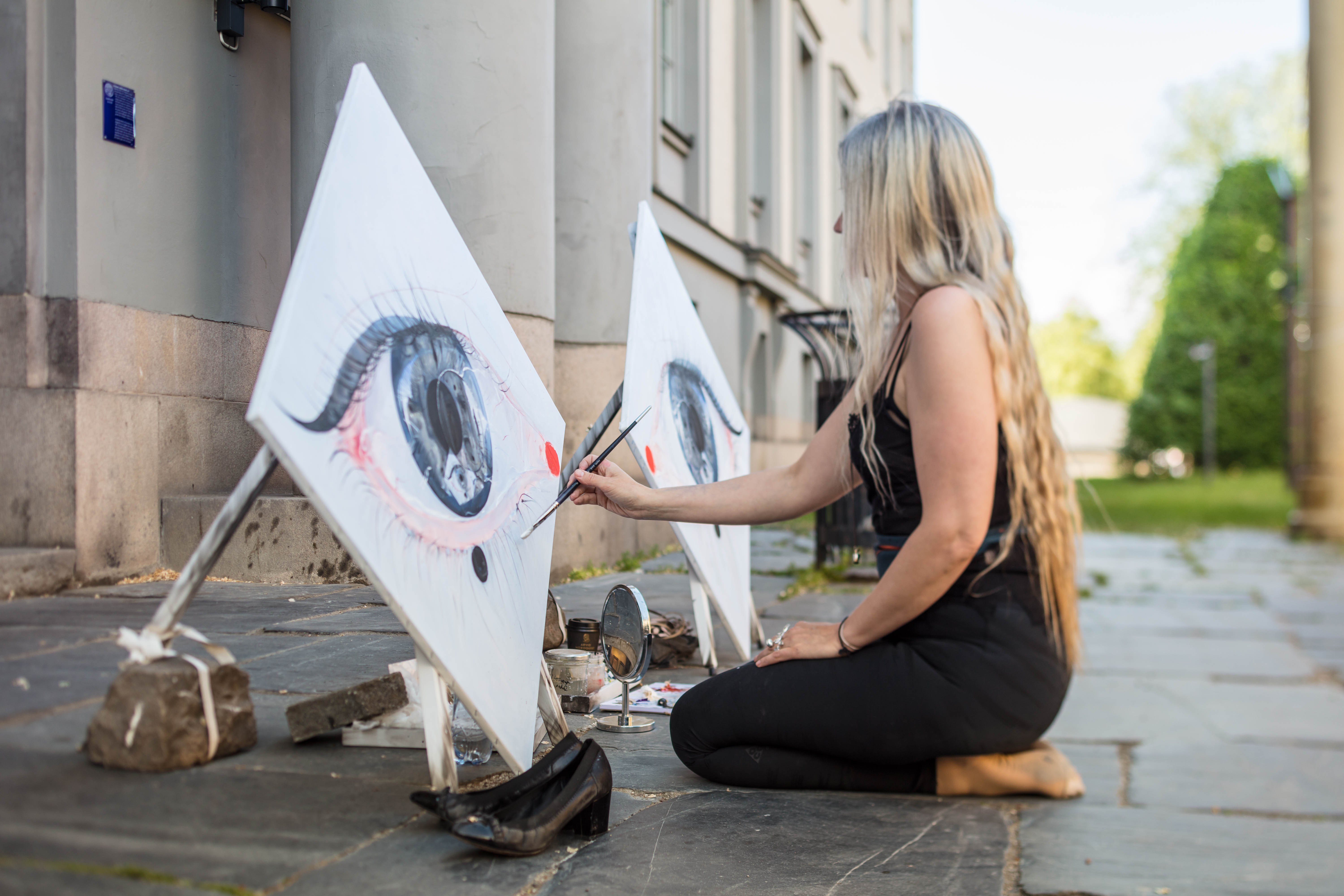 Ylva Snöfrid painting in situ at the main entrance of SSE
She ceremonially presented the works herself on a late November evening by offering a friendly, magic and small vernissage meal in the middle of the auditorium podium.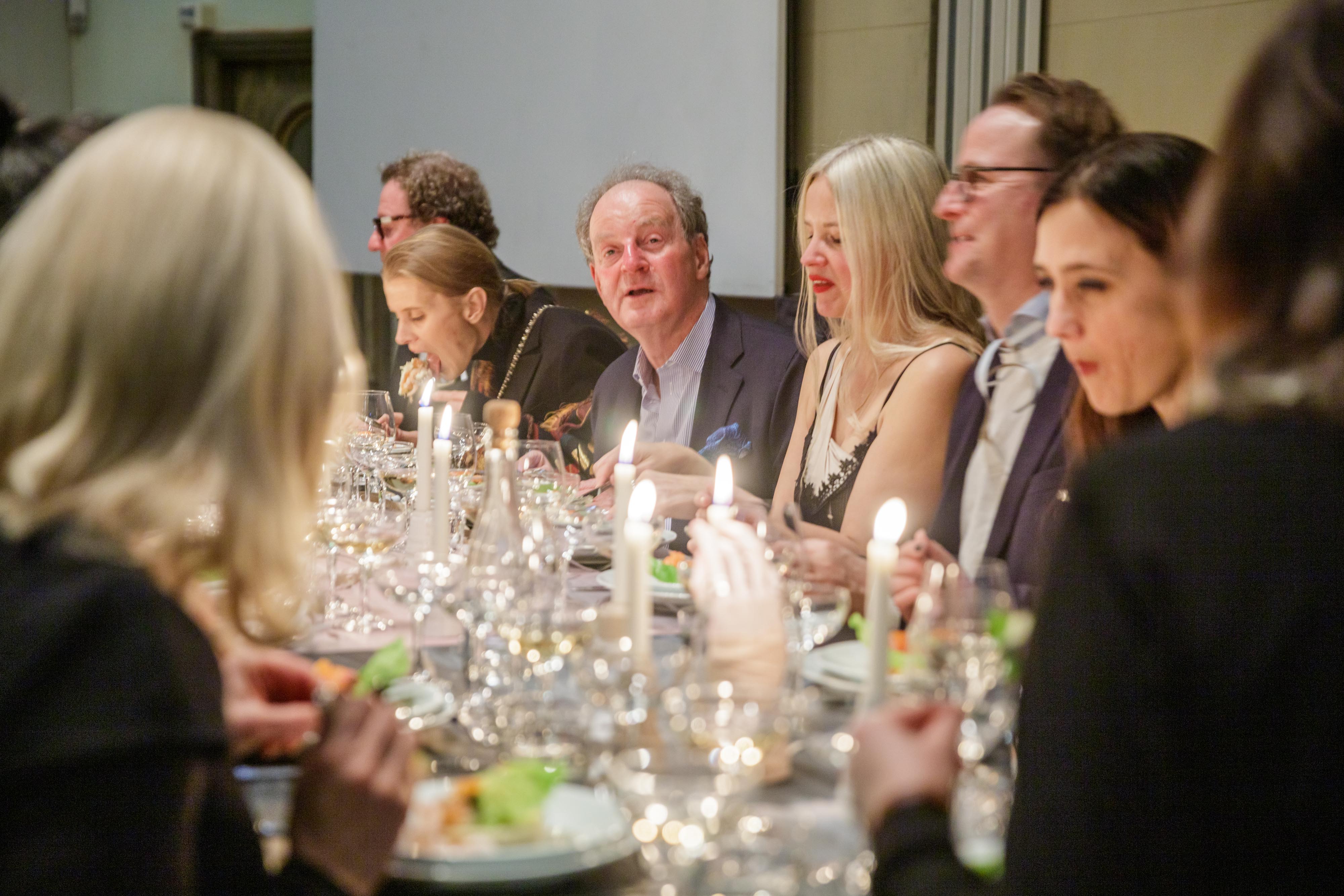 Ceremonial inauguration of Ylva Snöfrid's four paintings for SSE Auditoroium
In addition to the earlier works in the atrium, we have generously been given the opportunity to exhibit the exciting sculpture "Never Odd or Even" by Berlin-based Michael Johansson. Likewise, the students in the Art Division have received their very own grand piano, which once belonged to film director Ingmar Bergman, to play on for the benefit of everyone. In the strict gray hallway outside the library, which now also serves as one of our intense art rooms, a series of 3D works by Johan Bergström Hyldahl are now on display thanks to Carolin Landin. In one sense, his surprising figures guard the new and beautiful Heckscher-Ohlin Room, decorated by Nordiska Galleriet, which has been given works of art by Jens Fänge, Charlotte Gyllenhammar and Bella Rune as a result of Carl Hirsch joining the ranks of our permanent benefactors for this homage to two important Swedish economists. Those who have not yet seen this room may also read a book containing beautiful photographs by Michael Olsson and several poetic stories by the artists.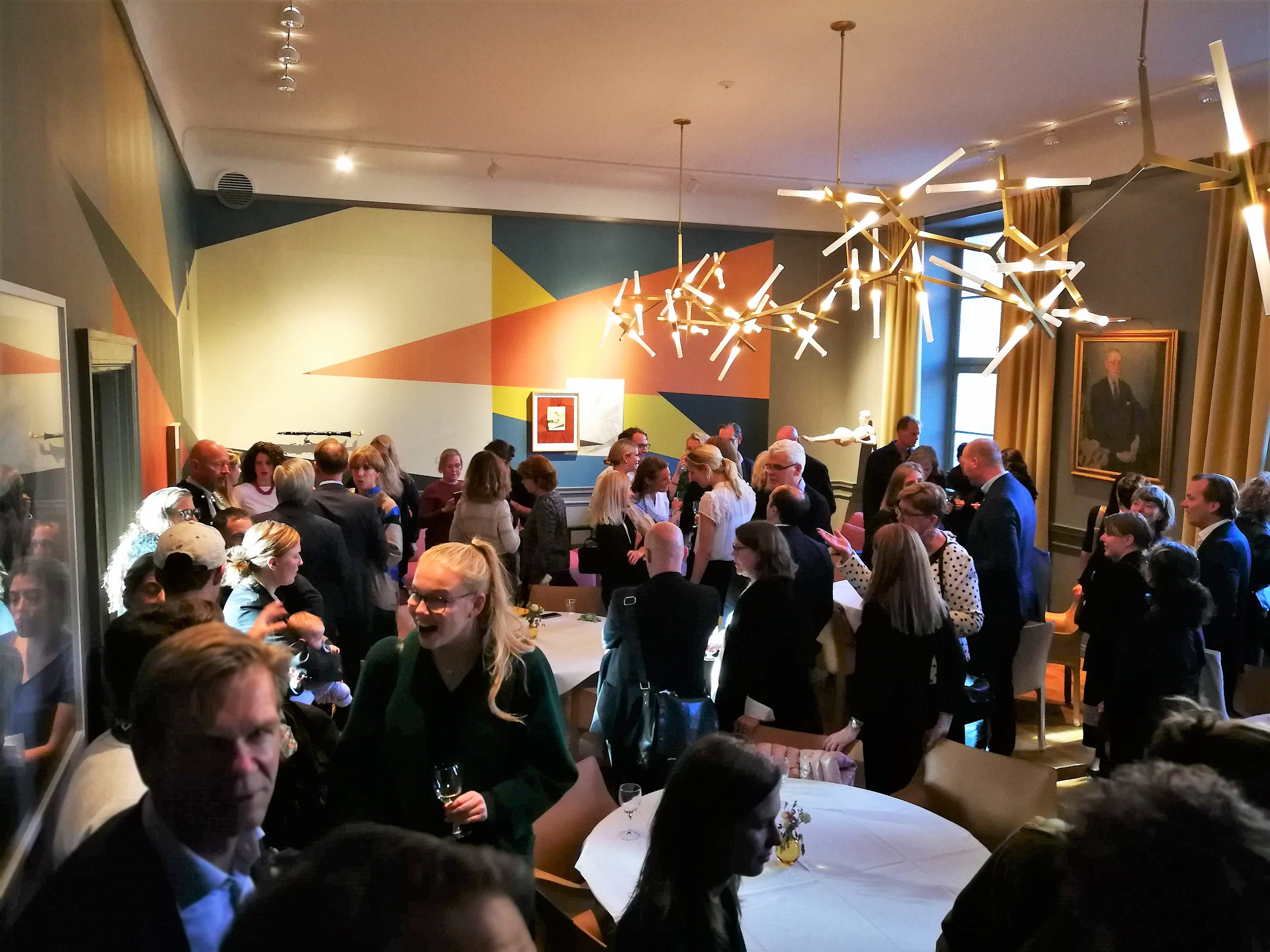 Inauguration of the Heckscher-Ohlin Room
During the Nobel Night Cap hosted by SSE students following the Nobel Prize ceremony on December 10, the founder of SSE Art Initiative, Isak Nilson, and yours truly, its director, took the opportunity to award some of this year's laureates an additional prize for aesthetic research. Naturally, this took place in the Heckscher-Ohlin Room.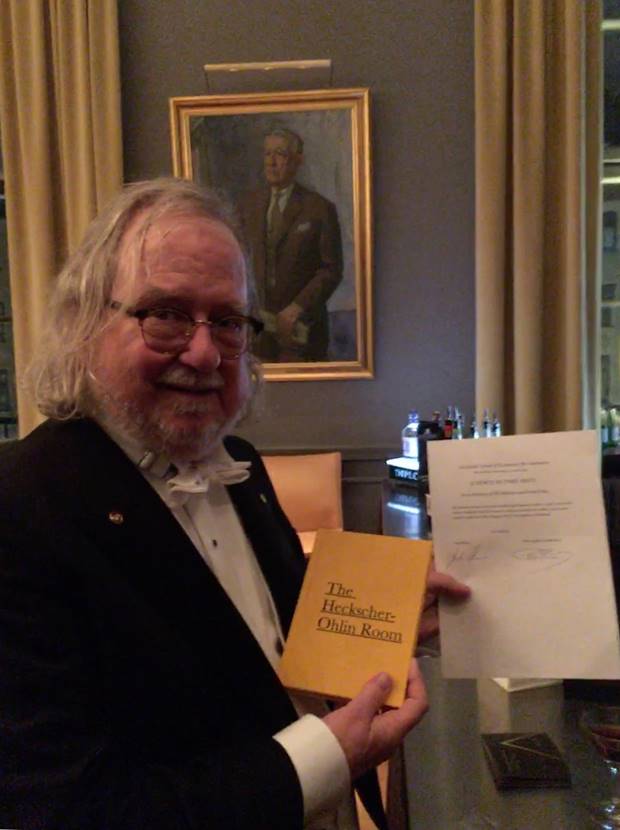 Nobel Laureate James P. Allison celebrated by SSE Art Initiative on December 11, 2018


Throughout the year, we have concluded our showings of borrowed film jewels from the Moderna Museet on our video screens. SSE students have in a sense been given short video lectures by notable people such as Marcel Duchamp, Alexander Calder, René Clair and even Russian filmmaker Dziga Vertov, who argued for concrete production economics with his film classic Man with a Movie Camera. Art foundations such as Thyssen-Bornemisza (Austria) and Luma (Switzerland) have exhibited video works on our large screen. Thanks to two American exchange students, Carrington Walsh and Sisanmofe Dorsu, one of these works, Love is the Messege The Message Is Death by American artist Arthur Jafa, provided material for a very valuable debate on how the artist brought difficult collective memories from American black contemporary history to life. Video artists Katarina Eismann and Santiago Mostyn also packed their respective Art Talk with interested students. The former discussed how her work, shown on the small screen curated by the Swedish Public Art Agency, come into existence. Santiago presented a fascinating lecture on how he by means of his art transforms world events fed to us by the media into concrete and intimate experiences in a human format.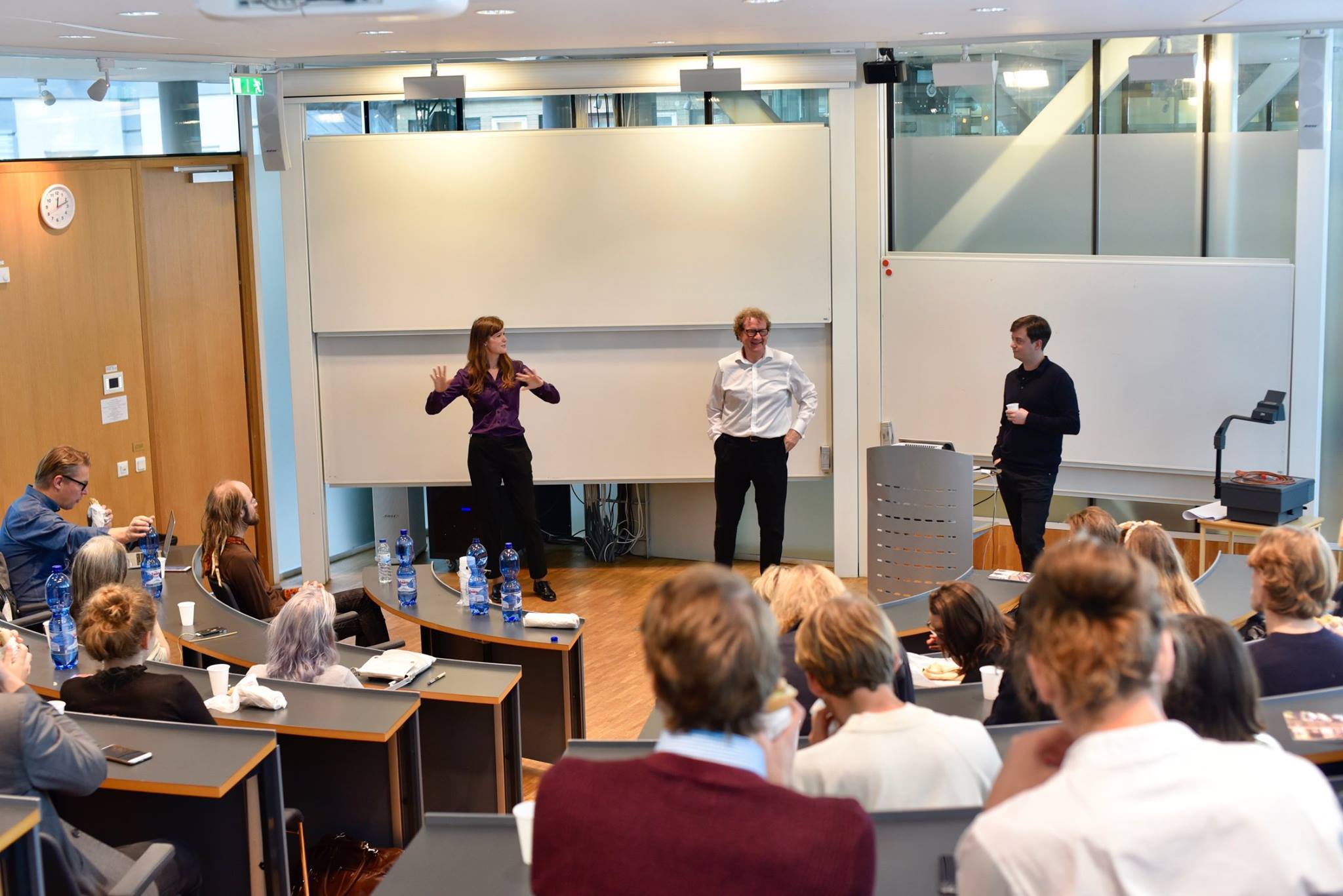 Art Talk debate at Stockholm School of Economics
Art shows the way back to the "experience" and this type of experience was what black American students Carrington Walsh and Sisanmofe Dorsu communicated to their Swedish peers at their Art Talk. In the past year, the Art Division students, who are responsible for the Art Talks, have been given an energetic relaunch under the direction of Liise-Lotte Vilimaa, who has put together a fantastic group with many great plans for 2019. During the fall, we have also hosted some Art Trainees: first, Adam Thyssen from CBS in Denmark followed by Leo Stadler on an exchange program from St. Gallen in Switzerland. Adam reforged ties with CBS Art, and together with Leo, the Art Division organized a study visit to SSE by a group of Danish and Swiss students with an interest in art. They visited Moderna Museet and discussed future collaborations in relation to art and economy. A lot of them thought it would be fun to meet up again at Art Basel in June 2019.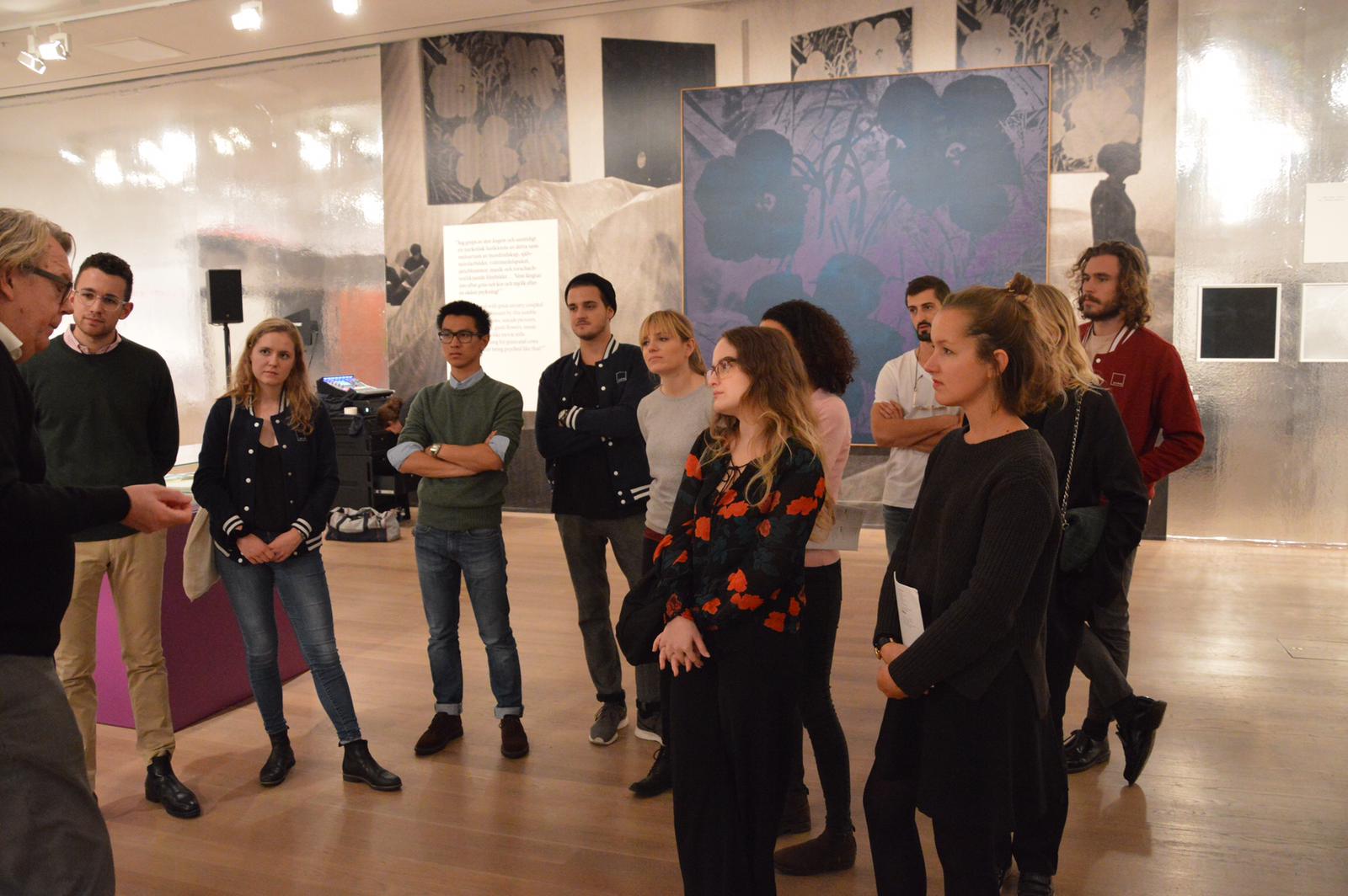 Curator John Peter Nilsson, Moderna Museet greets students from SSE, SBS and St Gallen
Throughout the fall, Art Talks have also focused on how art infiltrates economic activities. Karina Ericsson Wärn from Beckmans College of Design and Clemens Thornqvist from the Swedish School of Textiles in Borås showed that neither fashion nor design may be understood or developed unless we are familiar with and understand the roots of art. In a praised Art Talk, employees at the agency Forsman & Bodenfors showed how their media work is also based on the energy of art, in both image and music. In our research series linked to Emma Stenström's Center for Arts, Business & Culture, these reflections on art were studied in more depth. Dr. Pontus Hedlin presented philosophy professor Marcia Cavalcante in a conversation on the aesthetics behind Michelin restaurant Sushi-Sho, while Margareta Petersson chaired a fascinating talk on the aesthetics of the room in architecture and theater. We also got to find out how Cynthia Odier, a Geneva-based patron of dance, managed to play DADA with the Swiss National Bank as well as how old August Strindberg inspires media and marketing in the current worlds of economic affairs.
Art has also spread to more and more parts of the school. Caretaker Juhani Ahonen has increasingly turned out to be a full-fledged art technician supported by Peter Fridlund and Jimmy Hansen. The environment center Misum has forged ties with artists exploring our survival in the climate crisis. Their seminar where the artist duo Bigert and Bergström was introduced by Robert Stasinski and Tinni Rappe was a hit!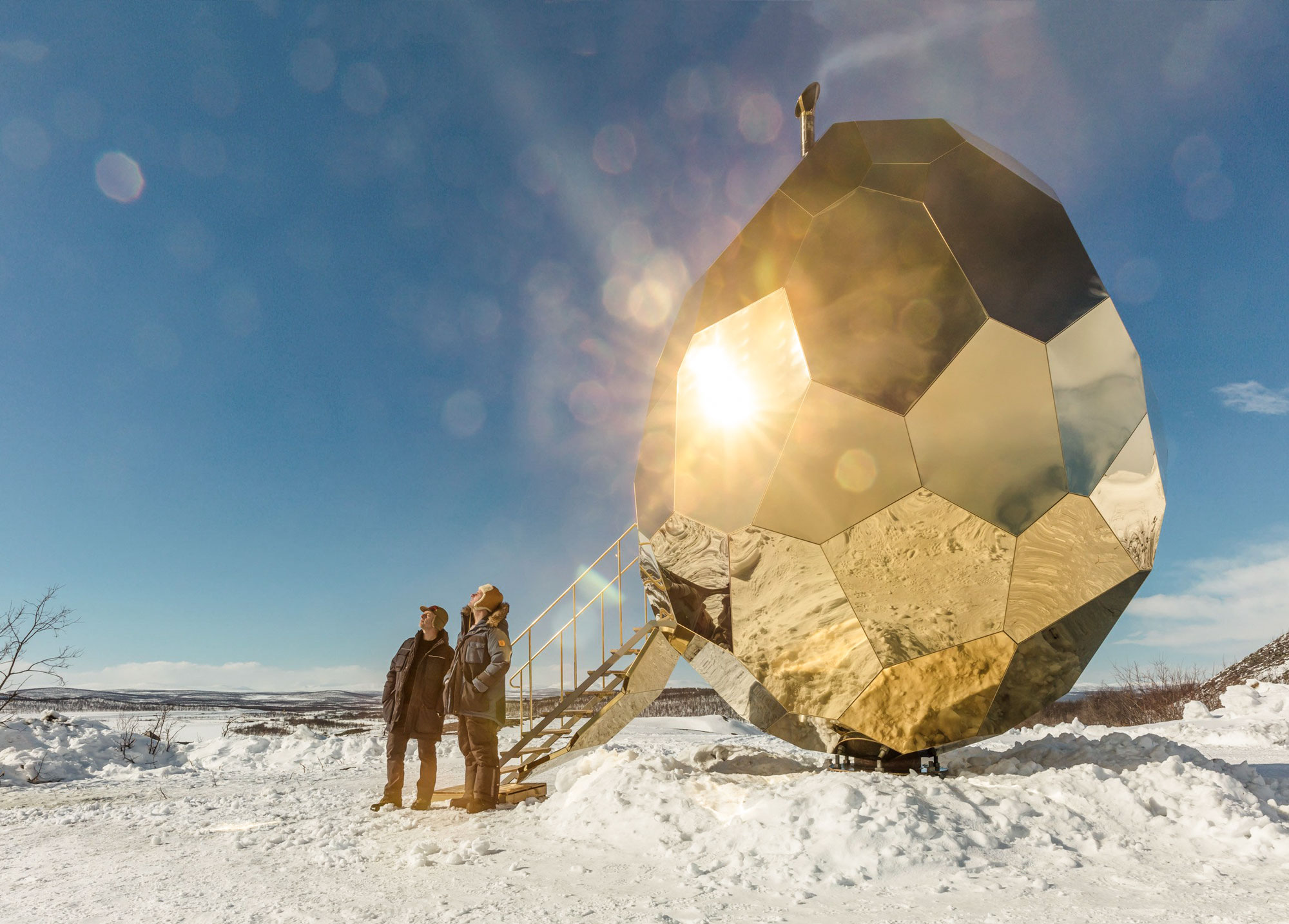 Artists Bigert and Bergström´s Solar Sauna
In early 2019, SSE's Retail Center together with Moderna Museet will arrange a Warhol Value Workshop in the middle of the museum's remake of Andy's first solo show 50 years ago in Stockholm. This has become a tradition, as Moderna Museet together with SSE Art Initiative in January 2018 arranged a cryptocurrency symposium under the direction of another artist duo: Goldin & Senneby. This snow-sparkling sunny Saturday, we almost beat the attendance record from 2016 when Isak Nilson delivered a celebrated introduction of Graham Harman at Moderna Museet.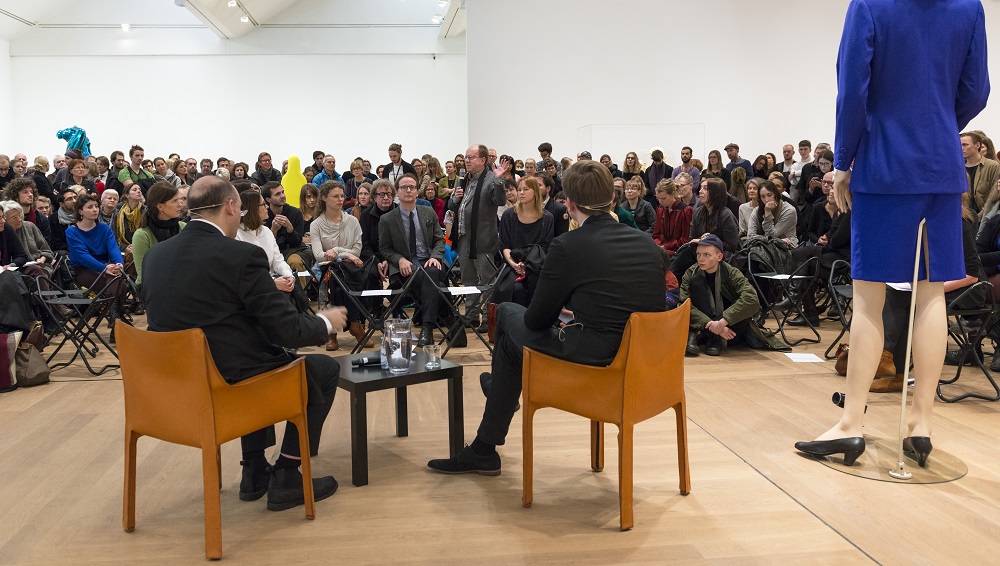 Graham Harman lecturing on invitation of SSE Art Initiative at Moderna Museet
After a period of time in the art worlds of Vienna and Arles, Isak has now returned to his alma mater, now also with an SSE degree, in order to complete two books on Graham Harman's philosophy of art and Lina Selander's fantastic permanent video installation high up in the library tower, which he himself also curated in 2017. Erik Wikberg and we have edited a large volume around the works of Goldin & Senneby on the ability of art to create knowledge concerning the economy. When the SSE social democratic student association in a letter to the editor complained that the sustainability message of art did not appear to have left a mark on the courses offered at SSE, this acted as a catalyst for us to engage in a long-term project to entice teachers to use art they find relevant and thought-provoking in their respective subject. In the book on the Heckscher-Ohlin Room one may, for instance, read why the doyen of economics, Assar Lindbeck, thinks that art and economic research belong together! Dr. Karin Fernler, who oversees the bachelor program, will take care of this in 2019 – she has promised the students to do so!
In October Pierre was asked to give a presentation of the SSE Art Initiative at New York University Stern School now inspired to make the Big Apple contemporary art scene accessible and integrated into their Business and Society Programs. Soon after our Stern School friends announced their initiative to connect to the great Warhol show at the Whitney Museum.
Luncheon at New York University Stern School presenting SSE Art Initiative
At the risk of leaving out a lot of interesting things in this short New Year's letter, we are now happy to announce that SSE has finally created a bridge between the art of writing and studies in business and economics. Throughout the year, Erik Wikberg has received substantial support from Stiftelsen Natur och Kultur to launch the SSE Art Initiative's Literary Agenda.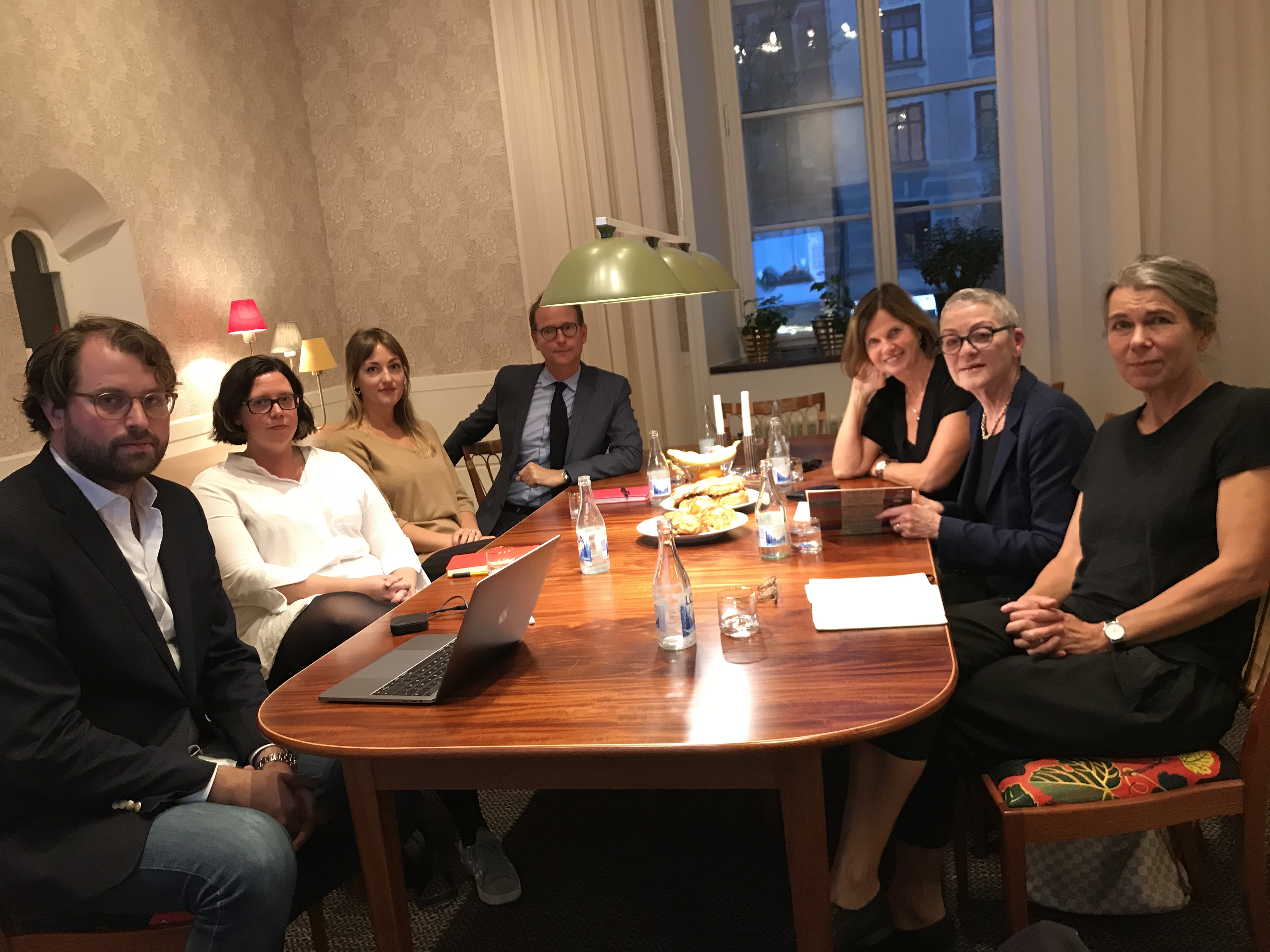 First SSE Art Initiative Literary Agenda Advisory Board Meeting
This SSE AI Literary Agenda has already enrolled some 200 students in small book circles, which throughout the fall have read new Swedish and international literature carefully selected by the Agenda's Advisory Board. The Agenda has also received support from consulting firm McKinsey, which has furthermore enrolled its employees as participants in book circles. Naturally, these reading adventures are also tied in with author visits. SSE Art Initiative is very pleased to see how books have joined images in our efforts to build exciting bridges between society and business.
Many thanks to all of you for your support during 2018, and a warm welcome to visit us in 2019.

From the SSE Art Initiative team
Pierre Guillet de Monthoux
Isak Nilson
Erik Wikberg
Robert Stasinski
Emma Stenström
Liise-Lotte Vilimaa