A strategy to help Ukraine win the war
04 November, 2022
Russia's fierce military campaign in Ukraine continues, but Ukraine stands their ground as the military tide is turning in their favour. But what besides the military support is needed for Ukraine to win the war?
The Stockholm Institute of Transition Economics (SITE) invites you to an event to learn more about the current situation in Ukraine, the sanctions against Russia and how we all can support Ukraine and its people.
Kyiv School of Economics and its role in Ukraine's resistance
Our partner organisation - Kyiv School of Economics (KSE) has been a role model in fundraising for Ukraine's reconstruction. To this date KSE has raised 37 million US dollar in support of defence and education. Its most recent initiative focuses on building bomb shelters at schools all over Ukraine so that students at all levels can go back to their schools and obtain the education they deserve
Friends of KSE initiative in Sweden
Building human capital will be as important as rebuilding physical capital, while Ukraine prepares for its future in the European Union. While KSE is raising funds to support Ukraine in the war, we started the charitable foundation Friends of KSE in Sweden to support KSE as well as Ukrainian students and academics within and outside Ukraine more generally.
Since the event "Support the future of Ukraine" on April 19, 2022, the foundation has raised more than 500 000 EUR and this event will be an opportunity to increase this support.
Special guests from KSE and speakers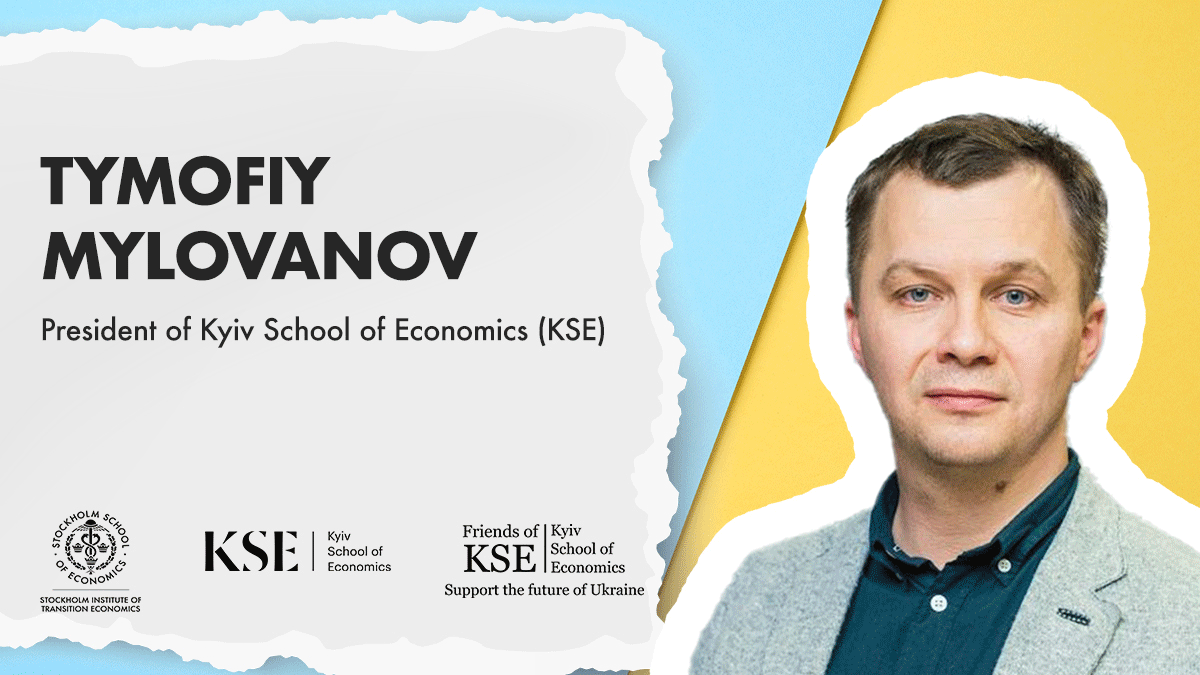 The event will host special guests from KSE - Tymofiy Mylovanov, President of KSE and former Minister of Economy and Trade in Ukraine, and Nataliia Shapoval, Vice President for Policy Research at KSE and one of the members of the influential Yermak-McFaul international expert group on sanctions.
Comments will be shared by Andreas Umland, analyst at the Stockholm Centre for Eastern European Studies (SCEEUS) at the Swedish Institute of International Affairs and by Torbjörn Becker, Director of SITE. The discussion will be moderated by Maria Perrotta Berlin, Assistant Professor at SITE.
Date, time and location
Date: Monday, November 7, 2022
Time: 16:00 -17.30 CET
Location: Room 350, third floor at the Stockholm School of Economics (SSE) or online via Zoom
Registration
Attend in person?
The event will take place in room 350, third floor at SSE, Bertil Ohlins gata 5, 113 50 Stockholm. Please register via the Trippus platform (here).
Attend online?
The event will also be streamed online via the Zoom platform for those who cannot join the event in person. Please register via the Trippus platform (here).
A confirmation email will be sent to you within a few minutes. If you have not received the confirmation email within 10 minutes, please check your SPAM folder. Please contact site@hhs.se if you have any questions regarding the event.