SSE Library Sessions on Poetry – Economy of Words
19 maj, 2020
"LEVEL UP TO A POETIC ECONOMY", wrote the artist Patrik Qvist outside the Stockholm School of Economics in 2017. This spring, SSE Library, Natur & Kultur Literary Agenda and SSE Art Initiative have teamed up to offer you excursions into the worlds of poetry and poetics, with Anna Hallberg, Athena Farrokhzad and Jason Diakité as our guides.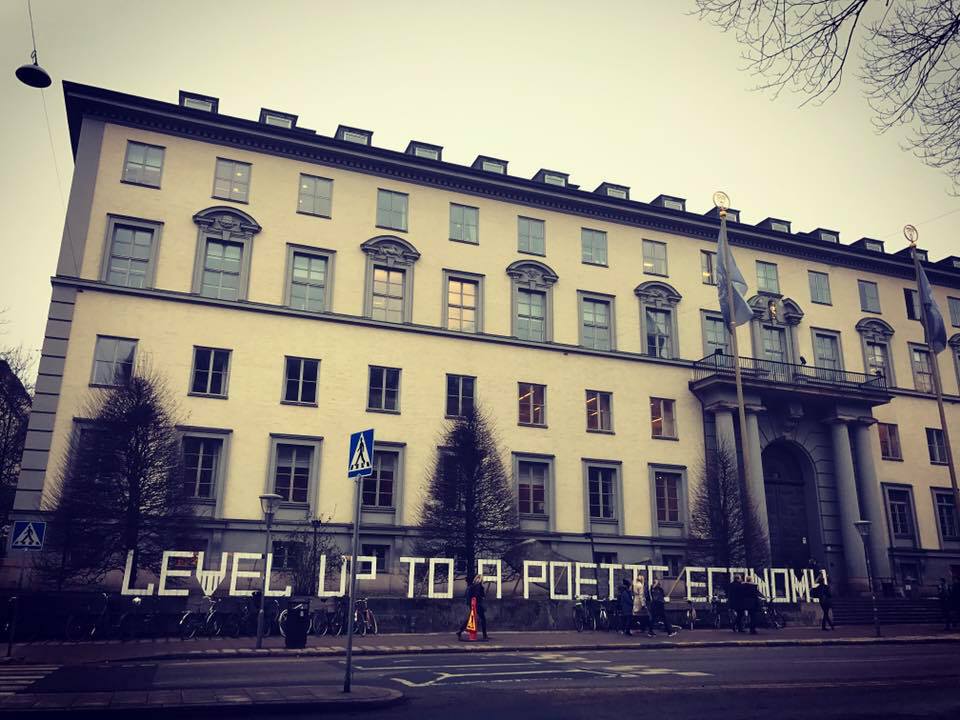 Photo: Tinni Ernsjöö Rappe
We started with a hands-on Poetry Workshop with poet and literary critic Anna Hallberg. Well, not hands-on in the usual sense, since everything is online right now due to COVID-19, but a poetry-writing workshop nevertheless, live streamed on SSE Art Initiative's Facebook page and also made into a film. Which is all the more fantastic since it means you can write poems with Anna Hallberg any number of times! Watch the film here.

Poet, playwright, translator and creative writing teacher Athena Farrokhzad was our next guest, and as an example of how we are dealing with COVID-19 insecurities, what was originally meant to be a conversation between SSE librarian Clara Lindström and Athena Farrokhzad in the School's Library, became an interview with Athena Farrokhzad (who stayed at home) conducted by Tinni Ernsjöö Rappe (who was in the Library). This live stream was also filmed. Watch the interview here.
Our next guest will be Jason Diakité (Timbuktu) who will join us 3 June, so keep a look-out for that event here and on SSE Art Initiative's Facebook page.
Finally, we'd like to thank all the participants in this year's book circles – nearly 300 students, faculty members and staff! We've had seven really good reads and interesting discussions around each book, thanks to engaged readers and leaders and with the generous support of Stiftelsen Natur & Kultur and McKinsey & Co. If you'd like to join the next round of Literary Agenda, please do! Sign up here.
We look forward to sharing more art and literature with you.
/Clara, Tinni, Anna and Pierre
SSE Library Sessions, Literary Agenda and SSE Art Initiative