Investments and Value Creation in Global Sports
This groundbreaking global course on sports and business has been developed as we have witnessed a significant inflow of private money into global sports. Amid this global trend, which we may call the financialization of sports, we increasingly see pushback from supporters of clubs and fans of sports. This elective MSc course seeks to equip students with tools and frameworks to balance stakeholder interests in an industry that mixes for-profit and non-for-profit goals. The course is led by the Director for the Center for Sports & Business, Martin Carlsson-Wall.
First Lecture in Investments and Value Creation in Global Sports (to see the first lecture, click on the picture).
Content
During the last 10 years, financial investors have gained power and influence within the global sports industry. In North America, several clubs have owners with a private equity background and within European football, many clubs are owned by financial investors, private equity companies, or listed on the stock exchange.
However, despite this increased financialization, there are strong counter forces. Many sports clubs are driven by passionate interests where supporters want to maintain historical community identities. Public organizations on state and city levels have highlighted the risks of too much financialization. This tension between financial investments and passionate interests is at the core of this course. The recent failure of the European Super League project demonstrates that this is one of the most strategic issues within the global football community. We also see how the tensions between financial investments and passionate interests are discussed in relation to Olympic Games and other large sports events.
To deliver this course, we combine two strong research areas at SSE, accounting/finance and sports. The goal is to create a course that is attractive to SSE students, but also to students in SSE's international networks such as CEMS and GNAM.
High-Level Guest Lecturers and Faculty
Teaching Faculty
The teaching faculty of the course comprises of:
Martin Carlsson-Wall (Course Director, Department of Accounting)
Tomas Hjelström (Department of Accounting)
Per Strömberg (Department of Finance/Swedish House of Finance)
Guest Lecturers
The guest lecturers in the first and second edition of the course included:
Dan Singer, Senior Partner and Head of Global Sports & Entertainment at McKinsey.
David Dellea, Director - Sports Practice at Altman Solon.
Daniel Beiderbeck, Head of Projects and Developments in Sports, Borussia Dortmund.
Nicolas Frevel, Head of Strategy at Hertha BSC.
Richard Brisius, Chairman and owner, The Ocean Race.
Jasmine Robinson, Managing Partner at Monarch Collective.
Jordan Gardner, Owner, advisor and former Chairman of FC Helsingör.
Ricardo Fort, Founder of Sport by Fort. Former Vice President, Global Sports and Entertainment Partnerships at Coca-Cola and Senior Vice President, Global Brand, Product & Sponsorship Marketing at VISA.
Tea Stefani, Brand Project Manager at AS Monaco.
Norman O'Reilly, Professor and Dean of the Graduate School of Business, University of Maine, USA.
George Foster, Professor Stanford University Graduate School of Business.
Ebru Köksal, Chair of Women in Football. Former CEO & Director for Galatasary Sports Club and first female Executive Board member of European Club Association (ECA).
Ivanka Visnjic, Professor ESADE Business School.
Alastair Seaman, Managing Director at Arctos Sports Partners.
Paolo Aversa, Professor Bayes Business School, University of London.
Sarah Lewis, former General Secretary for the International Ski Federation.
Juan Fuentes Fernández, Delegate to the Nordic Region for LaLiga.
Jordan Solomon, Partner and Co-Founder Arctos Sports Partners.
Scott O´Neill, author and former CEO of Harris Blitzer Sports & Entertainment.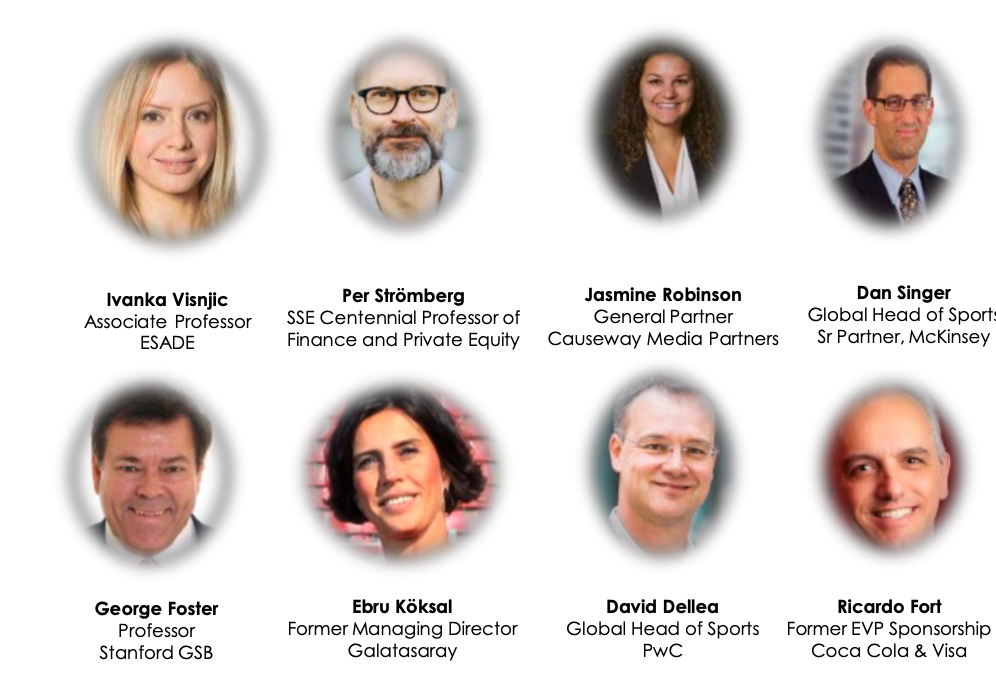 Sample of guest lecturers in the course Investments and Value Creation in Global Sports
Award-Winning Course
In February 2022, Martin Carlsson-Wall received the Outstanding Pedagogical Achievement Award for autumn 2021 for Investments and Value Creation in Global Sports.
The course, in its 1st edition, gathered 68 students from 19 universities in 16 different countries. In the fall of 2022, the course run for its 2nd edition.
Martin Carlsson-Wall was the director of the newly developed and highly appreciated MSc elective course on Investments and Value Creation in Global Sports, that was offered to SSE's international networks. The course was especially designed for digital delivery and attracted students from 19 schools in 16 countries. The course combined content delivered by SSE faculty with global thought leaders as guest lecturers, which was enabled by the digital format. But above and beyond the content of the course, the course extended the classroom for those students physically present in Stockholm, using study trips and sport events.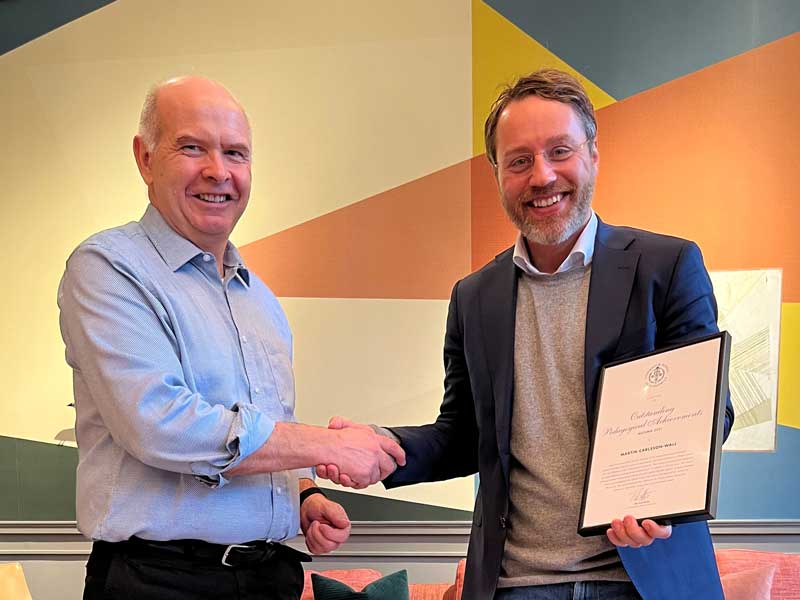 Martin Carlsson-Wall (to the right) receiving his award from Pär Åhlström (to the left).
Combining Theory & Practice
Theory
The course consists in total of 22 lectures (second edition):
Lecture 1: Introduction to the Course
Lecture 2: Sport Management: The Field, Its History and an Example from the Ice Hockey Business
Lecture 3: Introduction to Valuation
Lecture 4: Introduction to the Course Project
Lecture 5: Investing in European Football Clubs
Lecture 6: Comparing Sports Investments around the Globe
Lecture 7: Tottenham Hotspur Case
Lecture 8: How Passion for Sports turns into a (Profitable) Business - Insights from Motorsport
Lecture 9: Women's Football - the next Commercial Frontier?
Lecture 10: Strategic Club Development - Key Learnings from German Bundesliga
Lecture 11: Managing the International Ski Federation during 25 years - ups and downs
Lecture 12: Re-Thinking a Brand - the Case of AS Monaco
Lecture 13: Theory - Reflecting about Guest Lectures through the Lenses of the Frameworks in the Course
Lecture 14: Business Model Innovation - the Case of the Ocean Race
Lecture 15: Latest Trends in Sports Media Consumption - what should a Commercial Director make of it?
Lecture 16: Project Work - Update and Calibration
Lecture 17: Growing a Football League Globally - the Case of LaLiga
Lecture 18: Scaling - The Case of TopGolf, Building a Global Sports and Entertainment Community
Lecture 19: Partnering - Activating and Measuring Success
Lecture 20: Project Work - Update and Calibration
Lecture 21: Summary Panel - Looking ahead, Future Trends in Global Sports Investments
Lecture 22: Exam Preparation
Practice
In order to integrate both the mind and body in this course, it also included, for students present in Stockholm, field trips and other activities (first edition):
Kick-off dinner with Citi-bank
Football and ice hockey matches with Djurgården
Dinner with Jonas Persson (Sport Tech CEO)
Visit to the Swedish Hockey League
Tour of Tele2 Arena
Padel Event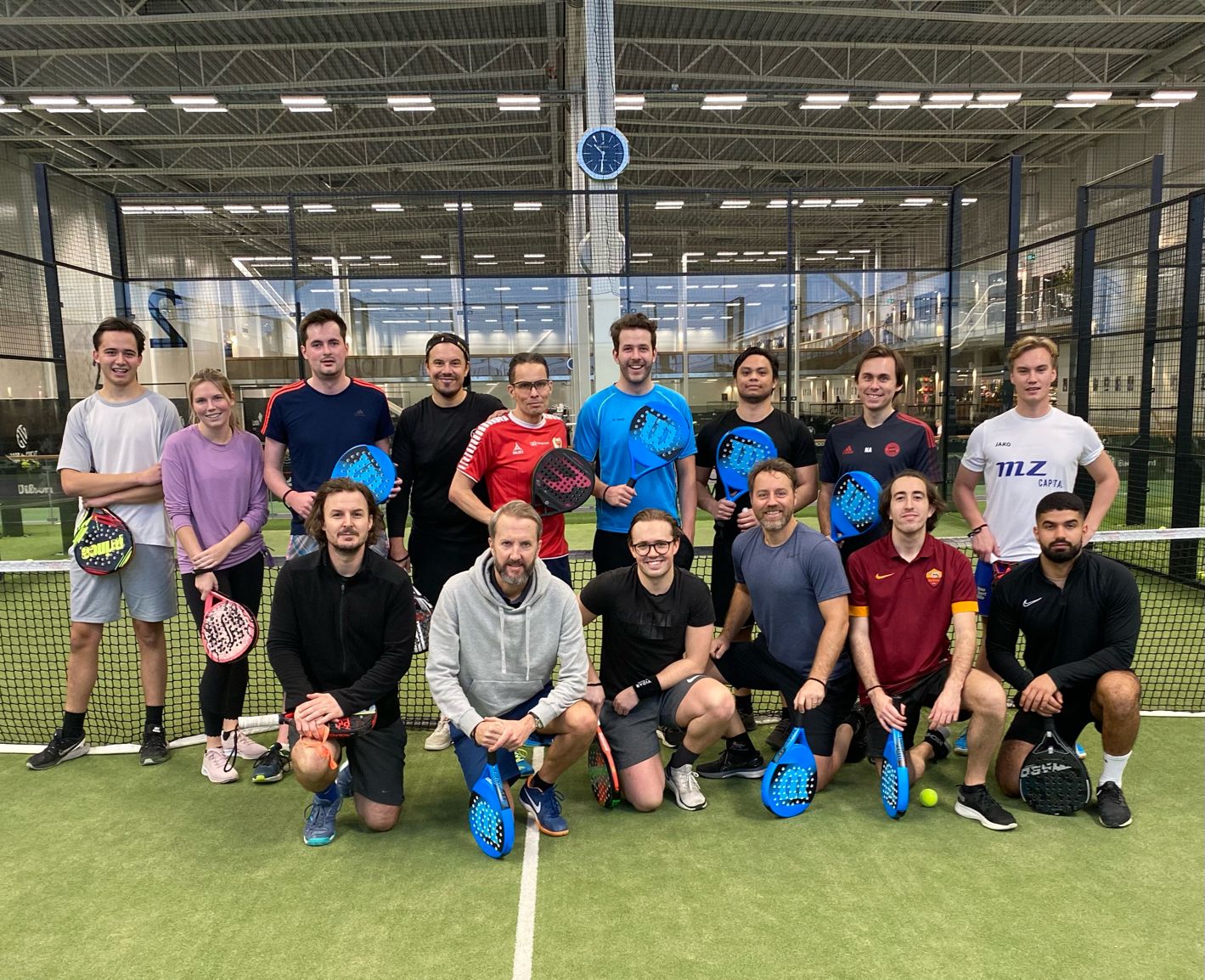 Course Participants on a Padel Event together with Commercial Sports Media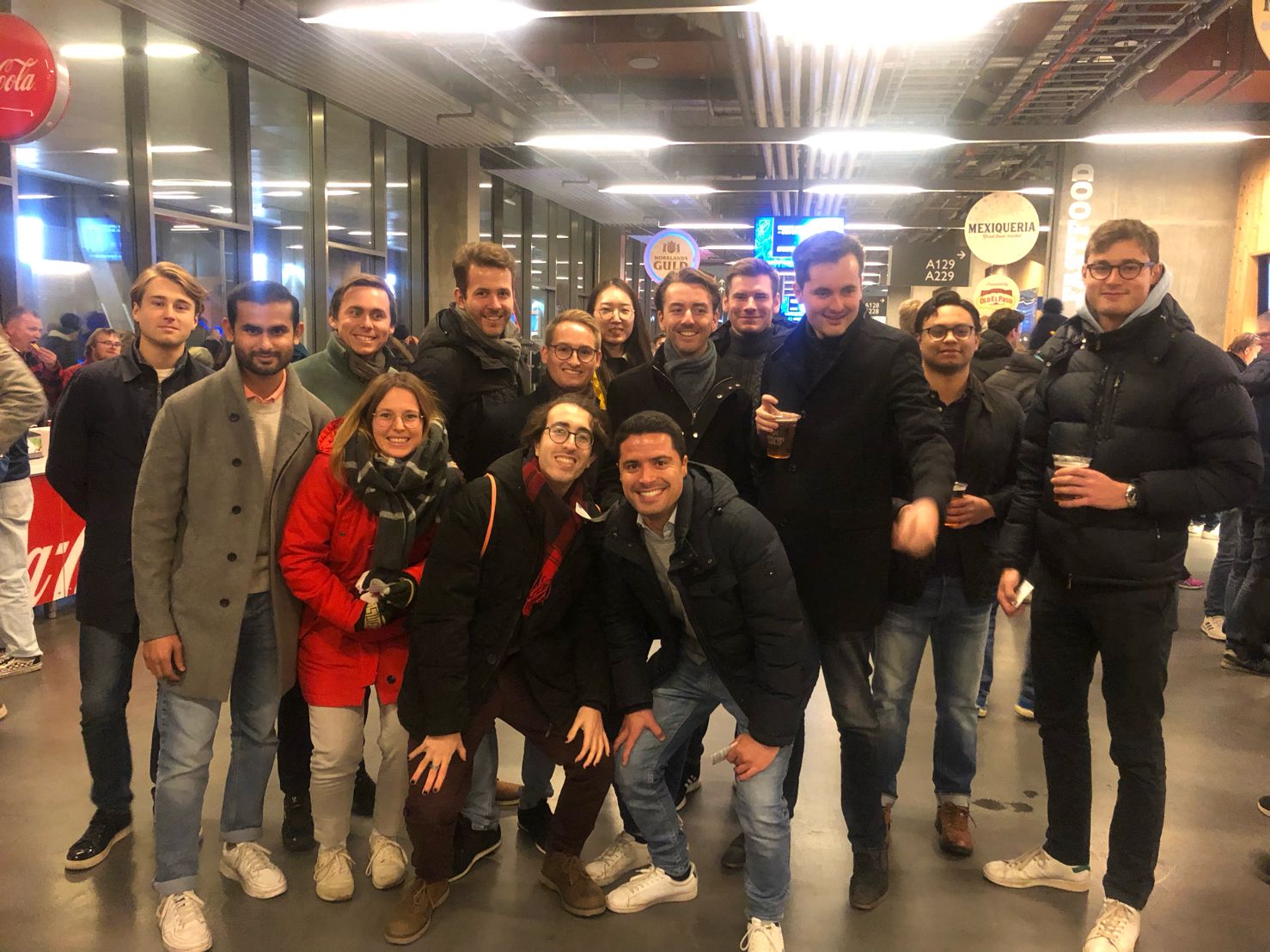 Field Trip to Tele2 Arena
Intended Learning Outcomes
To successfully complete the course, students need to demonstrate knowledge in:
1. How to balance stakeholder interests in an industry that mixes for-profit and non-for-profit goals.
2. How financial value is created in global sports through a mix of media rights, tickets, sponsor partnerships, merchandise, and the selling and buying of players.
3. The role that different financial investors can play in developing clubs, leagues, and large sport events and thereby strengthen global sports.
4. Critically evaluate financial investors' value creation strategies in an industry filled with passionate interests.
Students' Voices
"The expertise and quality of the guest lecturers and professors were outstanding. I found it extremely valuable and insightful to be exposed to such high-profile industry professionals.
"The combination of theory and practice was the main strength. It was amazing to have so many different perspectives on how to work with sports and what different career paths are available for us after leaving SSE. Also, a big highlight needs to be given to the incredible outside Zoom events such as the kick-off dinner with Citi-bank, the football and ice hockey matches with Djurgården, the dinner with Jonas Persson (Sport Tech CEO), the visit to the Swedish Hockey League and the tour of Tele2 Arena. This was a course I will always remember and be thankful to SSE that they organized because it was really a match between my passion and interests."
"I have been sharing my learnings about this course with my network and I think I have been very effective about evangelising potential students for the future. In brief, this course will provide you with tools to understand the mechanics of sport as an industry as well as a passionate interest. It will allow you to look a bit deeper behind the headlines to understand what is actually going on and what it might been for the future of the sport you are interested in."
Format and Structure
The course will cover the following themes:
1. The Global Sport Industry - an overview
2. Due diligence and investing in a sport organization
3. Creating value in a world of passionate interests
4. Exit strategies and getting financial returns
Given the global ambition, both content-wise, but also to reach other CEMS, GNAM and CIVICA schools, the course will be delivered in a digital format.
Prerequisites
The course is an elective open for all MSc students at SSE as well as MSc students from other CEMS, GNAM and CIVICA schools. Knowledge about accounting, investments and corporate valuation are preferable. For example, students should be able to analyze an annual report, conduct a discounted cash flow valuation on a basic level and have a general awareness of different types of investments.
Examination
Class Participation (10%):
Active class participation will be given up to 10%. Given the digital format of the course, class participation also includes questions and reflections e-mailed to faculty between classes.
Case Hand-ins (10%):
The course will consist of a number of cases. A total of 10% will be given to students who hand in cases.
Project (20%):
A course project will be conducted in groups of 4-5 students where students apply theoretical concepts.
Exam (60%):
The main examination is a written exam at the end of the course.
Literature
The following literature, consisting of four major themes, is included in the course. It also includes a collection of selected cases.
Theme 1: The Development of the Global Sport Market
Stewart, B., & Smith, A. (1999). The Special Features of Sport. Annals of Leisure Research, p.87-99.
Smith, A., & Stewart, B. (2010). The special features of sport: A critical revisit. Sport Management Review, p.1-13.
Gammelsaeter, H. (2021). Sport is not industry: bringing sport back to sport management. European Sport Management Quarterly, 21:2, p.257-279.
Theme 2: Introduction to Investments
Jensen, M.C. (1989). Eclipse of the Public Corporation. Harvard Business Review, September-October.
Kaplan, S., & Strömberg, P. (2009). Leveraged Buyouts and Private Equity. Journal of Economic Perspective, p.121-146.
Theme 3: Institutional Logics as a Way to understand Value Creation in Sports
Friedland, R., & Alford, R. (1991). Bringing Society Back In: Symbols, Practices, and Institutional Contradictions. In W.W. Powell & P.J. DiMaggio (Eds), The new institutionalism in organizational analysis, p.232-266. University of Chicago Press.
Gammelsaeter, H. (2010). Institutional pluralism and governance in "commercialized" sports clubs. European Sport Management Quarterly, 10:5, p.569-594.
Carlsson-Wall, M., Kraus, K., & Messner, M. (2016). Performance measurement systems and the enactment of different institutional logics: Insights from a football organization. Management Accounting Research, p.45-61.
Theme 4: Different Perspectives on Value Creation within Sport Organisations
Baxter, J., Carlsson-Wall, M., Chua, W.F., & Kraus, K. (2019). Accounting and passionate interests: The case of a Swedish football club. Accounting, Organizations and Society, p.21-40.
Grodecki, M., & Kossakowski, R. (2021). Class wars among devoted football supporters. Hooligan bourgeoisie and non-hooligan proletariat. Soccer & Society, 22:5, p.470-485.
Finch, D.J., Legg, D., O'Reilly, N, Wright, S., & Norton, B. (2021). A social capital view of an Olympic and Paralympic Games bid exploration process. European Sport Management Quarterly, 21:2, p.302-321.
Nite, C., Ige, A., & Washington, M. (2019). The evolving institutional work of the National Collegiate Athletic Association to maintain dominance in a fragmented field. Sport Management Review, p.379-394.
Contact
If you want to know more or have any questions regarding the course, please feel free to contact:
Lennart Asensio Nitz, Project Manager Center for Sports & Business, 24777@student.hhs.se