Department of Accounting
The Department of Accounting is the leading accounting department in Sweden with about 20 faculty and 15 PhD students. The three cogwheels symbolize our department strategy where we strive for a high level of integration between research, teaching and outreach.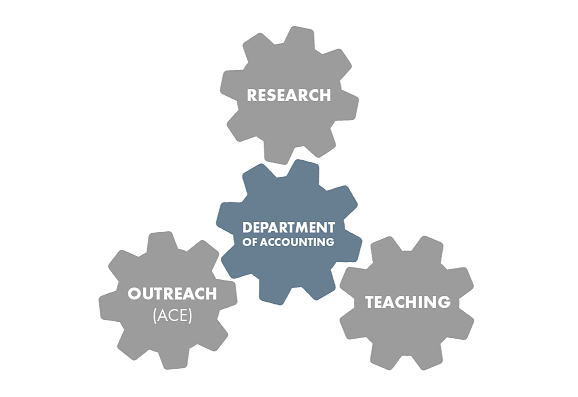 Our research covers a broad range of questions related to management accounting and control, financial and environmental accounting, auditing and tax, and financial analysis, valuation and corporate governance. Our faculty, many with an international background, regularly publish in leading accounting journals and employ both qualitative and quantitative methods. See the faculty and PhD students' profiles below to further explore our research activities. We are also proud of our PhD program which is part of the Swedish research school in accounting, called FIRE.
Our teaching is highly appreciated by both students and executives and our faculty is engaged in teaching at the bachelor, master, MBA levels as well as at SSE Executive Education. We offer a two-year Master Program in Accounting, Valuation and Financial Management, known for its practical relevance and excellent placement of the students.
We have ambitious outreach work navigated through our Accounting Center of Excellence (ACE) which involves Atlas Copco, Deloitte, Elekta, Ericsson, EY, Handelsbanken, Investor, KPMG, McKinsey, Nordea, pwc, Ratos and Skanska.
We also have a partnership with CIMA, the largest association for CFOs and controllers in the world.