Master student at SSE received the Global Swede Award 2016
13 June, 2016
Raghuraman Rangarajan, a student at the MSc Program in General Management at SSE, was one of the international top students receiving the Global Swede Award 2016 at a diploma ceremony taking place at the Ministry for Foreign Affairs recently.
For the sixth consecutive year the Global Swede Award was presented to international students who distinguished themselves in fields closely related to innovation and entrepreneurship.
"The foreign students are a valuable asset for both Sweden's development and future competitiveness. Apart from contributing to new knowledge and perspectives, they are also an important resource for building bridges between Sweden and other countries", says Oscar Stenström, State Secretary to the Minister for Enterprise and Innovation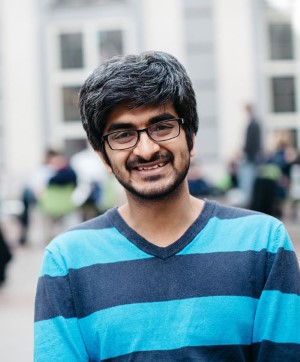 "I think it's really cool that Sweden, as a country, does so much to make me feel at home. I do feel that talented international students are valued in Sweden and I can't imagine too many other countries go through the trouble of showing appreciation to international students" says Raghuraman Rangarajan.
Written about Raghuraman Rangarajan in the program:
Raghuraman Rangarajan, an excellent student from India, is enrolled in the MSc program in General Management at the Stockholm School of Economics (SSE). A resourceful and considerate person who is interested in technology and photography, Raghu enjoys converting ideas into reality with the aim of improving conditions for people in developing countries. His outstanding academic performance, as well as his engagement in the local community, makes him a great candidate for this award. Raghu is diplomatic and friendly, and has been a great ambassador for SSE, and for education in Sweden.