Working from home – a ticking time bomb for commercial real-estate and city living?
Interview with Stijn Van Nieuwerburgh, author of Flattening the Curve: Pandemic-Induced Revaluation of Urban Real Estate
What primarily can we learn from your research in your study?
We've learned how the pandemic has begun to reshape the way we live and work. I believe that one day when we look back on 2020, we may say that the pandemic was the biggest disruptor for society since the emergence of the world wide web.
Were there any major surprises in relation to your expectations and what you actually found?
The biggest surprise was the ubiquity of our findings across the United States, and even beyond. Very often trends in star-cities like New York and San Francisco behave very differently from Dallas or Houston for example. That said, the trend of villa prices outside cities going up, and the rent prices of apartments in city centres going down, pretty much applies everywhere. We could see the pattern reflected across all of the major cities that we studied in the United States, and it's clearly apparent also in many other parts of the world, including Stockholm.
What I particularly liked about the outcome of this study is that we can now track people's mobility through mobile phone and zip code data, and link it to real-estate prices.
"Villa prices outside cities are going up and rent prices of apartments in city centres are going down. These patterns are global and have also been present in Sweden"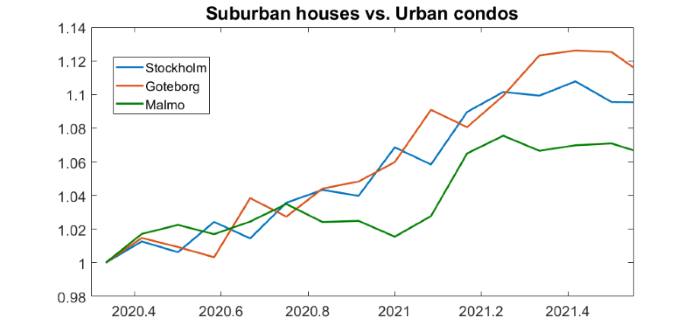 Your study, "Flattening the Curve: Pandemic-Induced Revaluation of Urban Real Estate", shows that working from home is now the dominant driver for the migration to the suburbs, providing a stronger push for people to leave the city centres than for example the level of covid stringency measures. Please explain that in more detail.
An interesting fact of the study is that rents are growing faster in the suburbs than the city centres, and the same is true for prices, but not to the same extent. It's also clear that people are moving from the city centres, but the question is why, what is actually going on?
Our two main theories were:
In working from home, people don't need to commute any more. They can keep their jobs in the city centre, but carry them out from the suburbs.
The urban amenities theory – which is the story of all the wonderful things you can do in cities, including proximity to restaurants, bars, and closeness to your place of work.
It's also true that these two theories are not necessarily mutually exclusive. However, we did try to find out how much is it of one or the other. We based our research on two tests:
One variable was the differences across metropolitan areas in terms of what share of jobs can be done remotely.
The other variable was covid stringency, i.e. how stringently lockdown policies and measures were applied in different places. If the policies were very strict, we expected the effect on rents and prices to be stronger. Indeed, we found there was some truth to that. But when comparing the two trends, we found that the commuting/working from home story was clearly the dominant one.
Covid stringency is not a perfect proxy for amenities, but when we look at zip code levels in smaller geographic areas, we can actually measure one type of amenity, i.e. the number of bars and restaurants in that area. This gives us a good level of confidence that it's not the amenities that are driving the changes in rents and house prices.
Our world is in flux, where some changes to how we live and work were underway already before the pandemic. These include:
Digital and AI revolution – affecting a variety of traditional jobs and sectors;
Death of the Highstreet – online shopping;
New work-life balance imperatives
How much would you say that these, alongside the impact of the pandemic, may also be affecting how we live and work in the future?
If covid had happened 10 years ago, we would not have been able to work from home, because the tech wasn't there. What's happening now is that we're going back to how we lived 30-40 years ago, in big suburban houses, everyone with their own office, everyone with their own garden, generally looking for more space, and more flexibility with our time.
It's not a healthy development for the high street shopping and hospitality sectors. Nor, interestingly, is it beneficial for climate, as the rise of suburban living – at least in the US – is likely to exacerbate CO2 emissions until the day that we have a sufficient level of sustainable transportation options like electric cars.
How do you think commercial real-estate rents and prices will be affected over time?
We carried out a stop-light analysis and found that currently commercial storage facilities and data centres are on green, office space and residential city rentals are on orange, and hospitality and retail are on red.
Looking at this in more detail would be a natural follow-up to our Flattening the Curve study, and I already have a bunch interesting data on office rents and prices.
The lease terms in offices are very long term, often 4-8 years. Due to the Covid lockdown measures, many offices have been empty or half empty for many months, while 90-95% of tenants are still paying their rents. It's only when the leases expire, which will happen gradually in the next few years, that we'll see the full effect of remote work. Even if many major companies renew their office leases, but decide to take 20% less space, that is still a big, big shock for commercial real-estate, affecting not just offices but downtown retail as well.
"In some places the rate of new office leases
signed has fallen dramatically, by around 50%"
The drop in leasing has been similar in US major cities and non-major cities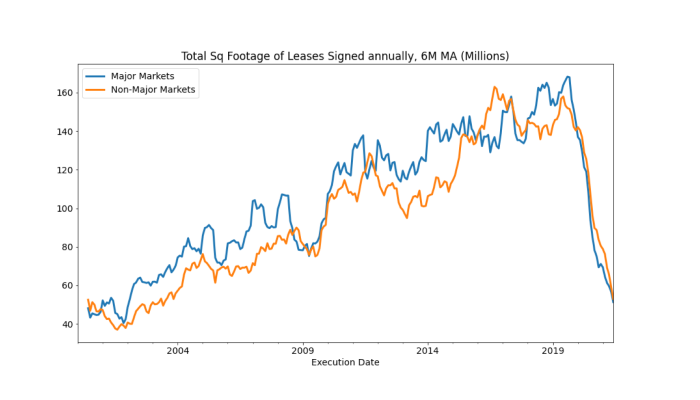 In some places the rate of new office leases signed has fallen dramatically, by around 50%. It's a shocking number. But here we also see some interesting variation between different types of cities like New York or San Francisco, where new leases have fallen a lot, as opposed to Texas which is doing well, especially Dallas and Houston.
The general decline in office space demand seems to be widespread across tenant sectors as well. Even though tech-firms, for example, have done very well financially during the lock-downs, the sector's rate of non-renewal of office space is similar.
So how have landlords been reacting to the situation?
These developments in the leasing market naturally lead the rent in city centres to fall. Landlords like to keep the asking rent the same, and rather lower the rents by giving new tenants more months of free rent – maybe 12 months of free rent instead of the usual 3. It will lower effective rent, but if the market turns, they can still keep their sticker price. That said, the net effective rent has fallen substantially in recent times, in the region of 15 percent already. This is only the beginning of a major commercial real-estate shock, as I see it.
So while it is well possible that commercial real-estate in city centres will rebound over time, with new tenants coming in, it looks pretty problematic for now. New York for instance has the highest office vacancy rate in 30 years, standing at 18%, which is significantly higher than the usual 8-10% vacancy rate.
How the future shapes up from here, will very much depend on how working from home policies evolve, and what companies end up doing. We see big differences in how companies expect their employees to go back to working in the office, ranging between 0 to five days a week. And on top of that, the delta variant of the pandemic now seems to be delaying the return to the office for another few months.
To me it seems that we're learning by doing – the longer we work from home, the better we will get at it. Furthermore, we may learn that we don't need to be so close to each other in order to be productive, and a lot of companies are already seeing that.
The fact is that commuting takes a lot of time, causing big productivity losses. People worked very, very hard from their home-offices last year, and for many companies, profits were at an all-time high. At the same time, it also resulted in a lot of burnout and mental health issues amongst employees. The question is how do we find a new equilibrium, a new balance between working from home and going to the office? Time will tell.
What will the cities of the future look like?
Working from home has prompted a huge change in how we live and work. Fifty years from now we might point to 2020 as a watershed moment in how we organized society, with the potential of a huge disruption of the cities, and particularly the office sector.
Offices bring in a lot of property tax revenue to cities. Already in NY there was a 10% decline in tax revenue last year, which puts a lot of pressure on local government budgets. That is money which normally goes towards urban safety, education and transportation. Declining revenue to fund these fundamental services, could lead to further deterioration in city life as access to amenities gets worse, more people leave, over time prompting a vicious cycle to the point where city centres slowly start to collapse. Once the rich and middle-income earners stream out, the city loses a crucial revenue base which can take decades to recapture.
On the upside, the size of the service sector is growing. Office rental has always been favourable to cities, and here the digital tech industry is a strong driver. This, hopefully could be a counterforce pushing against the decline of city living. If companies continue to rent some space even if just to keep the city centres alive, office space may well start to fill back up again over the longer term.
The trend is clear, however, there will be more working from home – the question is just how much? Personally, I estimate a 20% decline in demand for office space over the next 5 years.
What's your advice to decision makers at this point in time?
The local policymakers in large cities should do everything they can to try to attract offices tenants and middle-class tenants back to the city.
In addition, urban safety has deteriorated a lot in American cities since the lockdowns, where we see a clear rise in homelessness, drugs and gun violence. Safety needs to become a priority.
What does it mean for you and the team to receive an award like the Skandia Award?
It is very gratifying to see that real-estate, which is a tremendously important asset-class for our economy and society, has raised the interest of the committee, giving us one more platform to discuss these developments more broadly.
Share