Objectives
The Swedish House of Finance provides an independent platform for dialogue, open to everyone with an interest in finance. The center generates daily contact between academia, the public, and the private financial sectors which in turn leads to new research, new private initiatives, and a basis for better decisions and meaningful regulation of the financial sector. The center is a vital part of the research and development that is necessary to continue to develop Sweden as one of the leading financial centers in Europe and to support the development of a strong Swedish economy and rate of innovation.
The center has succeeded in attracting world-class academic researchers, as well as top-tier students. It has built an ecosystem for financial research and development. This provides decision-makers in Sweden with access to the world's collective expertise in finance.
The fundamental objective of the Swedish House of Finance is:
To strengthen financial academic research in Sweden.
To create impact through achieving a critical mass of world class academic researchers.
To share positive externalities with the private, public and academic sectors in Sweden.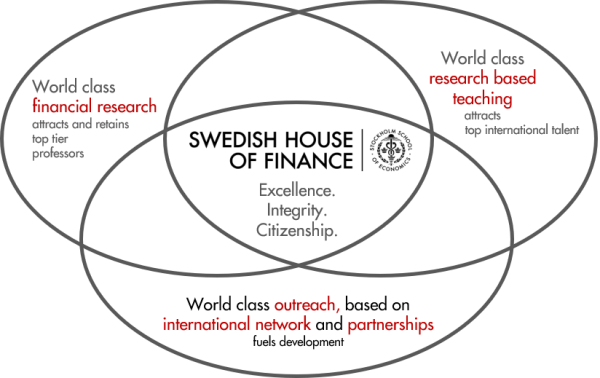 The Swedish House of Finance has promised to achieve this by providing a common platform for:
Creating a common physical research infrastructure
Establishing a national center for financial data
Launching a doctoral course program in finance available to all doctoral students in Sweden
Carrying out programs for research interactions: to provide open seminar series, invite guest researchers, and arrange conferences
Supporting the recruitment of international researchers to Swedish academic institutions
Sharing its research infrastructure with researchers in Sweden
Obtaining research financing from the Swedish financial industry