Much interest for Women's Finance Day
okt. 17, 2016
On 15 September, the event Women's Finance Day brought together female students at the Stockholm School of Economics with some of the most prestigious workplaces in finance, in Sweden and abroad.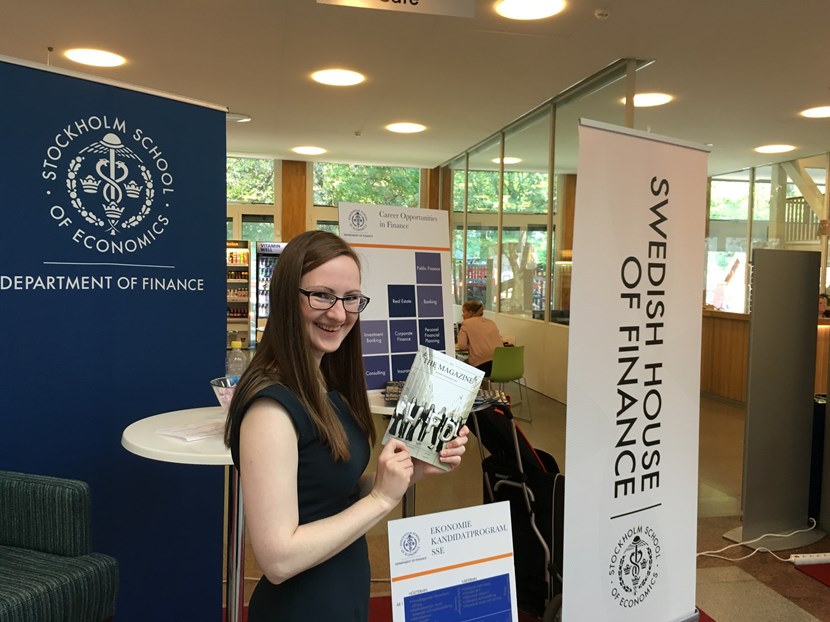 Finding female talent is a top priority for many companies within the finance industry and this year, the event expanded from a banks only-event to a broader perspective on the finance industry. At the event were representatives from private equity, asset management, consultancy, banking, public finance, insurance and accounting.
– We want to increase the interest for a career within finance among the students. But WFD is more than just a single day event. Our work continues after the main event, through seminars, debates and of course the launch of Women's Finance Network, says Molly Kjessler, project manager for WFD.
Women's Finance Network is a new mentor program bringing together a group of about 25 selected students from the bachelor program with experienced mentors working in finance. The program will run for a year and hopefully contribute to an increase in interest for the master program in finance and ultimately for a career in finance.
– Some companies participating during WFD and in the mentor program only recruit people with a couple of years of working experience but their participation is a way to work long term and strategically with the recruitment of women, says Johanna Ingemarson, project manager for WFD.
Swedish House of Finance also participated during the day and has collaborated with the project group in preparation for the event.
– We want to show the whole spectrum of careers in finance. There are so many more options out there that don't include the typical career path of moving to London and working at an investment bank. It has been great to see so many new additions like the AP-funds, the Swedish central bank and a couple of private equity companies. I can't say whether the situation for women in finance is getting better but there are definitely more women represented in the industry today, says Maria Frithz Warg,
There were numerous seminars to attend during the day. To Molly Kjessler and Johanna Ingemarson it is clear that the most appreciated speakers were those who shared their own personal stories of what it is like working in finance.
– Students are used to the regular company presentations, they want real stories. Transparency is important and companies looking for top talent need to listen to the students and adapt to this new environment, says Johanna Ingemarson.