Corporate Finance Symposium
The Stockholm School of Economics, Mannheimer Swartling and McKinsey & Company invite you to a unique symposium where the mostrecent academic research in the field of corporate finance is presented and discussed from a practical perspective.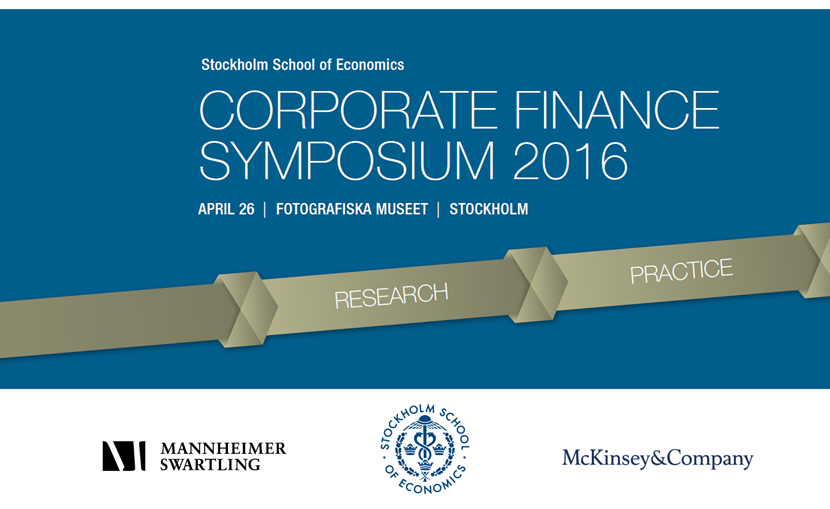 The symposium bringstogether world-leading scholars and top corporate dealmakers to share their views on the latest developments in corporate finance.
Conference focus:
Corporate finance has been one of the most active areas of research in finance over the last few decades, but much of this research has had limited impact on corporate finance practice in many areas. An important goal of this conference is to bring together top academics and prominent practitioners working in corporate finance in order to create a lively forum for exchanging ideas in this field. The theme of this year's conference is "Mergers and Acquisitions".
The first conference day is targeted both towards academics and practitioners, and will focus on two themes within the general topic of M&A: "Programmatic M&A strategies", where keynote speeches will be given by Gordon Phillips (Professor, Univ. of Southern California) and Moni Miyashita (Senior Advisor, McKinsey & Co); and "De-Biasing M&A Decision Making," with keynote speakers Ulrike Malmendier (Professor, Berkeley) and Rima Qureshi (Chief Strategy Officer, Ericsson).
The second part of the conference, which takes place on April 27, will provide an academic forum showcasing the frontier in corporate finance research. Hence, the second conference day follows a standard academic conference format. We plan on having eight presentations of recent working papers, each followed by a discussion.
Organizing committee:
Academic organizers: Bo Becker, Per Strömberg, and Pehr Wissén.