Big change is made through endless small actions
04 May, 2020
Congratulations Karol Vieker, Equality and Diversity Manager at SSE, on being awarded this year's Friend of Stockholm's Students! How did you receive the news?
"Thank you so much! I got an e-mail from Stockholms studentkårers centralorganisation SSCO about a week before they made the official announcement and was very surprised, to say the very least! I didn't even know the award existed and am humbled to be this year's recipient. And I'm of course extremely happy that the good work we're doing here at SSE has been recognized," says Karol Vieker.
Five years of establishing equality and diversity on the agenda
Karol Vieker has been working with equality and diversity at SSE for almost five years. When she first started, the challenge was to really get these issues on the agenda. Since the school created her position it shows that there was a willingness to make a change already then, but the issues hadn't really taken root. Her first years was spent on building relationships and establishing routines, both with fellow employees and with the students. A work that has led, for example, to people really coming forward and reporting things like discrimination and harassment.
​"That is so important since we can't address what we don't know about, and we now have a good track record of taking proper care of issues that come up," says Karol Vieker​.
Today Karol has made equality and diversity firmly established as important areas for the school. Now it's time to take the next step, which is getting everyone – employees and students alike – to take personal responsibility for the issues on a daily basis.
​"Equality and diversity are not "my" issues, even though they're in my title. They are everyone's issues and we can all make a difference in our daily interactions with each other," says Karol Vieker.
So what is it like working with equality and diversity at a business school?
​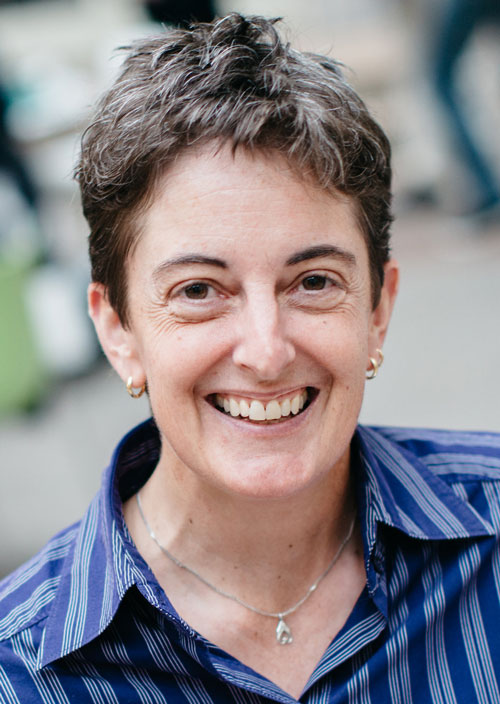 "That's a really interesting question! On the surface, one might get the impression that these issues have nothing to do with business, but nothing could be farther from the truth. Equality, diversity and inclusion are increasingly becoming business-critical issues. For example, the research shows us that companies and organizations are more successful if they have more women in leadership positions and more diversity among employees. I honestly never saw myself working at a business school, but the longer I'm here the more I see that it's really the right place for me to be -- contributing to SSE's educational mission of producing more reflective, empathetic and responsible decision makers," states Karol Vieker.
Turning a challenge into an opportunity
Karol Vieker thinks that one of our challenges at SSE also is one of our biggest opportunities; namely, our prestigious reputation. Even though we are a small, private school, we attract a lot of attention and have a lot of influence on others. Karol believes that if we can do really great things in the areas of equality and diversity, then we can inspire and influence others to do them as well. This is one of the reasons why she is so happy to have been named this year's Friend of Stockholm's Students.
To fellow colleagues in the same field of work as she is, her tip is to start with the low-hanging fruits. We have such huge structural problems that need to be solved, both at SSE and in society at large. That requires long-term, intensive work and it's easy to get frustrated and give up because you don't see progress being made. But there are endless things that can be done on an individual basis that contribute to more open and inclusive environments. If everyone really thought about what they can do in their daily work to make their own organization or company a better place for everyone, then we'd come a long way. Her last tip is accurate for many more areas then just equality and diversity:
​"So do what you can where you are in every interaction you have with others. Big change is made through endless small actions."