Tomas Hjelström the first recipient of the SSE Pedagogical Award
06 December, 2018
The SSE Pedagogical Award 2018 was given to Tomas Hjelström, Assistant Professor at the Department of Accounting, for his long-term excellent teaching and for being a pedagogical role model and mentor.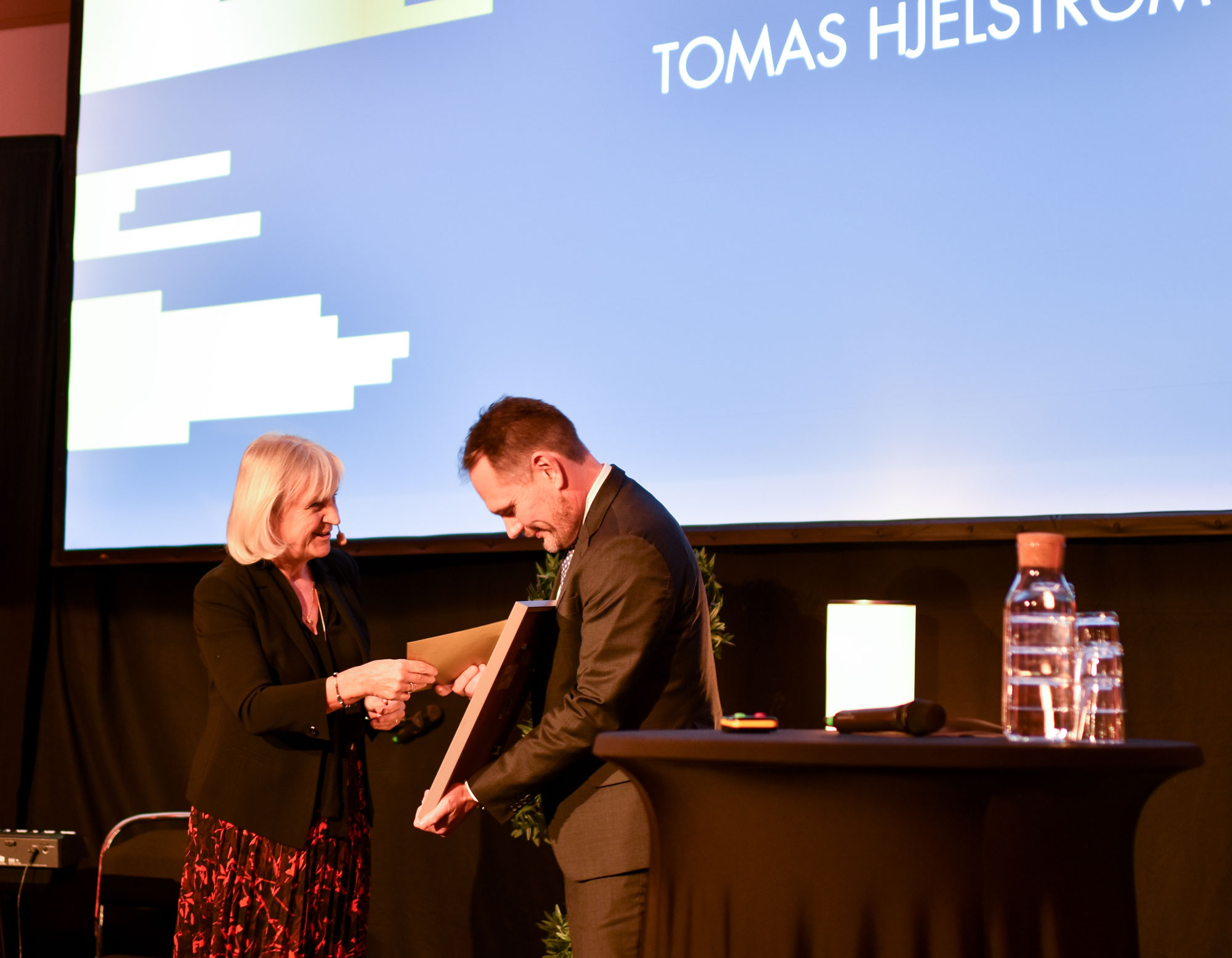 Marie Ehrling handing over the award to Tomas Hjelström.
The prize is part of an ongoing effort to further highlight the importance of good pedagogy for SSE. Here we are rewarding a teacher who during a long period of time has great pedagogical achievements, says professor Pär Åhlström, Vice President Degree Programs.
Tomas Hjelström, you are the first recipient of this award. How does it make you feel?
I am very proud. It is an honor to be recognized in this way and particularly so when it is the first time the award is presented. We have many good pedagogues at the school which is something that we should acknowledge. Most importantly, I think that it is fantastic that we eventually have a price for what is happening in the teaching and learning domain. Education is a core part of what happens at a business school", says Tomas Hjelström.
What makes your learning approach so successful?
I think that there are a couple of things that are necessary. This centers around subject knowledge and structure when it comes to conveying a message and understanding to participants at all levels. However, with subject knowledge we must also include knowledge about what pedagogical approaches that are suitable in what situations. The match between the two is crucial. I think that I am quite flexible in that approach.
Moreover, passion for both teaching and learning in general but for the participants is something that I always emphasize. Participants must be seen at all points in time.
And finally, dare to try new things. It might not be the right thing, but it is about your own development. We accept that we should develop in research so why not in teaching? Then you must also be brave enough to say no once we have tried. We are not always successful, and it is OK to fail sometime as long as we do it for the right reasons.
What do you like to do when you are not at the Stockholm School of Economics?
I am a sports fan and have been devoted sports for young people, focusing on handball. Having the privilege to work with children and young people is important, not least in one's educational development, as you learn so much from explaining to individuals who have their own views on things but who have not fully developed all their talents. In a certain perspective, we are all children when it comes to a learning situation and then it is important for us pedagogues to have that perspective.
The jury's motivation
The SSE Pedagogical Award 2018 goes to Tomas Hjelström for his long-term excellent teaching and for being a pedagogical role model and mentor. Tomas Hjelström has been teaching at SSE since 1995 and his pedagogical achievements started at SSE Executive Education together with colleagues from the Department of Accounting. Over the years he has developed and taught a wide range of courses in Accounting and Financial Management at the Bachelor, Master and Executive Education levels. His teaching is consistently highly appreciated by the students and participants. As an illustration, Tomas Hjelström has been elected Teacher of the Year eight times during the last decade at the Executive MBA-program. Through team-teaching he has mentored PhD-students and young faculty members for more than 15 years. With passion, energy, curiosity and knowledge, he uses a broad variety of teaching methods, such as traditional lectures and seminars, cases, self-learning and teacher active sessions, webinars, and coaching. The learning of students is always in focus for Tomas Hjelström.