Professor Fika and Introduction of Jonas Persson Visiting Professor
14 June, 2023
On Wednesday, June 14, the Center for Sports & Business organised a professor fika in the Heckscher-Ohlin room at the Stockholm School of Economics in order to celebrate Center Director Martin Carlsson-Wall's appointment as professor at the SSE, as well as introduce our new Jonas Persson Visiting Professor, Paolo Aversa.
On June 5, the Stockholm School of Economics announced the appointment of Martin Carlsson-Wall, the Director for the Center for Sports and Business, to professor. The Center for Sports & Business took this opportunity to celebrate this achievement with a professor fika.
In 2015, Martin founded the Center for Sports & Business. Working closely with sports both in Sweden and abroad, Martin's research has studied how clubs, leagues and federations use accounting to navigate the delicate balance of combining multiple institutional logics related to commercialization, membership democracy and public funding.
In the coming years, the Center for Sports & Business will continue to support the development of Swedish sports. Areas where the center hopes to make contributions related to governance, improving gender balance and how sports organizations can embrace and thrive as hybrid organizations.
Furthermore, the Center for Sports & Business was also very pleased to announce our first Jonas Persson Visiting Professor, namely Paolo Aversa. Paolo is Professor of Strategy at Bayes Business School, City University of London. He is Director of Communications and Appointed Officer of the Strategic Management "STR" division of the Academy of Management. He has also served as ad-hoc reviewer for most top journals in the field of management and strategy.
Leading in Turbulent Environments - Lessons from F1
During his lecture, Aversa shared insights and key takeaways from his extensive research in the field of sports, particularly focusing on Formula 1. Acknowledging the strong emotions that often accompany sports, Aversa emphasized the importance of passion in making businesses more resilient. However, he stressed the need to balance emotions with clear thinking and a well-crafted strategy, highlighting that emotions should enhance decision-making rather than replace it.
Aversa presented three key points from his lecture:
Innovation's impact on performance: Aversa emphasized that while innovation can drive performance, it can also have adverse effects if not carefully implemented. He advised pursuing radical solutions when turbulence has settled, highlighting the significance of adaptability as a crucial factor for success.

The role of AI and Big Data: Aversa discussed the potential of AI and Big Data in supporting decision-making processes. However, he cautioned against replacing human strategists entirely, asserting that the best decisions are always driven by human intellect.

Collaboration and partnership: Aversa underscored the importance of collaboration and ecosystem stakeholders in achieving ambitious goals. He advocated for aligning with partners and stakeholders when pursuing ambitious projects, emphasizing that going alone can prove to be costly.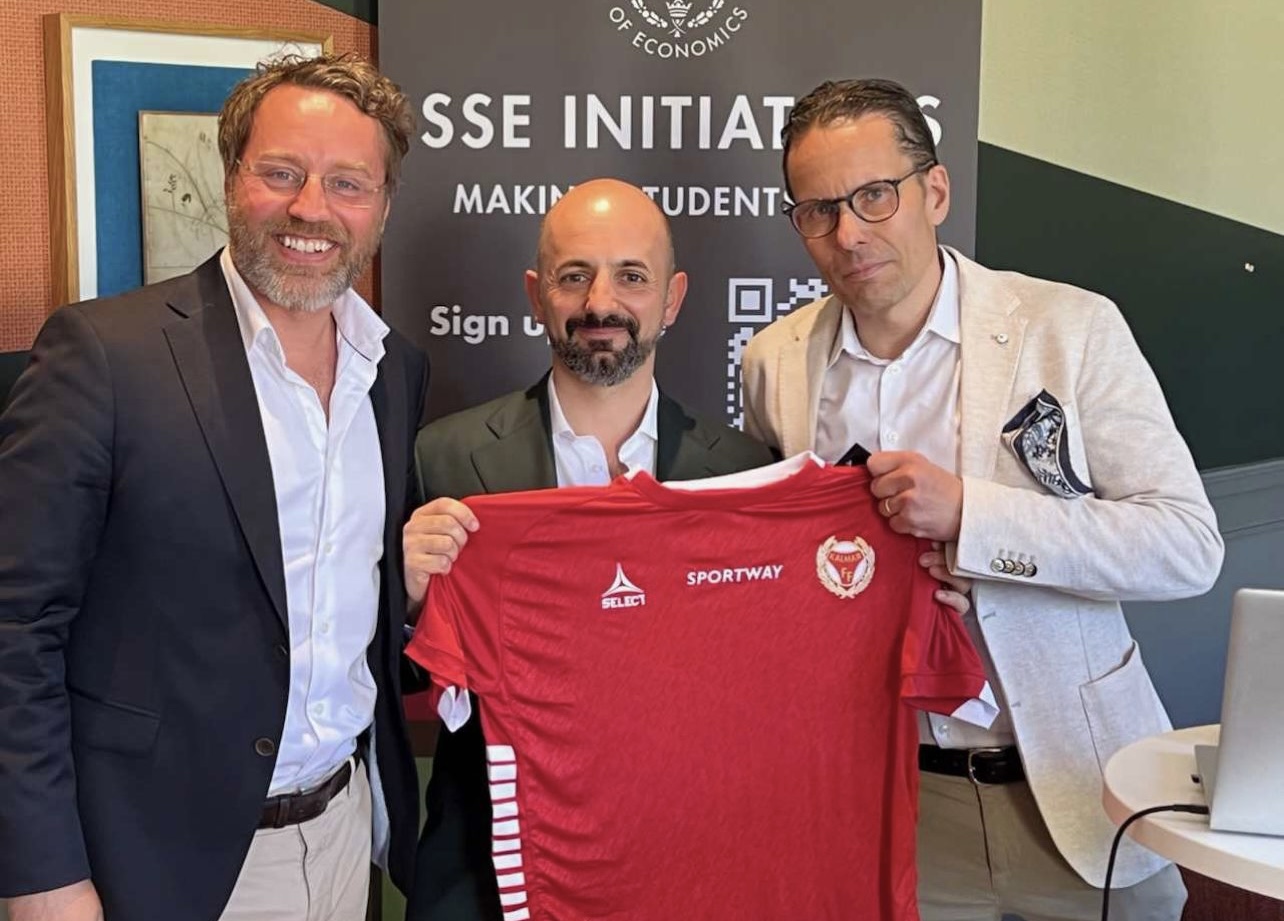 From left to right: Martin Carlsson-Wall, Paolo Aversa and Jonas Persson.
The Jonas Persson Visiting Professor is made possible by the generous donation from Jonas Persson, CEO of Commercial Sports Media and former President of Kalmar FF Fotboll.