The future of energy infrastructure resilience in Europe
19 June, 2023
On 11 May, 2023, the Stockholm Institute of Transition Economics (SITE) and the Forum for Research on Eastern Europe: Climate and Environment (FREECE) invited four experts to the 2023 annual Energy Talk to discuss the future of Europe's Energy infrastructure resilience. This policy brief summarizes the main points from the presentations and discussions.
In the wake of Russia's full-scale invasion of Ukraine, large parts of Europe have experienced skyrocketing energy prices and a threat of power shortages. The need to transition to low-carbon energy systems, driven by sustainability concerns, further adds to the pressure put on the European energy infrastructure. This year's Energy Talk, organized by SITE and FREECE, invited four experts to discuss the opportunities and challenges of energy infrastructure resilience in a foreseeable future.
(You can also watch the video recording from the event on our Youtube-channel here)
Introduction
Energy infrastructure has an indispensable role in facilitating the functioning of modern society, and it must – today as well as in the future – be resilient enough to withstand various challenges. One of the most important challenges – the green transition: shifting towards economically sustainable growth by decarbonizing energy systems and steering away from fossil fuels – requires energy infrastructure to absorb subsequent shocks. Another, and preeminent challenge, is that, even when directly targeted and partly destroyed as in the ongoing Russian war on Ukraine, energy infrastructure should be withstanding. Additionally, energy infrastructure is increasingly subject to supply chain disruptions, energy costs increase or network congestions. How does our energy infrastructure react to these challenges? How do they affect its ability to facilitate the needs of the green transition? Which regulations/measures should be implemented to facilitate energy infrastructure resilience?
Stockholm Institute of Transition Economics (SITE) invited four speakers to the 2023 annual Energy Talk to discuss the future of Europe's Energy infrastructure resilience. This brief summarizes the main points from the presentations and discussions.
Energy system resilience in the Baltics
Ewa Lazarczyk, Associate Professor at Reykjavik University, addressed the question of energy system resilience, focusing on the Baltic States and their dependence on Russia and other neighbors to fulfill their electricity needs.
The Baltic States are not self-sufficient when it comes to electricity consumption. Since 2009, Lithuania has become a net importer of electricity, relying on external sources to fulfill its electricity demand. Similarly, Estonia experienced a shift towards becoming a net importer of electricity around 2019, following the closure of environmentally detrimental oil fueled power plants.
The Baltics are integrated with the Nordic market and are heavily dependent on electricity imports from Finland and Sweden. Additionally, all three Baltic States are part of the BRELL network – a grid linking the electricity systems of Belarus, Russia, Estonia, Latvia, and Lithuania – which provides stability for their electrical networks. As a result, despite the absence of commercial electricity trading between Estonia and Russia, and limited commercial trading between Russia and the other two Baltic states, the power flows between the Baltic States and Russia and Belarus still exist. This creates a noticeable dependency of the Baltics on Russia, and a potential threat, should Russia decide to disconnect the Baltics from BRELL before the planned separation in 2024/2025.
This dependency was put on trial when Russia on May 15th 2022 cut its electricity trade with Europe. On the one hand, the system proved to be relatively resilient as the cut did not lead to any blackouts in the Baltics. On the other hand, price volatility amplified in its main import partner countries, Sweden and Finland, and congestion increased as compared to 2021.
Figure 1. Price volatility in Sweden and Finland before and after the trade cut.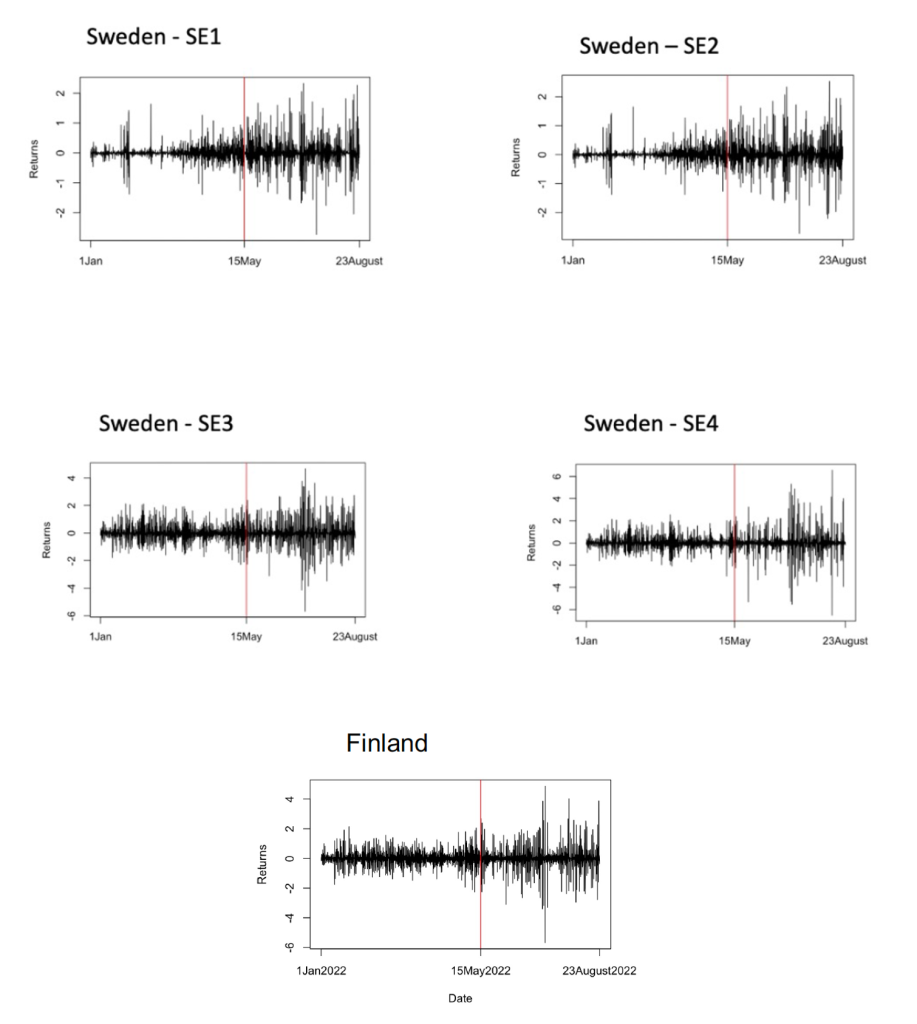 Notes: Sweden is split into four price zones, SE1-SE4. Finland is split into only one price zone. Source: Lazarczyk and Le Coq, 2023.
This increased price volatility and congestion following the Russian halt in electricity trade gives an indication that the Baltics and the Nordics are vulnerable to relatively small supply cuts even at the current demand levels.
In the future, electricity consumption is however expected to increase throughout the region as a result of the electrification of the economy (e.g., by 65 percent in 2050 in the Nordic region). This highlights the need to speed up investments into energy infrastructure of internal energy markets.
In summary; recent events have demonstrated a remarkable resilience of the Baltic State's electricity system. While the disruption of commercial flows from Russia did have some impact on the region, overall, the outcome was positive. Nonetheless, it is important to note that the region relies heavily on electricity imports, and with increasing demand for power in both the Baltics and the neighboring areas, potential issues with supply security could arise if the demand in the Nordics cannot be met through increased production. The risk of an early disconnection from the BRELL network further amplifies this concern. However, the case of Ukraine – which managed to abruptly disconnect from Russian electricity networks – serves as an example that expediting the process of establishing new connections is feasible, although not risk free.
The Ukrainian energy sector and the immediate threat from Russia
While the Baltics are facing the effects from the Russian halt in electricity trade and the threat of a potential premature disconnection from BRELL, Ukraine's energy networks are at the same time experiencing the direct aggression from Russia.
Yuliya Markuts, Head of the Center of Public Finance and Governance at the Kyiv School of Economics (KSE), and Igor Piddubnyi, Analyst on Energy Sector Damages and Losses and Researcher at the Center for Food and Land Use Research at KSE, both gave insight into the tremendous damages to the Ukrainian energy system from Russian attacks, the short-term solutions to cope with the damage, as well as the long-term implications and reconstruction perspectives.
Since the invasion, about 50 percent of the energy infrastructure has been damaged by shelling. In addition, several power plants are under Russian control or located in Russian occupied territories. As of February 2023, nearly 16 GW of installed capacities of power plants remained in Russian control, equivalent of the peak demand. Apart from the damages to the producing side, transmission and distribution facilities have also been severely affected, as well as oil storage facilities. In April 2023, the damages to Ukraine's energy infrastructure were estimated to amount to $8.3 billion, almost 6 percent of the total estimated direct damages from the war.
While the damages are massive, the population did not experience complete blackouts, and the Ukrainian energy system did not collapse. This is partly due to diesel-driven generators substituting much of the damaged electricity generation and partly due to a fall in demand of about 30-35 percent in 2022, mainly driven by decreased industry demand.
In the short term, Ukraine is likely to continue to face Russian attacks. Its top energy priorities would thus be to restore damaged facilities and infrastructure like heating and clean water, increase the stocks of fuel, gas, and coal, and to try to liberate occupied areas and facilities. Another vital aspect of the Ukrainian energy infrastructure and its resilience towards the Russian goal of "freezing" the country relates to energy efficiency. Ukraine's energy efficiency has been relatively low, with the highest rate of electricity losses in Europe, and the numbers are also high for gas supply and district heating. Here, minor changes such as light bulb switching, can have great impacts. Additionally, solar panels – especially those that can also store energy – can help alleviate the acute pressure on the transmission grid. Other vital measures involve continued donations from Ukraine's partners, sustained efforts from energy workers – at the risk of their lives – and persistent successful deterrence of cyber-attacks currently targeting the country.
Achieving a greener energy system is currently challenging (if not nearly impossible) due to the use of diesel-driven generators, the attacks on the energy system, and the fight for control over nuclear power plants such as Zaporizhzhia, which since March 2022 is under the control of Russian forces. Damages to renewable energy production further exacerbate these difficulties.
Thus, it is crucial to ensure that the planning and reconstruction of Ukraine's energy sector is done in accordance with the European Green Deal. By 2030, the country should have at least 25 percent renewables in its energy mix, which would require substantial installations of at least 13 GW of wind, solar, small hydro and biogas capacities. In addition, transition entails decommissioning old coal power plants to run on natural or biogas instead of coal.
While this is a tall task, investments targeted to the energy system are not only essential for Ukraine's population to sustain through the 2023/2024 winter – but also to facilitate the green transition in Europe. The potential for export of biomethane, green hydrogen, and nuclear power from Ukraine to Europe is considerable. As Europe's biofuel demand is expected to increase by 63 percent while Ukrainian grain exports are still proving to be challenging, biofuel production for export on the European market is a particularly likely future scenario for the Ukrainian energy market.
In summary; the Ukrainian energy sector has done remarkably well, considering the impact of the damages from the Russian aggression. As Ukrainian short-term energy priorities lie in facilitating quick and efficient responses to infrastructural damages, current measures may not be particularly environmentally friendly. However, the longer-term reconstruction of Ukraine's energy sector has great potential for being in line with the green transition objectives.
Energy system's resilience in the green transition
Mikael Toll, Senior Advisor at Ramboll Management Consulting highlighted the importance of infrastructure resilience. He emphasized the significance of the Energy Trilemma in achieving a successful transition to greener energy systems. This trilemma implies balancing between energy security, environmental sustainability, and affordability, all representing societal goals. Focusing on the energy security aspect of this trilemma, he stressed that energy infrastructure should be part of a more holistic approach to the problem. It is essential to establish resilient supply chains and implement efficient management procedures to prevent and mitigate the negative consequences of disruptions. It entails ensuring the performant infrastructure and supply, but also fostering well-functioning markets, putting in place state-governed crisis management mechanisms, and cooperation with other states. By combining these elements, one can enhance preparedness both in normal times and during crises.
Sweden as an example
Sweden has since long been increasing its share of renewables in the energy mix, as depicted in Figure 2. This suggests that it is relatively well-prepared to the needs of the green transition. However, electricity demand is expected to increase by 100 percent in the coming years, driven by increased electrification of the industry and transport sectors, adding pressure to Sweden's electricity system. The need for more investments in several energy systems is tangible, and investment opportunities are numerous. However, political decisions concerning the energy system in Sweden tend to be short-sighted, even though energy infrastructures have a long lifespan – often well over 50 years. As a result, investment risks are often high and change character over time, which creates a lack of infrastructure investment. Other challenges to Sweden's energy resilience include limited acceptance of new energy infrastructure among the public, time-consuming approval processes, and a lack of thorough impact assessment.
Figure 2. Total supplied energy in Sweden, 1970-2020.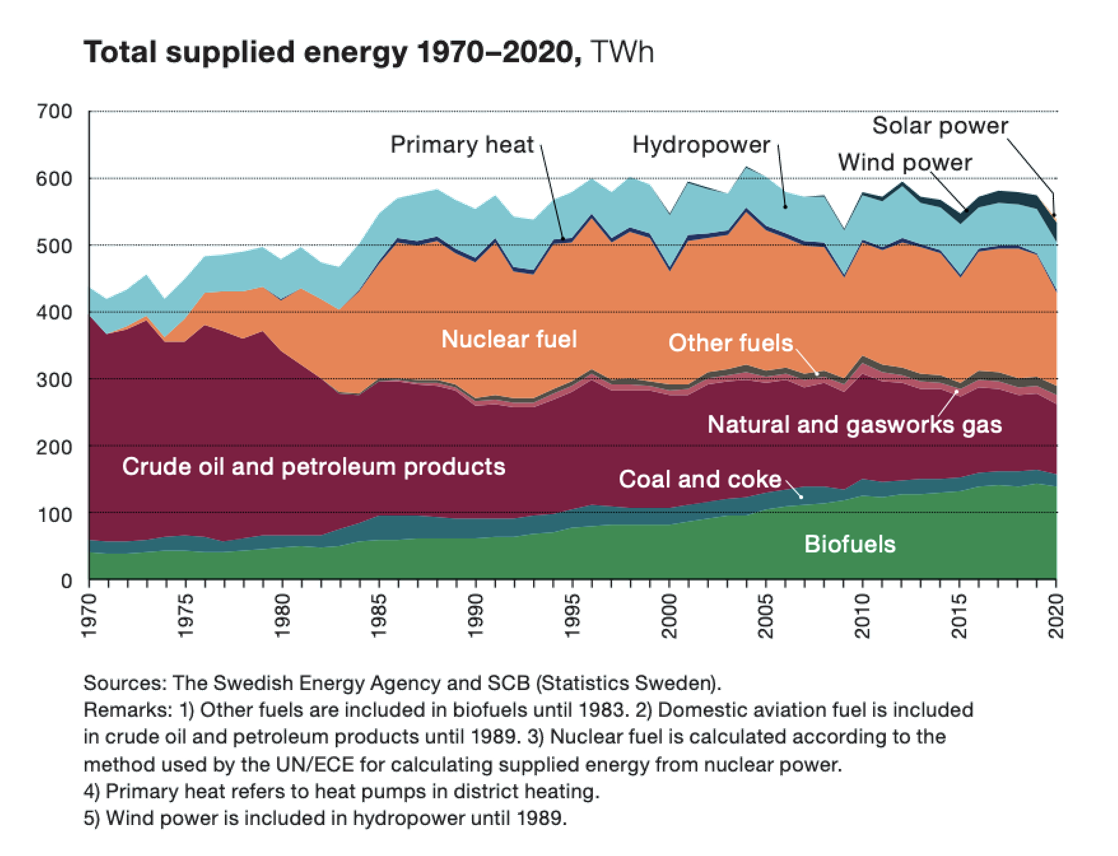 Source: Swedish Energy Agency, 2022.
Further, the current geopolitical context creates an increased need to consider external threats – such as energy system disruptions resulting from the Russian war on Ukraine – and increased dependency on China as a key supplier of metals and batteries required for electrification. It is also important to realize that external influence may affect not only physical infrastructure but also domestic decision-making processes. This calls for more energy and political security alongside the green transition, in combination with higher readiness against security threats and a reassessment of global value chains.
In summary; to successfully move into a greener future, it is necessary to invest in energy systems and infrastructure based on a careful multi-dimensional analysis and with the support of long-sighted political decisions. At the same time, we must push investments that also consider the security threats from and dependencies on global actors.
Conclusion
This year's Energy Talk provided an opportunity to hear from leading experts on the current situation of Europe's energy resilience. It outlined the key challenges of the green transition in the current geopolitical and economic context. Greener solutions for Europe's energy system will require tremendous physical efforts and investments but also political will and public understanding. There are, however, immense benefits to be realized if the associated risks are not overlooked.
On behalf of the Stockholm Institute of Transition Economics, we would like to thank Ewa Lazarczyk, Yuliya Markuts, Igor Piddubnyi and Mikael Toll for participating in this year's Energy Talk. The presentations from the webinar can be seen here.
List of references
Click on "Expand" to see the full list of references.
Disclaimer: Opinions expressed in events, policy briefs, working papers and other publications are those of the authors and/or speakers; they do not necessarily reflect those of SITE, the FREE Network and its research institutes.
Photo: Viktollio /Shutterstock