Gender Equality and Diversity in Finance: Public Attention to Female Board Representation
Mar. 08, 2022
In celebration of the International Women's Day 2022, we highlight a study on public attention on gender equality and gender diversity in corporate leadership.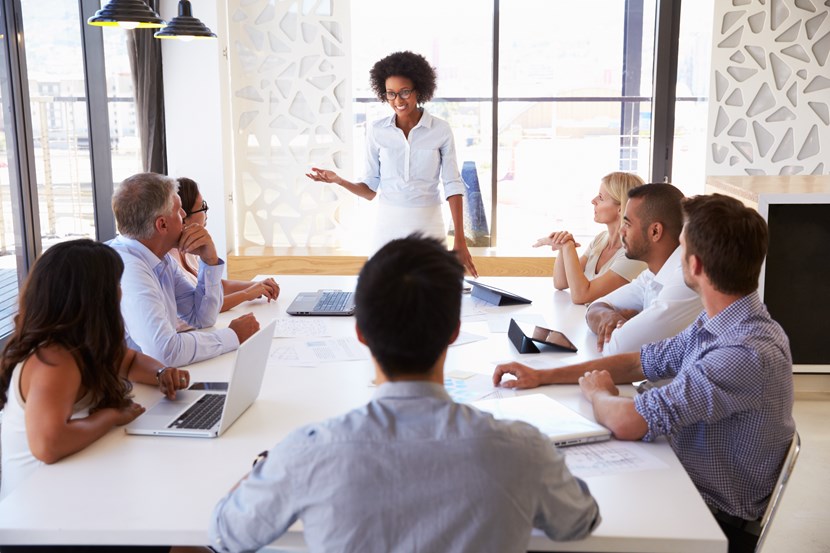 From time to time, we observe spikes of public attention on diversity within organizations. Female representation at corporate leadership is a particularly trending topic spurred by events related to women's rights such the International Women's Day, celebrated every year on March 8th. The question is, can societal and political debates on gender diversity make an impact on recruiting practices? Should policymakers promote more public debates on corporate diversity?
These questions are addressed in a forthcoming study in the Journal of Financial and Quantitative Analysis entitled Public Attention to Gender Equality and Board Gender Diversity, co-authored by Mariassunta Giannetti, Professor of Finance at the Stockholm School of Economics and the Swedish House of Finance, and Tracy Yue Wang, Professor of Finance at Carlson School of Management, University of Minnesota. The study investigated whether firms are permeable to societal concerns by exploring how changes in public attention to gender equality are associated with changes in board composition. The results establishes that gender equality is associated with an increase in board gender diversity.
Do spikes in public attention to gender equality influence with corporate changes?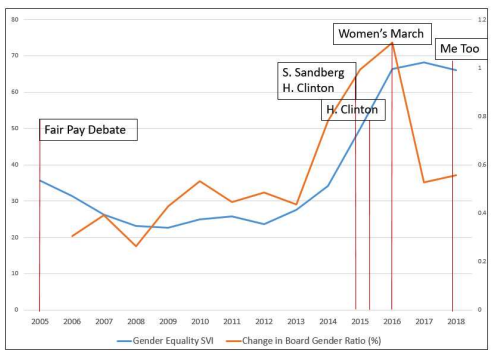 Figure: Public Attention to Gender Equality and Female Board Representation. Source: Giannetti and Wang (2021)
Using data from Google Search Trends, the researchers constructed an index that measures public attention to gender equality in the United States starting in 2004. They then contraposed the index against firm's information on the annual proportion of women among 34,283 directors on the board of 5,936 American public companies from 2005 to 2017. The study establishes that corporations are more likely to appoint women to their boards in periods of high public attention to gender equality.
"When public attention to gender equality increases, companies appear to be willing to search more broadly for their female directors"
What the researchers observed is less reliance on previous related experiences for director appointments and a decrease in the propensity to appoint connected men. In other words, representatives of the board are more likely to expand their search for the next director and include a larger pool of female candidates, such as women from other industries and/or outside their network circle when attention to gender equality peaks. Therefore, the study suggests that firms do not face tight constraints in the supply of eligible female directors. Instead, public attention to gender equality appears to exacerbate difference between firms with different culture and decreases reliance on connections.
Does corporate culture influence the effect of public attention on female representation?
The authors also investigated if organizational culture (measured by for example the presence of women in managerial positions, exposure to female role models in professional settings, top management political orientation) influences the above-mentioned results. Although even firms with less female-friendly culture can make value-enhancing female director appointments in periods of high public attention to gender equality, the study indicates that the effects of public attention are more pronounced in firms with a corporate culture that is more favorable towards women. Giannetti explains that "in these firms, management, shareholders, and other stakeholders are likely to be already better disposed towards gender equality and be more responsive to societal pressure to reduce gender gaps."
What does this study mean for policymaking?
"Increasing public awareness can contribute towards fully achieving social progress"
The study also sheds light on information worthy for policymaking. As public interventions influence director recruiting practices, it can lead to enhanced female board representation in the long-term and, consequently, greater gender equality in leadership positions. Therefore, the researchers suggest that "increasing public awareness could be an alternative intervention to quotas and other affirmative action policies, to overcome inequality and discrimination". However, social progress can only be partially achieved without imposing a "one-size-fit-all" gender equality policies because firms with a culture less inclined to gender equality do not appear to respond to public attention.
About Mariassunta Giannetti
Mariassunta Giannetti is a professor at the Swedish House of Finance. She holds a Ph.D. in Economics from the University of California, Los Angeles, and completed her B.A. and M.Sc. at Bocconi University, in Italy. Professor Giannetti is an associate editor of the Journal of Finance, the Journal of Financial Economics, and the Economic Journals, among (many) other journals and an adivisory board member of AFFECT, the Academic Female Finance Committee of American Finance Association.