Gustav Martinsson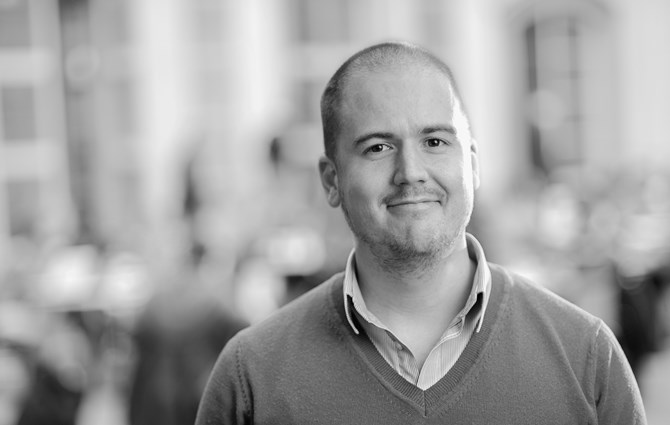 Gustav Martinsson is Associate Professor in Financial Economics at Stockholm University. Martinsson is also a Visiting Research Fellow at Swedish House of Finance (SHoF) and Project Manager of the Governance research group at Mistra Financial Systems (MFS).
Martinsson obtained his doctoral degree in 2010 at KTH. He joined the Institute for Financial Research (SIFR) in 2010 as a post doc researcher. In 2011, Martinsson was awarded a three-year Wallander post-doc scholarship. Martinsson has been Visiting Research Fellow at SHoF since its inception in 2011.
Martinsson's research interests lie in Corporate Finance, Entrepreneurial Finance, and Finance and Growth. His current research focuses on (i) government policy and access to finance in entrepreneurial firms, (ii) financing of corporate innovation and productivity, and (iii) cost of capital and sustainable development.
Martinsson has taught courses on corporate finance and financial intermediation, at Stockholm School of Economics and he taught corporate finance at the industrial economics engineer program at KTH.
Martinsson has served as part-time secretary at the Corporate Tax Rate Commission 2011-2014 (Government Commission under Ministry of Finance) and as expert in the Incentive-Pay Commission 2014-2016 (Government Commission under Ministry of Finance).
Education: PhD in Economics, Royal Institute of Technology, KTH
Publications
Gustav Martinsson, James R. Brown and Bruce C. Petersen (2022). The Growth of Finance Is Not Remarkable, Journal of Financial and Quantitative Analysis, Forthcoming
Christian Thomann, James R. Brown and Gustav Martinsson (2022). Can Environmental Policy Encourage Technical Change? Emissions Taxes and R&D Investment in Polluting Firms. Review of Financial Studies, vol. 35, pp. 4518-4560
Christian Thomann, James R. Brown and Gustav Martinsson (2021). Government Lending in a Crisis. Journal of Corporate Finance, Forthcoming
Gustav Martinsson and James R. Brown (2019). Does Transparency Stifle or Facilitate Innovation?. Management Science, vol. 65, pp. 1455-1947
James R. Brown, Gustav Martinsson and Bruce C. Petersen (2016). Stock Markets, Credit Markets, and Technology-Led Growth . Journal of Financial Intermediation, vol 32, pp. 45-59
Gustav Martinsson, James R. Brown and Bruce C. Petersen (2013). Law, Stock Markets, and Innovation. Journal of Finance, vol. 68, pp. 1517-1549
Gustav Martinsson, James R. Brown and Bruce C. Petersen (2012). Do Financing Constraints Matter for R&D? New Tests and Evidence. European Economic Review. vol 56, pp. 1512-1529