Let's talk about the weather (again)!
Not long ago – before the Covid-19 crisis - the world stood captivated in horror as scenes of environmental devastation and tragic loss of live in the Australian bushfires was televised across the world. And as people debate whether natural drought cycles, poor environmental management policies or other factors were ultimately responsible for this and other recent dramatic weather events, the overwhelming message in the public sphere has been that it serves as a wake-up call: climate change is real and its consequences are closing in on us quickly.
This spurred Anders Anderson (SHoF) and David T. Robinson (Duke) to administer a survey to a large random sample of Swedish households. The survey included questions about environmental knowledge, and it asked respondents to describe how likely they thought future climate-related calamities were. These included scenarios such as global temperature increases, food shortages and rising sea levels.
The results from the survey indeed suggest that concerns about a rapidly changing climate induced by extreme weather events ignite a "call to action" whereby affected respondents feel a strong urge to change their consumption and investment behavior, to align with environmental sustainability.
A snapshot of the survey results displayed in Figure 1 below confirm that Swedes in general are very "green": 77% find environmental issues interesting and an overwhelming majority of people (69%) are willing to pay a premium for green products in general. But this also carry over to financial products. 44% support the view that environmentally friendly investments generate higher returns in the long run, and 41% are willing to pay higher fees for sustainable investments.
This survey evidence illustrates the need for classifications and standards in the consumer finance area. Consumers who are willing to pay a premium for sustainable financial products have the right to know that they get what they pay for.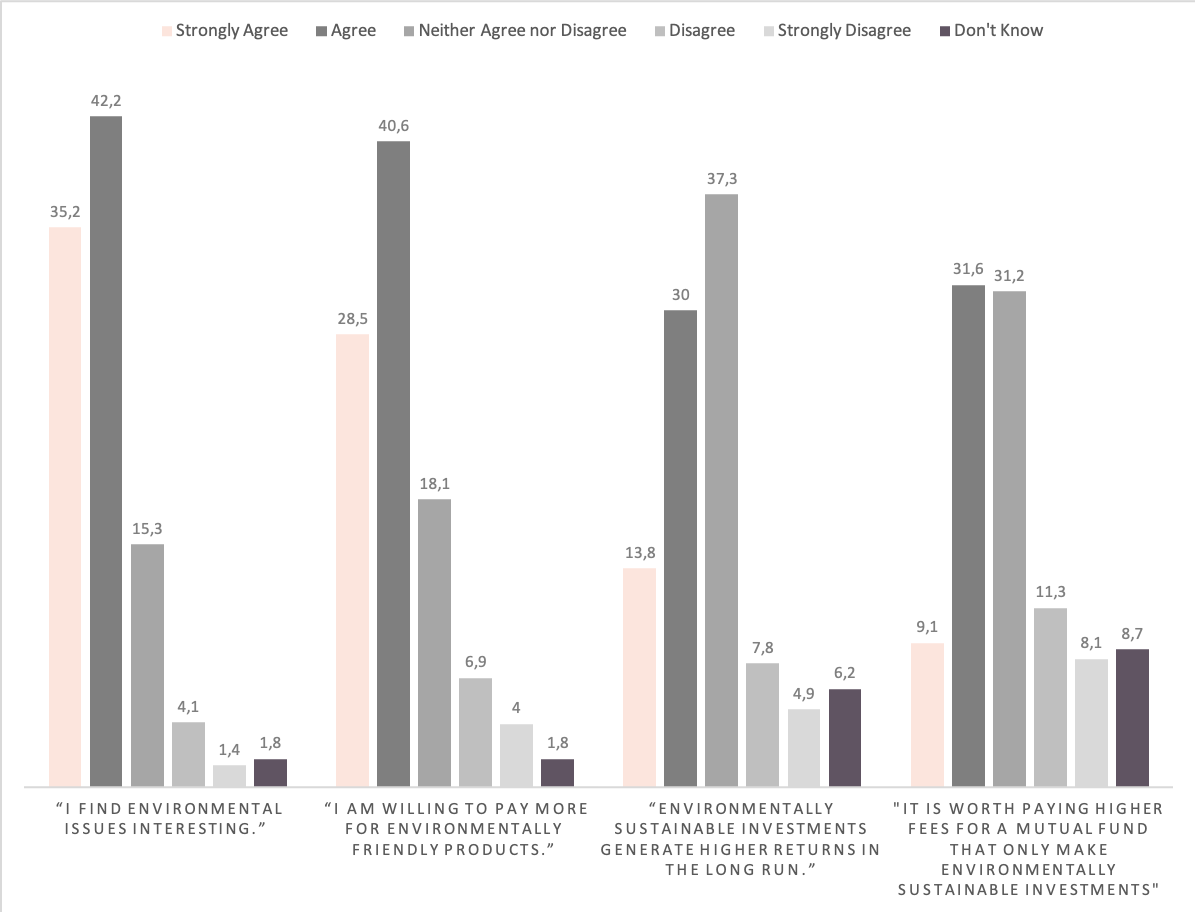 To read the whole paper click here Anders Anderson David Robinson (2019). Talking About the Weather: Availability, Affect and the Demand for Green Investments. Working paper