A Panel Discussion with the 2013 Sveriges Riksbank Nobel Prize Winners in Economics
The Swedish House of Finance hosted a panel discussion featuring the 2013 Nobel Laureates: Eugene Fama, Lars Peter Hansen, and Robert Shiller. The discussion was moderated by Professor Magnus Dahlquist.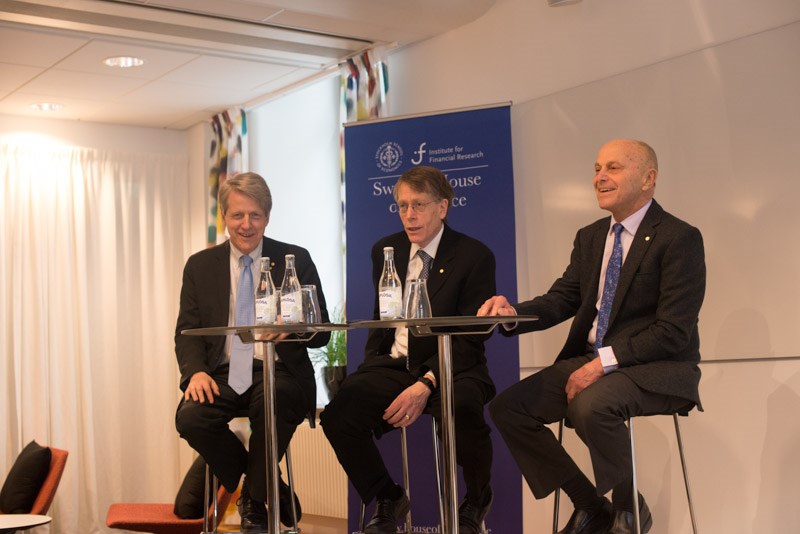 Professor Eugene Fama began the discussion with a reflection back to a time when everything was new in the field of finance. He discussed the computer's important role in allowing for advances in research. More specifically, empirical analysis was the force which drove him to develop his ever famous efficient markets hypothesis.
Lars Peter Hansen explained how his first paper was rejected for being too specific and how this led him to think of things with a broader perspective.
Robert Shiller spoke of how he found the models in asset pricing to be good but not exactly right. It was this observation that led him to be a pioneer in the world of behavioral finance.
Each of this year's Nobel Laureates represents a diversity of views on financial markets and asset pricing. From one end we have the world of efficient markets, a Eugene Fama world, and on the other end a world of "irrational exuberance" a Robert Shiller world of behavioral finance. Both of these worlds are unified by the use of models and methods in application -- a Lars Peter Hansen world. Sitting there listening to these three great experts, it was clear to us all that despite their differences they were all on the same team. They all seem to agree yet to disagree often at the same time. This point leads us to understand that the world of finance is full of challenging problems which can be tackled in plethora of ways.
The attention turned to the recent financial crisis, a topic which roused the interest and temperature of both sides of our panel discussion. On one end of the table, Robert Shiller argued that some aspects of crises are discernible if one dares to ask the right questions. On the other end of the table, Eugene Fama suggested that it may be irrelevant; someone will always have predicted the crisis so in the end does prediction even matter. Robert Shiller turned to past discussions made by the famous economist Milton Friedman suggesting that finance is really about people and it needs to be more of a social science. Lars Peter Hansen suggested that finance is about data, there is much to be learned by properly dealing with the data. Eugene Fama suggested that many things in finance are really about uncertainty and so many things we take as known are still really unknown to us.
Rounding up their discussion, the three laureates made a few insightful comments on creativity and innovation. Eugene Fama suggested that one must be critical in a positive sense and do this with respect for others and their different perspectives. Lars Peter Hansen stressed the importance of resisting segmentation, over specialization and narrow thinking. Robert Shiller suggested that the wave of finance for the future is in innovation in education and in the new ways we can use technology to learn, transfer information, aggregate information and create. As a spectator in the crowd listening to these esteemed Nobel Laureates, their unified message was loud and clear – a diversity of perspectives leads to great possibilities.