K-A Bonnier International Fellows Program
The K-A Bonnier International Fellows Program has been offered to four cohorts. The program is discontinued from 2020.
The K-A Bonnier International Fellows Program aims to promote business activity between the Nordics and Southeast Asia and to help exceptionally talented students acquire the knowledge and tools needed to succeed in a diverse entrepreneurial context. This opportunity is specifically geared towards students with a passion for entrepreneurship and SME growth in Southeast Asia and the Nordic countries.
By having experience from both Sweden and Southeast Asia, the students will gain a better understanding of the theory and reality of doing business in two very different regions. The students will be part of a mentor program and as a requirement of the Business and Management Program at SSE, they will also do an internship. The students will do an internship in the Nordic Countries or in Southeast Asia and will work with existing challenges faced by various stakeholders. This will provide students an excellent opportunity to improve their business development skills as well as building their personal network.
The K-A Bonnier International Fellows Program incorporates a collaboration with the highly esteemed business school National University of Singapore (NUS). The Nordic students will study one year at SSE and one year at NUS and will gain two Master degrees. The students from Southeast Asia have the option to choose the combination of SSE and NUS (and thus receive two degrees) or to stay at SSE for two years (and receive one degree from SSE).
The K-A Bonnier Foundation awarded each fellow a scholarship covering tuition fees both at SSE and NUS, plus living costs for up to SEK 50,000 per year for two years. The Foundation is an active partner in the collaboration, participating in the selection of fellows and maintaining a fellows' alumni network.
Studyplan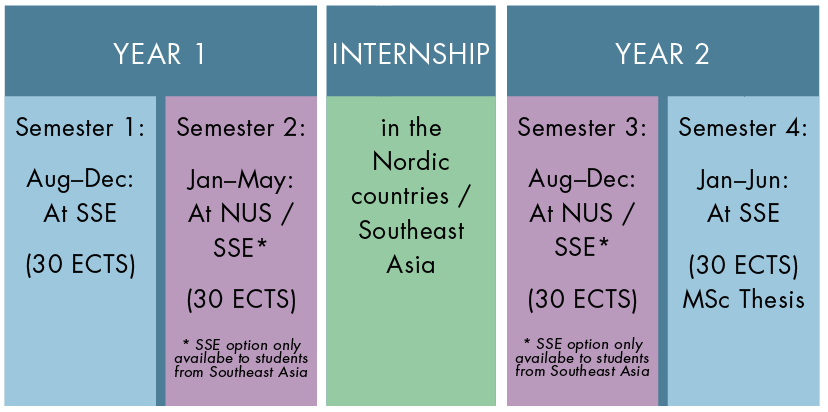 The first semester is spent at SSE and focuses on understanding business creation and development. During the second and third semesters students attend the MSc Management Programme at NUS and obtain an MSc degree from NUS. During the break between semester two and three (June–July), the students conduct an internship focused on SME growth and entrepreneurship: European students primarily in Southeast Asia and Southeast Asian students primarily in Sweden or Scandinavia. Students then return to SSE for their fourth and final semester, writing their MSc thesis and completing final courses needed to obtain the MSc degree in Business & Management from SSE. Upon completion of their studies, and fulfilment of all graduation requirements, successful candidates will receive two separate MSc degrees, one from SSE and one from NUS.
The Southeast Asian students deciding for the option to stay two years at SSE, will follow the MSc program in Business & Management at SSE during these two years. They will have the possibility to apply for exchange one semester at any of the partner universities in the Nordics. Upon completion of the program, they will receive one degree from SSE.
The K-A Bonnier International Fellows Program is particularly suited for students with an interest in entrepreneurship and SME growth in Southeast Asia and the Nordic countries, and enables them to build a broader skill set for driving business growth across cultures and geographical regions.